When it comes to buying a vehicle when you already own one, there are always decisions to be made regarding your current vehicle.
Our partners at Enterprise Car Sales helped us answer some frequently asked questions by those looking to trade in their vehicle:
Can I trade in a vehicle if I still owe on it?
The short answer: yes, you may be able to – depending on your financial situation. If you are trading in a vehicle that you still owe on, it is a great idea to get the payoff amount before you visit the dealership. This information is helpful and allows sales teams at auto dealerships like Enterprise Car Sales to serve you in the best possible way.
If you receive less for your trade than what you owe on that vehicle's loan, your individual situation will determine how much of the amount owed can be rolled over into the new loan amount. We recommend you always explore all financing and protection options available to make the best decision.
Need some assistance?
Want to look over your finances to make sure this is the right option and fits into your budget? Pelican's credit counselors can
help
!
How does the trade in process work?
The process begins by performing a thorough inspection of the vehicle's major systems, including taking the vehicle for a test drive. At Enterprise, they look at the exterior and interior condition as well as run a CARFAX® Vehicle History Report™ that is yours to keep following the inspection. After that, they enter that information into Kelley Blue Book® to obtain an appraisal for your car and make the trade-in offer to you in writing.
Then, it's your call–at Enterprise, their offer is good for 7 days or 300 miles, whichever comes first, providing the vehicle is in substantially the same condition as when it was appraised. There is no obligation to sell your car or buy one of theirs. You can choose to sell your vehicle to them outright or trade it in toward one of their quality cars, trucks, vans or SUVs.
What can I do to increase the trade-in value of my vehicle?
Keeping your vehicle in great condition while you own it can increase your trade in value down the line.  Driving safely, avoiding accidents and having your vehicle regularly maintained with fluid and oil changes can prevent advanced wear and tear. The current condition of your vehicle, as well as the options and features are all considered during the appraisal process. Oh, and of course the mileage!
What type of information should I bring with me when trading in a vehicle?
 To be prepared to trade in your vehicle, you should bring the following items with you:
Your driver's license
The vehicle's insurance paperwork and information
The title to the vehicle if it's paid off or the current loan information, including the 20 day pay off amount if you still owe on the loan
How can I see what my vehicle would be worth if I trade it in? 
You can get an estimated trade-in value utilizing Kelley Blue Book®. To get a more concrete estimate, it's recommended that you visit a dealership. Always call to ensure that the process is complimentary before you get started. At Enterprise, the appraisal process is complimentary, and you can click here conveniently set up an appointment near you.
Is there a best time of year to trade-in my vehicle?
From time to time, dealerships like Enterprise Car Sales will run specials on trades where they give more than the appraised amount. View their inventory and learn more: enterprisecarsales.com/pelican.
Why should I choose to trade in at Enterprise Car Sales over other dealerships?  
Enterprise Car Sales simplifies the car-buying experience with no-haggle pricing, exceptional customer service and an easy process for selling or trading your vehicle. If you appreciate the professional, "extra mile" customer service you get when you rent from Enterprise Rent-A-Car, you'll find the buying, selling or trade-in process at Enterprise Car Sales just as exceptional.
You can visit an Enterprise Car Sales dealership near you and get your trade appraised. You may be surprised at what is possible!
Have you considered trading in your vehicle lately? If you have any other questions for us, send them our way!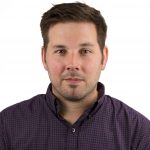 When I'm not hanging out with family, you can find me at an LSU baseball game or trying out new restaurants. I also enjoy spending time outdoors with my wife, my daughter, and our dog!