Birthdays are always a great reason to get together with loved ones—no matter how young or old! As a parent or guardian, it's natural to want to make your child's birthday as special and memorable as possible.
When you think back on your birthday parties when you were young, what do you remember most?
Do you remember the elaborate, expensive decorations? If anything, you likely remember laughing and having fun!
When you plan any party, the cost of food, decorations, and activities can quickly add up. Sometimes I see people throwing expensive, over-the-top parties! Sure, they look great on social media— but that doesn't necessarily mean those parties are any better than a party on a budget!
I know firsthand what it is like throwing birthday parties for not just one, but two kids (in addition to my nieces and nephews)!
It seems like every time I turn around, there's another party to plan. My family and friends lean on me to help them plan, and I want to share the advice I give them with you!
Put Budget FIrst
The first step to throwing a fun, but affordable, party is to set your spending budget so that you can plan for different expenses. This is an excellent opportunity to teach your children the importance of saving and budgeting!
You can even give your child a budget to work with and ask them to help you make decisions about their party. I always recommend that the child's adult does this with them. Here's what that process can look like (and it will likely be just as fun and cute):
Some areas to consider when planning your party budget include:
Location
Invitations
Decorations/Supplies
Food, cake, drinks, and refreshments
Entertainment (like games and activities)
If you're looking to throw an amazing birthday bash without breaking the bank—don't worry! I'm here to break it all down for you. Let's dive into all of the aspects of the party budget:
Find the Perfect Location
The location you decide to use for a party can be one of the biggest expenses you need to plan for while budgeting.
You can easily avoid this expense by having the party at your house, a friend or family member's house, or outside at a local park. Being able to save on the cost of a view can allow you to put more towards other spending categories.
If you can't hold the party at your home or a park, look into inexpensive options like a local event hall. You can also check for deals or discounts at local venues that come with a basic party package.
Ditch Printed Invitations
Planning is stressful enough, right? That's why I say don't sweat the small stuff, like invitations!
Instead, choose from digital invitation templates available at your fingertips from the comfort of your home or office. Utilizing this route saves on both time and money! After all, why should you pay the postage and printing costs just to invite people?
Here's how; websites like Canva, Pinterest, Shutterfly, Evite, Greetings Island, Paperless Post, Zazzle and more provide a wide variety of invitation templates, designs and themes. It's easy to use, and it looks great too!
You can edit within the app to personalize, and then share with family and friends by emailing them, texting everyone, or posting the invite to Facebook.
DIY the Decor
Creating your theme doesn't have to be difficult or expensive. Begin by discovering what cartoon character your child can't get enough of or simply allow their personality to shine through the decorations.
For example, for my sweet soon to be two-year-old daughter, I selected a sweet Twotti Frutti birthday theme for her 2nd birthday! I decided on a Do It Yourself themed TWO display to serve as both the backdrop for digital images for her invitations and as props during her event.
Choosing a creative multifunctional display allows you to skip out on an expensive backdrop that'll likely never be used again and discarded.
Plus, just look how precious they came out!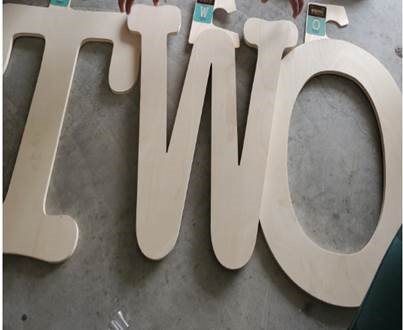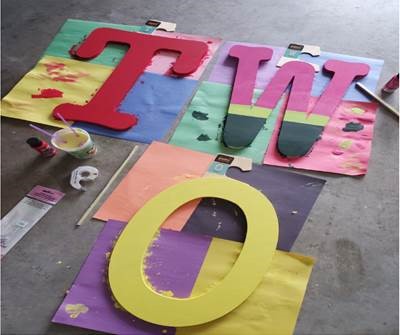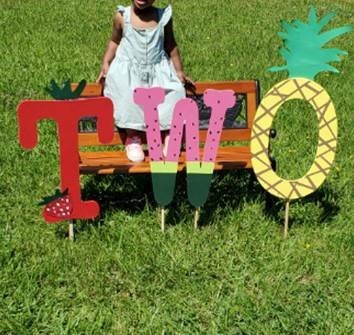 Save Major Bucks on Minor Details
Forks, spoons, plates, napkins, cups, table cloths, balloons, confetti, streamers, party bag stuffers, and party bags. Sounds like a large list, right? These are only a few of the party supplies you need!
Party supplies can be the least of your budget's worries for your event. Instead of shopping for these disposable items at your local party supplier, visit one of the many dollar stores that you can find in town.
Stores such as Dollar General, Dollar Tree, Family Dollar, and Five Below are great options to start your search for these supplies.
Pro tip: Don't look for themed supplies!
Instead of shopping for themed supplies, choose one or two colors from your theme! Purchase supplies in those colors to take your savings even further. This area of your event has so much room for frugality! Use it to your advantage.
Be Smart with Food
Besides the venue, food and refreshments are likely to be your other largest expense for the party.
Holding a party between regular meal times can be a way to cut costs on food— you will be providing snacks as opposed to providing lunch or dinner! Keeping party food simple and creating a menu with ingredients you already have is an easy way to cut down costs.
A few cheap party foods you can consider are:
Burgers and hotdogs
Pizza
Finger sandwiches
Don't Sweat the Sweet Stuff
The sweetest part of any party—the cake!
When weighing your options to splurge on a fancy cake, consider if you enjoy baking and whipping up treats. If so, purchasing a box of cake mix to make your own cake can save you a ton of money.
If you aren't the world's best baker or are on a time crunch, check out your local grocery store! They have many pre-made cakes that will be cheaper than ordering a specialty cake.
Round Up Inexpensive Party Activities
Kids love to play all kinds of games, so why not include fun and cheap games in your party?
It is usually best to keep games simple and focused on what the child enjoys doing! A few ideas to consider that won't put a dent in your wallet include:
Pool/Water Slide
Scavenger Hunt
Bingo
Piñata
Crafts
Document the Memories
Okay, you've worked so hard to ensure this day will create memories to last a lifetime—but the party can't go on without capturing the moment! Photography or videography doesn't have to be involved in your budget.
If you've invested in and own a high quality camera or camcorder, that works well to document memories of your children. You can find a trusted family member to help record or photograph all of the moments.
Almost all of us have phones with extremely high quality cameras on them! Whether you're on iPhone or Android, you can take great pictures and video to document the moment.
Encourage your attendees to take pictures and tag you online or to email their best shots to you. You can combine them, save them to your device, or print them for a memory box or scrapbook.
This will help you capture every moment without having to run around doing it yourself! As an added bonus, you'll save a LOT on party footage!
---
It can seem challenging to plan a kid's party on a budget, but the memories you help make for your loved ones is what they will cherish the most! Don't let the stress of planning the party get in the way of the big day—planning and prioritizing will alleviate that stress.
If you put some creativity and imagination into your plan, you won't need to spend a lot of your hard-earned money to celebrate with friends. Hopefully these tips provided you with an easy way to minimize spending without sacrificing the fun!
What are your favorite party budgeting tip? Let us know in the comments below!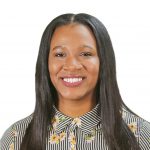 Native of Baton Rouge, resident of Ascension, loving wife and mother. I enjoy traveling, cooking, researching vegan meals, and online shopping. Firm believer of the quote, "Put good in, get good out," applied to life, health, and wellness.