So, you've decided it's time to purchase a home. You're finally ready for that place you can truly call your own. At this point, you're probably filled with so many different emotions—and I completely understand! Purchasing a home is likely the largest purchase you'll ever make. EVER!
My name is Nekiba Johnson and I am a Nationally Certified Credit Counselor with Pelican. Any time I'm advising our members about home buying, my first recommendation is almost always the same. I encourage them to start saving now so that they can have enough for a down payment and still have some money left over.
Before you go out house hunting, though, let's take a step back and put some things into perspective.
You should consider these things when you ask yourself, "Can I afford to buy a house?"
Make sure it's the right time.
Determining whether you can afford to purchase a home takes knowing where you stand financially. Start by taking a detailed look at your finances. Review your budget and spending habits. If you have a steady income, savings, and manageable debts, you're on the right track.
If you don't necessarily check all of those boxes, take time to make steady payments to all creditors and keep your debts as low as possible. You want to be able to enjoy your home and live comfortably without having to worry about stacks of debt.
Take a close look at your credit score.
Your credit score plays a major factor in purchasing a home. It not only determines the kind of loan you qualify for, but also the interest rate you'll pay on that loan. The higher your credit score, the lower the interest rate you may receive. Most home buying programs require a minimum credit score of 640.
I highly recommend analyzing your credit report from all three major credit reporting agencies (Experian, TransUnion, and Equifax). Review them and compare for accuracy. Your credit history should be clear and healthy.
Keep adding to your savings account.
Purchasing a home often requires making a large down payment. You'll want to make sure the down payment for your home does not deplete your savings. Having an emergency savings at all times is extremely important. If you are struggling to save for a down payment, that's a good sign that now may not be the right time.
Think of what your budget will be like if you add a mortgage along with your other bills. Don't rely on a mortgage lender to tell you how much you can afford to pay comfortably per month.
Know where your debt-to-income ratio stands.
You should know how mortgage lenders calculate how much you can afford. Mortgage lenders use what's called debt-to-income, or DTI, to determine how much you can get approved for. DTI is the percentage of your income that goes toward paying your monthly debts.
When reviewing your budget, calculate your DTI to see where you stand. To find this, divide your monthly expenses that are on your credit by your monthly income before taxes and deductions. If your current DTI is 36% or higher without a mortgage, you should work to reduce debts before purchasing a home.
What steps are you taking to prepare for homeownership? Let us know in the comments below!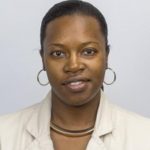 Deeply intrigued with all things finance and credit-related. Have a passion for sharing knowledge and financial education. Addicted to cake.  Huge fan of Team Johnson, my family.