Each year, we reflect on everything we've accomplished for our members, and we look forward to how we can continue to serve each and every one of our members and branch communities.
2017 was a phenomenal year for growth and service, and we wanted to share some highlights:
Supporting Our Members
Our members' best interests are at the heart of everything we do at Pelican. Our initiatives are in place to support them and the communities they live in.
One of our main goals is to help convert the unbanked and underbanked into Pelican members. We give them alternatives to predatory lenders and the opportunity to improve their financial situation and get on the path to financial wellness.
In 2017, 49.4% of Pelican loans were made to members below the individual poverty level of $12,140 in Louisiana.

Because of our efforts and dedication to our members, Pelican is recognized as a Low-Income Designated Credit Union (LID) and Community Development Financial Institution (CDFI). This has allowed us to apply for grants that support our membership.
Championing Financial Wellness
Over the last 5 years, Pelican's Nationally Certified Credit Counselors have held almost 10,000 one-on-one credit counseling sessions* . In that same amount of time, we've hosted 582 Financial Wellness Workshops to over 17,600 attendees!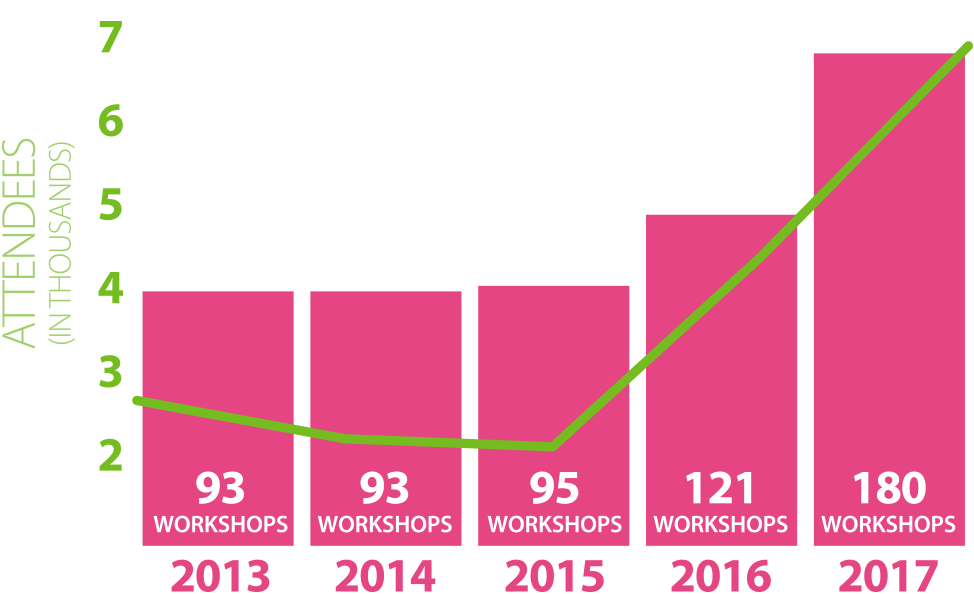 Our Financial Outreach team also taught a total of 3,355 students across the state from 4th grade to high school various financial subjects throughout the year such as saving, borrowing, budgeting and preparing for their financial future.
Expanding Member Service
We ended 2017 with 250 Pelican team members across Louisiana, allowing us to increase our service levels for our members.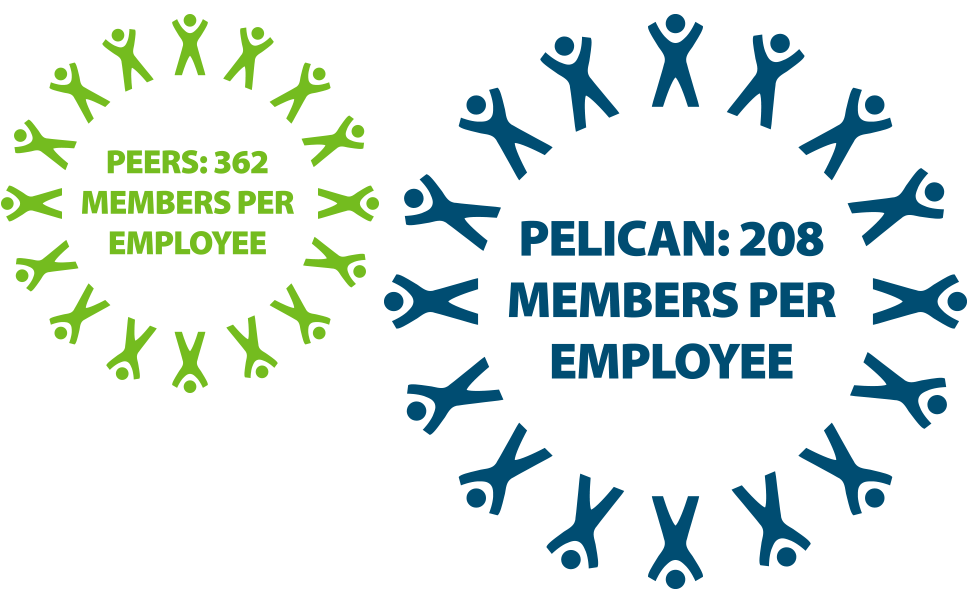 We also have the largest credit union call center in the state! On average, Pelican handles 3 times the number of calls per year as our peers!

We ended 2017 with over 50,000 members and 14 branch locations across Louisiana in addition to our MyBranch Call Center.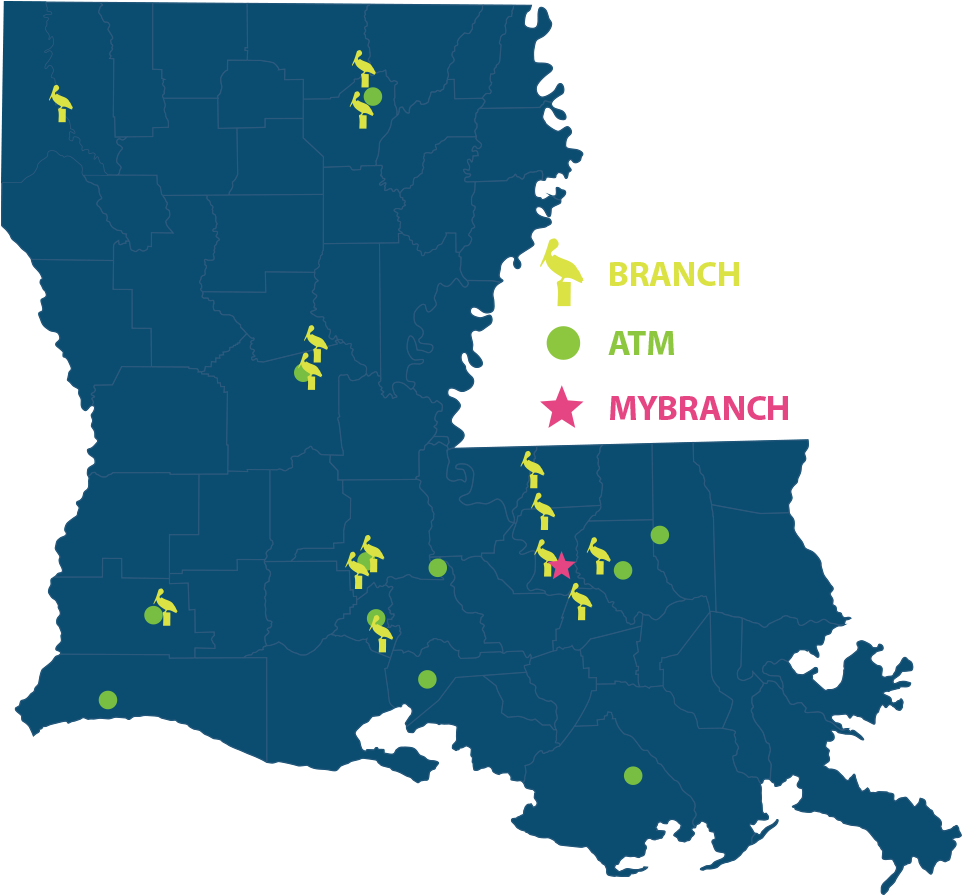 In 2017, three credit unions chose to merge with Pelican after seeking out merger partners who would continue to provide them with access to credit union products and meet their members' needs.

Serving of Our Communities
Our growth and success would not be possible without the support of the communities we serve. We actively support and participate in community events around the state. Check out some of the ways we invest into our branch communities: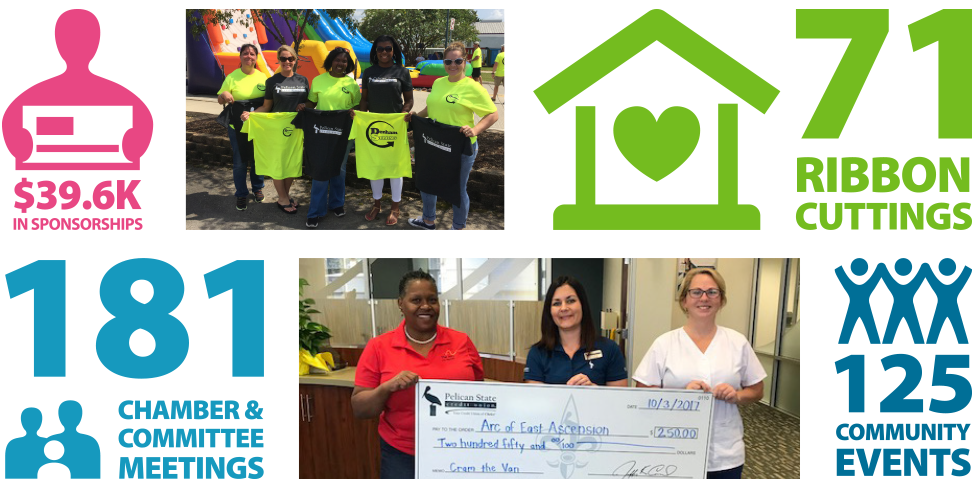 We're also always in a Pelican State of Mind! While we post free and fun financial and community-focused information, we also regularly highlight local businesses in our branch communities to give them the spotlight and recognition they deserve. At the end of 2017, posts featuring Louisiana businesses were read over 16,000 times!
Beyond volunteer work, to which Pelican team members devoted 808 hours of their time in 2017, our team chooses a charity to benefit from our internal fundraising efforts. Down Syndrome Awareness Group was chosen as our 2017 charity of the year.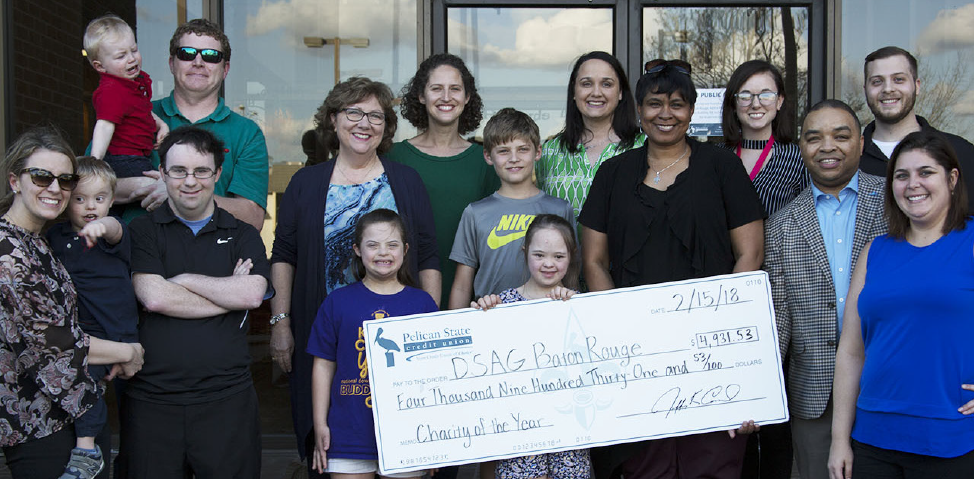 The Pelican team raised our highest amount ever for them—$4,932! Team members have raised over $15,500 for our charities of the year in the last 4 years.
Showing Our Appreciation
Throughout each year, we reward our members with cash and prizes on top of lower loan rates and higher dividends. Pelican awarded over $24,000 worth of giveaways to our members in 2017! Here's some of the great ways we gave back to our members: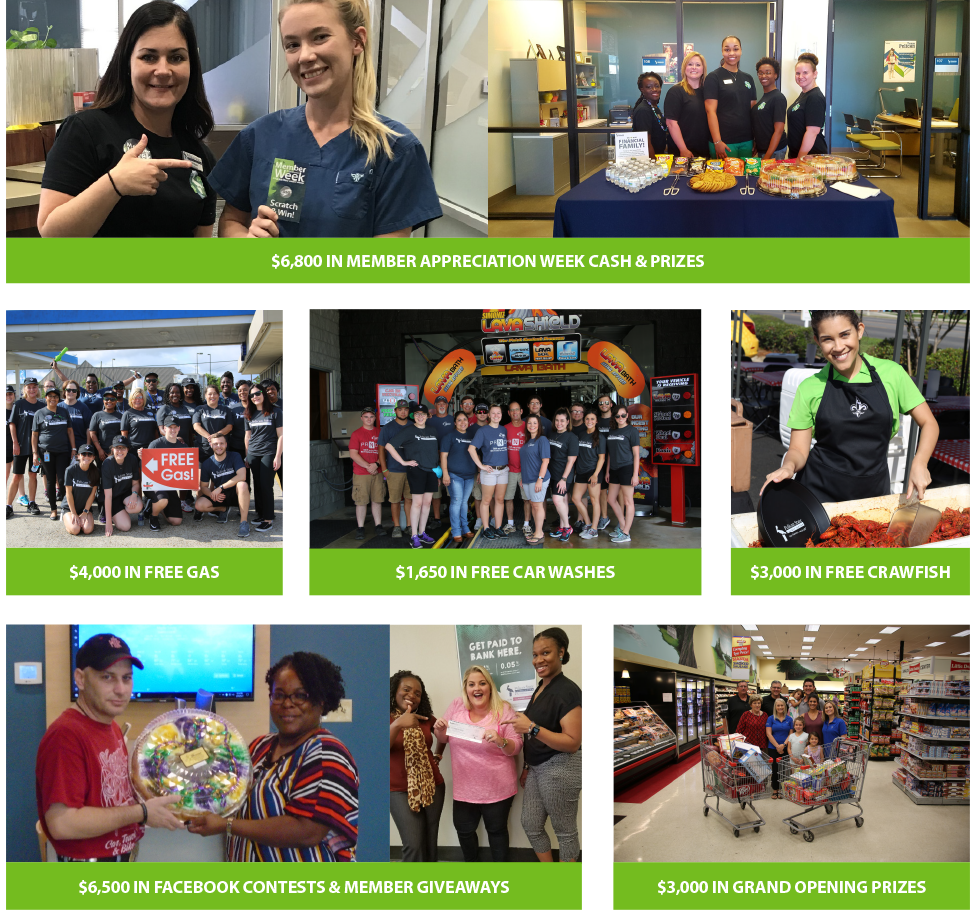 Providing for Our Partners
When a company takes advantage of our free partnership program and becomes a Pelican Select Employer Group (SEG), their employees all become eligible to join the credit union. 21 new companies became SEGs in 2017—our highest ever!

The great thing about our SEG partnerships is that they go far beyond just offering Pelican membership, products and services to a company's team. We also attend and host events for our Pelican partners. Whether that's one of Pelican's free onsite Financial Wellness Workshops, the company's benefit fair or sponsoring employee appreciation events, we're here for our partner, and our Business Development team handles all the details!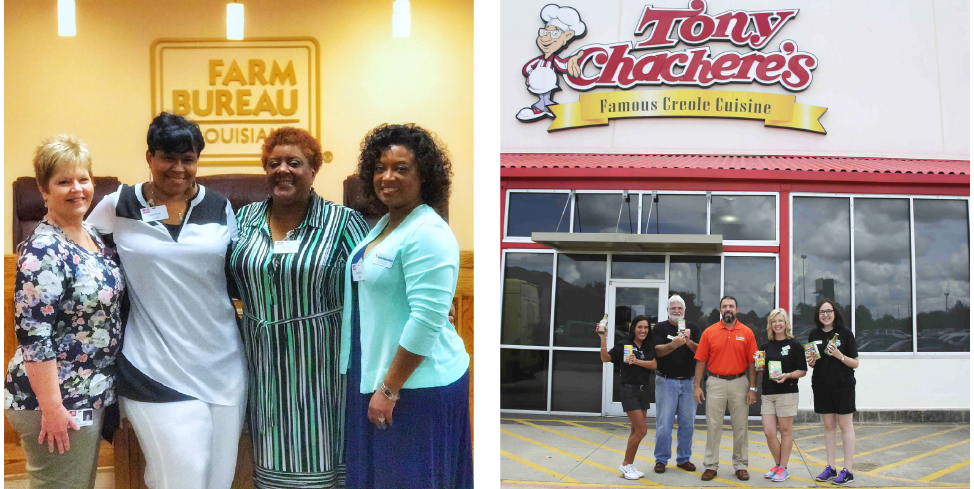 Thank you to everyone who helped make this year so amazing! We're blessed to be able to do so much for our members, communities, team members and partners. Here's to another great year at Pelican in 2018!
Want to become a SEG? Visit pelicanstatecu.com/SEG to find out more.
Want to become a member? Visit pelicanstatecu.com/join to learn about the perks of membership.
*Pelican State CU membership required to take advantage of free credit counseling services. Visit pelicanstatecu.com/join to become a member. You have the right to a free credit report from AnnualCreditReport.com or 877-322-8228, the ONLY authorized source under federal law. Credit counseling is not intended to give you financial advice, but the financial education you need to make informed decisions. Results may vary. Pelican and its employees are not responsible for any claim, suit, action or damage resulting from credit counseling.

Once a Pelican State CU member, always a member—through life's milestones, we'll always be there to help you with your financial needs. Your Financial Family for Life. Give us a call at 800-351-4877.