The flood in August set back many residents and businesses in Louisiana, including Pelican and its team members. During the flood, the branch took on four feet of water, ruining most of the contents inside. Pelican's team members jumped in to do everything they could to get each other and their community back on their feet.
As soon as it was safe to be back in the branch, Pelican team members gave their all to salvage paperwork and save our members' information. Denham Springs Assistant Branch Manager Christian Gordon recalls how team members were willing to help out as soon as they can:
We had just hired a new team member, and she didn't get to start before the flood hit. I had to find and message her on Facebook to let her know that she still had a job and let her know when we were going to open. She came in and her first day was spent cleaning up receipts from our files.
Although team members were also experiencing the loss of their own vehicles, homes and everything they've worked for, they came in to make sure our members were taken care of. Pelican knows the importance of being open and there for our members during the time. With a vision and the assistance of Labarre Associates, we turned our drive-thru into a full-service temporary branch for our members and CO-OP Shared Branch™ members to do their banking while we rebuilt.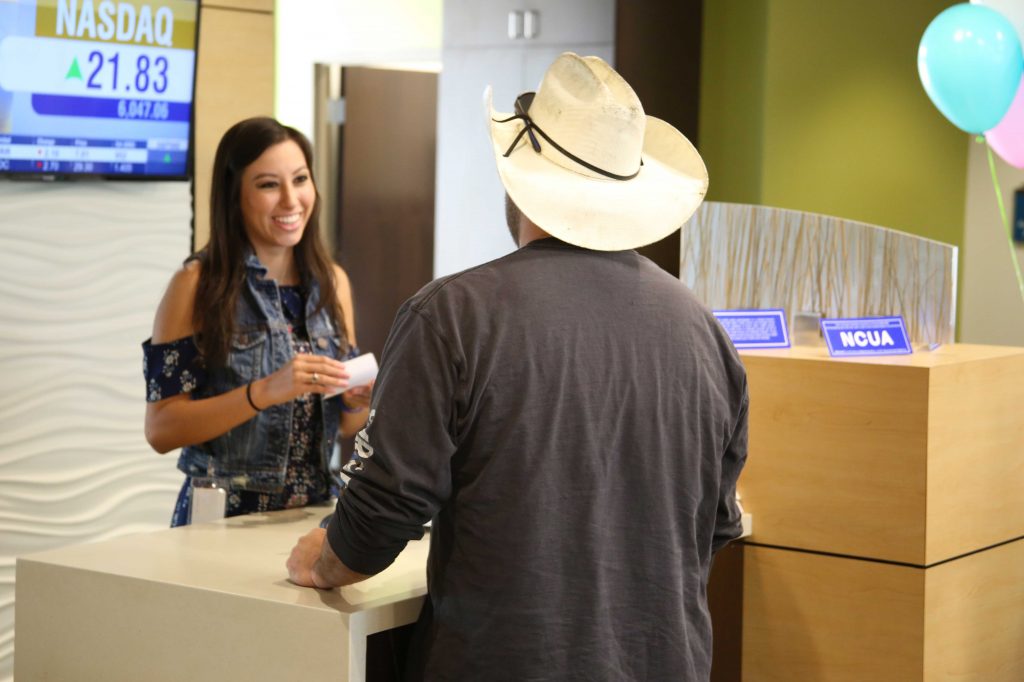 We worked with Labarre Associates to remodel the inside of our flooded branch to match our newest branches' layout and design. It took a couple of months' worth of demolition and rebuilding, but we officially moved into the new branch on March 4, 2017. We were extremely excited about having a brand new location for our members to feel relaxed and at home in brought us immense joy.
All of this made our Grand Re-Opening that much more special. The focus for our Grand Re-Opening was coming back stronger—not just for us, but for our members, the residents and the local businesses that make it unique. We focused on supporting local businesses by providing food from local stores and restaurants and giving away prizes every 30 minutes from local retailers like Rusty Rooster, Brushfire and Taste of Louisiana Cafe.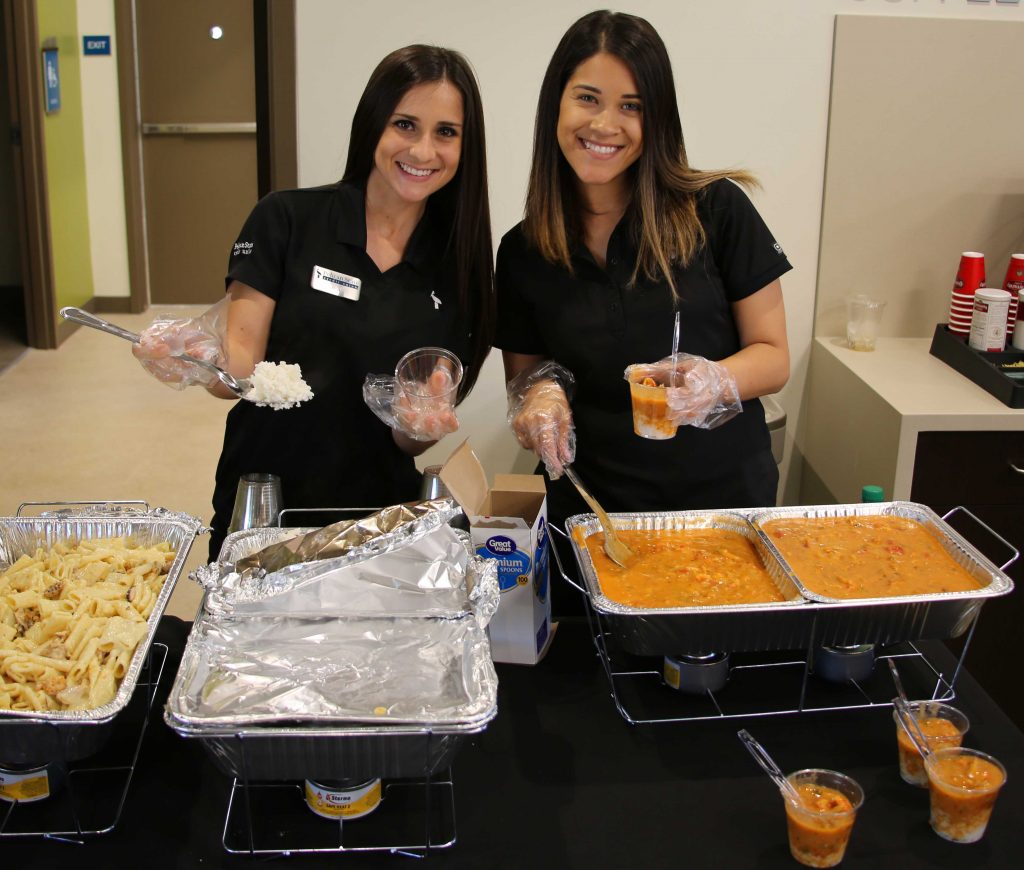 We had local coffee truck Small Coffee Big Taste come out to help us celebrate. Every visitor who came by from 9 – 11 am was treated to any drink they wanted. Small Coffee Big Taste definitely knows how to make amazing coffee, and our members and team enjoyed every sip!
Small Coffee Big Taste recently lost the trailer they worked out of due to a fire. To see how you can help this local family-owned business,
visit their GoFundMe page
.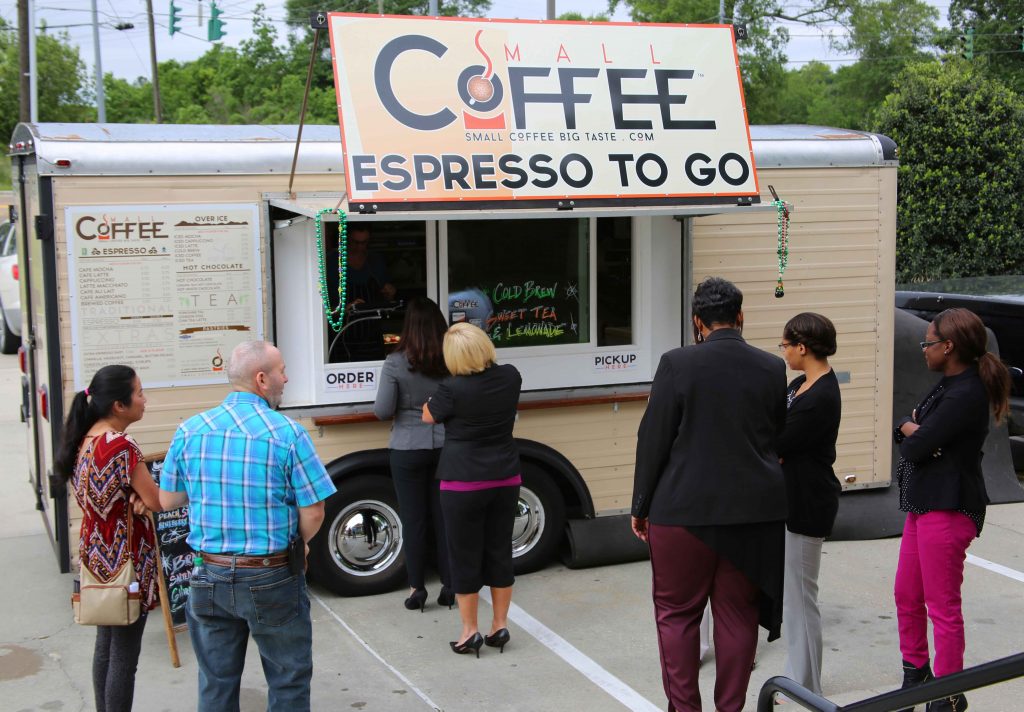 Long-time Pelican member Lauren Edwards was the winner of our grand prize, a two-minute, all-you-can-grab shopping spree at Carter's Supermarket! Lauren has been a Pelican member for 10 years. She has been married to her husband Stetson for eight years and they have three daughters. Her strategy for the shopping spree is to go grab the meats and drinks so that they can host a neighborhood party—what a great way to get everyone together and give back!
Our main goal at Pelican is to serve our members, local businesses and our communities to the best of our ability. The next time you're in the neighborhood, stop by the newly-remodeled Denham Springs branch at 145 Rushing Road to say hello to Christian and the rest of our team!

Once a Pelican State CU member, always a member—through life's milestones, we'll always be there to help you with your financial needs. Your Financial Family for Life. Give us a call at 800-351-4877.