We love our local businesses! For National Fried Chicken Day, we thought we would focus on some hidden gems around Louisiana that you absolutely have to try! We chose a member of the Pelican family from each branch and gave them $10 for lunch at a local fried chicken spot. Here are their picks for the best fried chicken in our Louisiana branch communities (try not to drool on your keyboard):
---
Save More Meat Market in Baton Rouge, Louisiana



Let me tell you about Save More Meat Market—OMG they have the BEST chicken! This place is tucked in nicely on Lobdell Boulevard in Baton Rouge and you probably wouldn't think to stop into a meat market to find some of the best fried chicken in town. The chicken is always delectable and fresh and the store is always squeaky clean! It's only $3.84 for a chicken leg and three chicken tenders. It's most definitely worth the money and you'll want to go again and again and again! This place is like a blessing to your tummy!
– Terrance Gibbs, Mid-City Baton Rouge Branch Teller
---
Linda's in Denham Springs, Louisiana



I consider myself somewhat of a chicken connoisseur. In fact, people call me CCC (Chris the Chicken Connoisseur)! I love chicken so much that you could even say that my blood type is deep fried. I've been to a lot of chicken shacks in my day, but I definitely enjoy going into Linda's the most. When first entering the restaurant, you get the feeling of a great local business that has a family atmosphere which makes you feel like you are at your grandma's house on Sunday getting some homemade fried chicken. There are lots of pictures of customers on the wall so you can tell the place is rooted deep in the community. The prices were a little higher than your typical fast food chain but definitely worth every penny. As they say, "you get what you pay for!" The restaurant is very clean and the staff does a great job of making sure all the tables are wiped down and trash free. Your money will be well spent and you'll want to go back for Linda's fried chicken again!
– Chris Neal, Denham Springs Branch Member Service Representative

---
Star AG Supermarket in Jackson, Louisiana
Let me tell you about some of the best fried chicken in Jackson, Louisiana. It isn't a restaurant, it's not even a diner, it's Star AG Supermarket. I normally get the lunch special, a 2pc dark with red beans and cornbread for $4.99. The fried chicken has a good crunchy batter, and the chicken is hot and juicy.  Kind of like Popeye's spicy. It's a great deal for so much food! If you are ever in Jackson, stop by and get a two piece dark, and while you're there talk to Ms. Betty!
– Nicketta Turner, Jackson Branch Member Service Representative
---
Ball's Fried Chicken in Lake Charles



I chose Ball's Fried Chicken as my favorite fried chicken spot in Lake Charles! Ball's has been a local favorite here in Southwest Louisiana for years, and everyone knows when you crave fried chicken it's the only answer! The restaurant is quite clean, although most people choose to carry out because of how small the building is. The prices are extremely reasonable, ranging from a little as $2.00 to $25.00 to feed the family! I ordered three single pieces that amounted to $5.00, which I feel is well worth the money for the quality and taste! Their chicken is always extremely fresh, and it has great flavor! If you are someone who prefers their chicken spicy, Ball's is absolutely the place for you! I would highly recommend anyone passing through the Lake Charles area to stop and try the best chicken in Louisiana!
– Megan Goodly, Lake Charles Branch Teller

---
Southern Classic Chicken in Monroe, Louisiana



My favorite local chicken spot here in town is Southern Classic Chicken. I always order their two piece white combo with a good ole refreshing sweet tea! This combo costs no more than $7.00, which I think is great because the food is always fresh and delicious. This restaurant does not have an eat-in section, but the surrounding is great and so is the chicken. They also have great chicken fingers. I would most definitely recommend this little chicken spot, so if you are ever passing through Monroe and got a taste for some fresh, crispy fried chicken with a little kick to it, then you gotta try Southern Classic Chicken! Mmm mmm, good!
– Kimberly Hardy, Monroe at Conway Branch Teller
---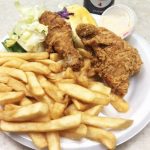 Soileau's Dinner Club in Opelousas, Louisiana
Fried chicken is as southern as sweet tea and gumbo and this classic southern fav is a popular dish at Soileau's Dinner Club in Opelousas, Louisiana! Soileau's is known for its long standing in the city. It originally opened in 1937 and 79 years later, the quality of the food is still top notch and the prices are still reasonable. Half of a fried chicken is $9.95 and includes your choice of side, salad and a roll. The chicken is moist and fried to crunch, golden perfection! No matter what time of the day you visit, you'll receive outstanding customer service! The authentic southern fried chicken at Soileau's is highly recommended if you ever find yourself in Opelousas!
– Brooke Leger, Opelousas Branch Teller
---
Darrell's in Pineville, Louisiana



One bite into Darrell's and oh, my goodness…my eyes were opened and I knew I found a new favorite! For a three-piece meal with onion rings, it costs $8.33, which might sound a little steep but pieces of chicken you get are by far the largest I've ever seen. As for the taste—OUT OF THIS WORLD! The onion rings are also DA BOMB! They give you so much food that you have leftovers. It's a really great, clean atmosphere, too. They definitely represent the Tioga community! There are pictures from local sports teams on the wall and it's very welcoming and spacious. If you haven't stopped by Darrell's in Pineville, you are missing out on a hidden treasure!
– Melissa Lasyone, Pineville Branch Teller

---
Cheddar's in Shreveport, Louisiana
I'm not a huge fan of fried chicken because none of it ever tastes like mama's. Most of the time when going out to eat, I'm infamous for ordering a steak. Yep, I'm an expensive date. Anyway, on a slight urge to try something a little different, I went to a restaurant known for its food being cooked from "scratch." I went to Cheddar's and OMG! Now let me tell you when I initially received my meal, I was a little skeptical. Why you may ask because they served me chicken breast.  Everyone knows this is one of the driest pieces of chicken you get, but on contrary, this was one of the best pieces of chicken I've ever tasted! Fried to perfection and so succulent and juicy! I didn't even have to season it myself! If you can fry a chicken breast and it not be dry, you can fry some chicken. And it tastes like mama's, too! If you're looking for the best homemade fried chicken in Shreveport, give Cheddar's a try.
– Shamita Demery, Shreveport Branch Member Service Representative

---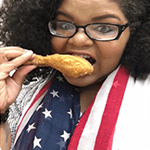 Crispy Cajun Chicken in Alexandria, Louisiana 
Hands down, this is the best there is in Alexandria! It's always hot, fresh and yummy! They have the best deals EVER. It's only $6.04 for a two-piece mixed with two sides! The restaurant is always clean and someone cleans up as everyone goes. If you're looking for the best chicken in Alexandria, Louisiana, you DEF need to take a detour here! Just ask all the visitors who come through!
– DeWanda Jackson, Alexandria Branch Teller

---
Zaxby's in Zachary, Louisiana
Zaxby's. It's not a name I was familiar with until recently. My biggest question is, "how have I not heard of them until now!?" The food there is amazing, but the people there are what makes the place even better. The manager checks on every customer to make sure they are satisfied. The employees are great. Zaxby's is what I would consider the "fine dining" of fast food. I ordered a Caesar salad with fried chicken. The food was fantastic. It costs $7.29 before tax. But 7 dollars and 29 cents seems like pretty much nothing once you taste how delicious the food is. The staff clearly cares about cleanliness. The bathrooms are very clean as well. I will be returning to eat there again. I would definitely recommend stopping by to eat some chicken at Zaxby's.
– Christal Bankston, Zachary Branch Teller
---
Have you been to any of these spots? What's your favorite place for fried chicken in Louisiana?
Once a Pelican State CU member, always a member—through life's milestones, we'll always be there to help you with your financial needs. Your Financial Family for Life. Give us a call at 800-351-4877.