If you ask anyone in southeast Louisiana where they prefer to get their iced coffee, the answer might surprise you. It's probably not a large chain like Starbucks or Dunkin', but a homegrown one. It started in the live oak-lined streets of Uptown New Orleans.
In the fall of 1978, Phyllis Jordan was brewing something that would take New Orleans by storm–PJ's Coffee & Tea Co.
Coffee, Chicory, New Orleans
Chicory coffee, caffeine-free and rich in flavor, dominated coffee enthusiasts' palettes in New Orleans well into the mid-20th century. The root is one of the oldest recorded plants in history, but was first used as a coffee substitute in 1800s France.
The association between chicory and New Orleans began during the Civil War when blockades in New Orleans harbor prevented coffee importation. Residents of the city turned back to their French roots and to chicory. Its popularity continued to grow throughout the years until a lady by the name of Phyllis came along with a "new" New Orleans-style coffee.
Coffee, New Orleans, and Phyllis
Surprisingly, the idea for this new style of coffee was not born from a New Orleans native, but from an Iowan.
Phyllis moved to New Orleans in 1977 after traveling throughout the West Coast. From the West Coast, she brought an almost nonexistent concept to her new city: specialty coffee and unique coffeehouse culture.
"What coffee does, especially hot coffee, you had to sit still for a little while to drink it…which made it possible to say I can join you for a cup of coffee," Phyllis told Louisiana Eats in 2018. "There's a very logical reason why it invites people to be together."
Phyllis was neither trained in coffee-making nor entrepreneurship. A social worker by trade, she saw a need and loved the retail business. So, on September 5, 1978, she opened PJ's Coffee & Tea Co. on Maple Street in New Orleans' Carrollton neighborhood.
The one-room shop originally opened as a retail location, where you could buy loose-leaf teas, coffees, and other coffee-related items. Eventually, Phyllis began making coffee and converted the shop into a café. Some were doubtful of Phyllis' strides, especially those devoted to chicory coffee.
However, her determination transformed coffee shop culture in New Orleans. The use of whole beans instead of chicory was one of those changes.
A little-known but important fact is that PJ's Coffee was the first retailer to sell iced coffee commercially. Phyllis introduced the concept about twenty years before Starbucks. The idea for the drink sprang from a childhood memory of her mother drinking coffee over ice.
The introduction of iced coffee in the city was widely popular. By the end of the 1990s, Phyllis owned and franchised over 30 PJ's Coffee shops throughout Louisiana and the Gulf Coast.
PJ's Coffee, the Caffeinated Realtor, and Caffeinated, LLC
White ceramic backsplash decorates the café and a large sign with the PJ's logo hangs over the ordering counter. Local artwork hangs on the walls, most for sale from $150 and $300.
Busy baristas take orders and make drinks. Their movements dance-like as they step around each other, effortlessly. Everyone here is friendly and keenly talented at making coffee. The owner, Amanda Bennett, or the Caffeinated Realtor, chats with customers.
This PJ's Coffee belongs to Caffeinated, LLC, located in one of the busiest locations in Hammond, Louisiana. It's across the street from Hammond Square, an outdoor mall boasting Target and Dillard's.
Amanda established Caffeinated, LLC, in 2006 when she franchised her PJ's Coffee location alongside two other ventures, Tanlines Tanning Salon and Cold Stone Creamery.
Deciding what coffee company to franchise was a no-brainer. Amanda had always been a fan of PJ's and their Mocha Granita. Plus, she explained, who wouldn't want free coffee?
"I deliberately chose PJ's Coffee because of the quality of their product," Amanda said. "I have always loved coffee, and I am really picky."
She explained how important the beans, roasting, and care were to good flavor. According to Amanda, there's no room for mistakes.
The company being Louisiana-based was also an added bonus.
However, Amanda's love for Mocha Granita and the PJ's brand wasn't the only reason she entered the coffee industry. Similar to Phyllis, Amanda felt that coffee was an avenue to human connection.
"Coffee is a ritual, a habit, a love affair," she said. "We build friendships over coffee, we study toward our college degree over coffee, we nurse broken hearts and bad days over coffee, and best of all, we celebrate our great days and adventures with coffee."
The Caffeinated Realtor and Her Staff
Amanda eventually let the tanning salon and ice cream shop go so she could focus on coffee and real estate. The decision was an excellent one. Anyone who walks into her PJ's would agree.
Her staff is friendly and personable, almost to the point of disbelief. In fact, barista Joey Hernandez won PJ's Coffee 2020 Barista of the Year, and with good reason. If you're lucky enough to walk in on a day he's working you'll be greeted with a friendly smile, and a, "Hello, friend." As you're leaving, he'll make sure to wish you a good day, and tell you to "Be careful!" These are small gestures, but gestures that can make the start of a bad day a lot better.
When asked about what she thought differentiated her PJ's from the rest, Amanda gave all the praise to her staff.
"Hands down I would have to say the staff," Amanda said. "Lauren Pullen is an amazing manager along with her assistant manager Courtney Atchley. [They] really keep the store running like a well-oiled machine."
It's no surprise that Amanda has been able to attract such a friendly and personable staff, she's exactly the same. Walk in on any given day, and you'll see her chatting up patrons. She also cares deeply about the people that work for Caffeinated, LLC.
"I do think that the energy that a business owner gives out has an effect on its employees," she said. "We have found that when we support a great employee, they return the favor and support the business and our customers."
Amanda and Phyllis
Many of the ideals that Amanda holds about coffee are reminiscent of Phyllis. Both women believe that the quality of the coffee beans is essential to the flavor, and both women see coffee as a bridge to the human experience.
In that same 2018 Louisiana Eats interview, Phyllis described the items needed for making and drinking coffee as paraphernalia for the rituals of friendship.
In our conversations, Amanda described a similar notion, but in more philosophical terms.
"Coffee holds a place in our hearts and souls," she said. "It just doesn't go out of style and we drink it when we are rich or poor, sad or happy, old or young. It crosses boundaries and can create bridges."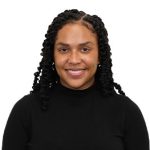 My name is Leiana Pineda Gonzalez-Rubio, and I am the Content and Digital Strategist at Pelican State Credit Union. I have over 6 years of experience in the marketing and communications field. I love reading, dancing and making art in my free time as well as spending time with my boyfriend, family and my dogs.