The Louisiana Peach Festival is an entire weekend of events held every year at the end of June in the heart of downtown Ruston, Louisiana. Ruston is located right between Monroe and Shreveport and is home to Louisiana Tech University. This small college town is filled with people with creative minds and a heart to serve their community.
The Louisiana Peach Festival is a great place to bring the whole family to enjoy our beloved Louisiana culture, delicious food, and beautiful art!
My name is Allyson Clark and I am a teller at Pelican State Credit Union's Conway Branch in Monroe! In June 2019, myself, along with many other Pelican team members from the Monroe and Conway branches spent the weekend at the peach festival, "A Peach in Time," and even though it was a SCORCHER, we still had a blast!
Before we dive into all the fun, let's take a trip down memory lane to learn more about this great event's origins.
The idea for the Louisiana Peach Festival originated in the late 1930s and eventually transcended into a way to promote the fruit industry. At that time, Lincoln Parish was home to many peach farmers, making it an ideal location to begin this peachy tradition.
The first peach festival in Louisiana was in June 1951, and it was a huge hit! The festival continued to grow decades later, though there were a few financial bumps in the road in 1981. With the help of the community, the Lincoln Parish Police Jury, and the Ruston-Lincoln Chamber of Commerce, the festival endured these trials. It then continued to thrive just as the orchards have done time and time again.
Today, the festival draws in people from across the state and contributes around $2 million back to the Ruston community each year.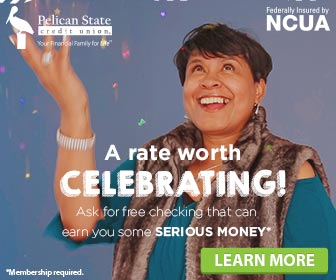 We got to meet lots of families, play Pelican PLINKO with kids, and enjoy yummy food and drinks. Business Development Representative James Miles and Monroe Branch Manager JT Thomas had the pleasure of visiting with Pelican's Board Chair, Mr. Gary Crockett, and his wife Lynda.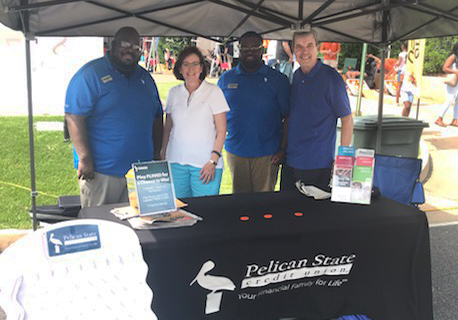 On Saturday on the way in, we stopped by the Antique Car Show that was going on outside the festival gates to look at all of the beautiful classic cars. After hanging out in our booth for a while, James and I were lucky enough to walk around through the arts and crafts and food booths inside and meet a few local entrepreneurs. One of the booths had samples of locally-grown candied pecans which were outstanding! We spoke briefly with the owners of BranchOff Natural Body Care, as well as a very talented silkscreen printmaker and painter of all things Louisiana. We also got the chance to admire art pieces from an art contest that was held just the week prior.
The festival was booming all weekend with even more events like the Peach Eating Contest, the Peach "Cobbler Gobbler" Contest, a rodeo, and a tennis tournament. There were plenty of fun events and games for the kids like the Diaper Derby, which is an adorable baby relay race, the kids' Fishing Tournament, and the "Peachy Play Zone" with games and face painting for you and your kiddo!
One of the most notable events was the parade "A Peach in Time" with Catherine McVea serving as Grand Marshal. The parade featured floats, cheerleaders, clowns, musicians, marching groups, and more making their way through Ruston!
We can't forget the music, too! Local artists were playing throughout the festival, but the main event was the famous Peach Stock Battle of The Bands concert on the Hampton Inn Railroad Park Stage featuring five local bands. The concert headlined with bands like the Joe Haydel Band and Jordan Sheppard and the Cypress Knees.
There was so much to see and do at the Peach Festival that we couldn't possibly experience it all in the time that we were there. The festival was filled with so much life and was the perfect embodiment of the cultural treasure that is Louisiana. We're very proud to be a part of this wonderful event and hope to attend and meet more unique and talented artisans for years to come!
Do you have a favorite festival in your community? We'd love to hear about it in the comments below!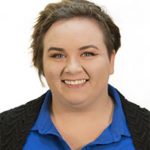 Hey! My name is Allyson Clark, but I go by Ally, and I am a Teller at the Conway Branch at Pelican State Credit Union! I live in a small town called Sterlington, Louisiana with my wonderful husband, Bryan and my fur babies Leo and Nyx. I have a bachelor's degree in Art with a concentration in Painting from the University of Louisiana at Monroe, so you could say I like art just a little bit! I also love Star Wars, watching Netflix with my husband, listening to music, learning new things, and I have a passion for serving others!