Over the last year, I have had the pleasure of working with Beach Bums Sports Complex owners Dr. Robin Dale and Dr. Chris Fussell. They came to Pelican in January of 2018 with a vision and plan to buy what was previously known as Laguna Beach Volleyball and turn it into Beach Bums Sports Complex.
The two owners have been playing volleyball for over 25 years, so to say they know volleyball in its entirety is an understatement.
It's awesome to know that the town of Denham Springs has such a unique place to stay active and have fun while doing so. In fact, I had the pleasure of joining other Pelican team members in playing in a corporate league recently!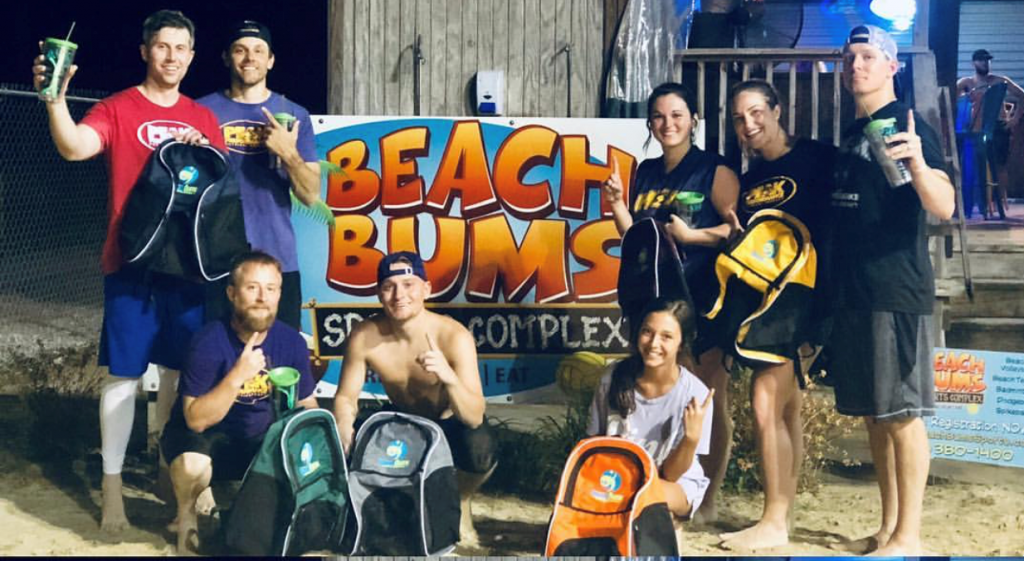 We played at Beach Bums every Tuesday night for eight weeks. It was an awesome experience to get out and learn more about volleyball, exercise, and network with other local businesses. We talked with Beach Bums co-owner Dr. Robin Dale to learn more about their awesome business.
How did Beach Bums get started?
The actual location used to be Laguna Beach Volleyball, and they started in 2018. In 2018, Dr. Chris Fussell and I stepped in to spruce up the place with a new name, logo, nets, poles, court lines, improved parking, chairs, new sports, and a one-of-a-kind sand bar.
The one-of-a-kind sand bar is a bar with silver coins glued down one by one to the wood spelling out "The Sand Bar" with epoxy poured over it. There are 27 cents flipped over to tails on purpose if you're up for a challenge of finding them all!
The sand bar was inspired by my daughter, Lauren Dale, who watches a ton of HGTV and loves to do interior decorating. My kids all helped with the project—which took over 60 hours.
We wanted a new brand entirely to separate from the bar upfront and distinguish Beach Bums as a destination for fun. Many people actually thought the front bar and Beach Bums were one in the same until the name changed to Beach Bums Sports Complex!
What products or services does Beach Bums Sports Complex offer?
Beach Bums offers the best volleyball experience in Livingston Parish along with options for spikeball, beach tennis, beach badminton, and dodgeball. We have leagues, tournaments, facility rental, training, parties, and more.
We have a bar and grill that serves cold alcohol and delicious burgers, tacos, quesadillas—all with a beach theme. Beach Bums proudly features the Red Robin, named after its sunburnt owner!
The Red Robin a fruity drink that quenches thirst and will sneak up on you after a couple if you don't watch it! Dr. Robin Dale has been known to buy a drink for his competition before the match to assure a win. (Just kidding!)
What is one thing Beach Bums is known? Why are you known for that?
Beach volleyball of course! It's our passion to make this the most fun spot in Livingston Parish any day that we're open. Beer, the beach, and volleyball all fit together.
The culture of the players at Beach Bums is one of love and fun. People help each other get better and offer that advice for free solely to further the love of the game.
What was the biggest "win" in the history of Beach Bums?
The biggest win was actually opening night, where everything was not perfect. The stress was high, the crowd was unknown, and the future was uncertain.
A typical night may feature anywhere from 50-100 volleyball players, so when over 250 showed up, the party was rocking until 1am and the energy was indescribable!
How is Beach Bums active in the community?
Beach Bums has spent significant time and effort developing a corporate league to keep the community active and give businesses a great chance to team build and network. We are excited to grow this even more.
We are happy to sponsor local high school teams and have provided practice jerseys to Denham Springs High School. We will be hosting our first ever p1440 tournament for teen girls in the next few months.
P1440 is a program created by US Olympian Kerri Walsh Jennings for youth and amateur players. It's based around the 1,440 minutes in the day and making every single minute count. P1440 is redefining volleyball into a lifestyle of fitness and fun. They host and sponsor tournaments across the USA, which are qualifiers for bigger and better tournaments
What advice or quote has had the most impact on Beach Bums?
At the Fudpuckers Volleyball Tournament in Florida, one of the largest amateur tournaments in the world, the saying is always "We are here to have FUN!"
Beach Bums has little to add to that as it has become the cry of volleyball players everywhere. "HAVE FUN" along with our tagline, "DO IT IN THE SAND," would be the quotes that keeps us going.
Are there any interesting or fun facts you'd like to share about Beach Bums?
Starting May 2019, Beach Bums is open every night from 6 – 10 pm on Tuesday through Saturday. Pickup play is $5 per person for the entire time as space permits. Leagues are currently on Tuesday, Wednesday, and Thursday, so there is more space available on Friday and Saturday if an event is not going on.
There are several coins on the Sand Bar that are turned upside down on purpose as we were gluing down each coin one by one. The initial intent was if someone found all of them, a beer would be on the house. However, this took way too long and too much verifying to ever be feasible at a busy bar. This was not put into practice past the first few weeks, but it's still fun to look for the upside-down coins as you are there and know the history of them.
Are there any current or upcoming sales, promotions, or events you'd like our fans and members to know about?
Summer leagues will start the week of June 18. There are also multiple tournaments per months, but to name a few – we have p1440 rise double (2 versus 2) for teens girls, Rockwell Revolution men and women doubles, Denham Springs High School volleyball fundraiser quads (4 versus 4) draw tournament, and Glow in the Dark Quads.
What's the most rewarding part about working at Beach Bums?
Working at Beach Bums is hardly that. We are having fun and hardly working. Beach Bums is a laid back facility that puts you at ease but enters you into competition at the same time. It gives you the best entertainment possible in Livingston Parish, while having a brewsky, listening to music, and eating great food.
How many people are in your workforce, and who are the people behind Beach Bums success?
The two owners, Dr. Robin Dale & Dr. Chris Fussell, do most of the work and financially back the business, but we rely on our manager Mo to help glue everything together and glue she does.
Ryan Culpepper is an amazing player that offers training lessons to people of all skill levels. Multiple bartenders that are also integral players serve up the drinks each night—Shelby, Lauren, Mo, Alyssa, and Jamie. Erin is also integral in the kitchen.
If you have a local business you think needs some time in the spotlight, fill out our contact form and let us know! We're happy to feature them on Pelican State of Mind!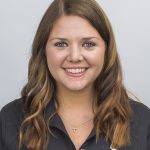 I enjoy helping people, and I am a huge dog lover. I have a slight obsession with iced coffee and all things beach-related.