Prom is a tradition that many generations of high schoolers experience. It's one of the last nights that many students get to spend with friends and classmates as high schoolers.
As a parent or guardian, you want this night to be memorable for your teen. It's easy to lose sight of all the costs associated with this event while getting caught up in the excitement of outfit decisions and anticipation.
The Nationally Certified Credit Counselors here at Pelican help educate our members on how to budget in many areas of their lives–household, groceries, and holidays! Planning for your teen's prom experience is no different and budgeting for the event becomes necessary when you consider the cost.
We're here to share ideas on how to create the perfect prom budget as well as provide money-saving tips for the special night!
Begin Budgeting for Prom
You should be realistic about the total amount of money you want to spend. Start by making a prioritized list of expected expenses. These expenses can include tickets, outfits, shoes, jewelry, hair/makeup, dinner, and transportation.
Get creative and restructure the budget by what expenses are most important to you if the estimated prom costs are more than you need to spend. Encourage your child to set aside money to save for their wish list items if they have a part-time job.
You can use our free prom budgeting worksheet to keep your list organized!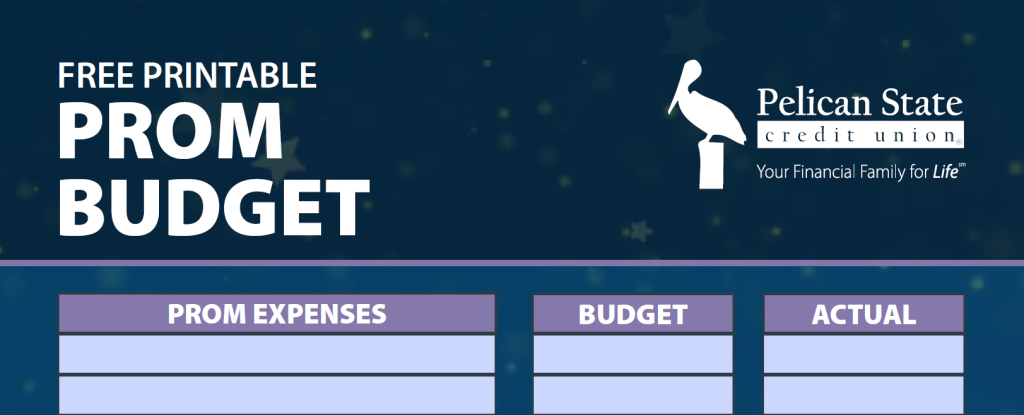 We've got some great money-saving tips for every item on your budget! Check out these great ideas below!
The Dress
The dress can easily be one of the most expensive items on the list.
There are many options to consider before splurging on a dress from a department store that might only be worn once.
Do you have a family member or family friend that your teen can borrow a dress from? Your teen can also swap dresses with them from a previous event so that both parents save money!
Thrift shops and consignment stores are other great places to find gently worn prom attire. They're much cheaper than department stores. Be sure to check out the sale rack for shimmery holiday attire and shop out of season sales if you and your teen do go to a department store.
Dress rental websites also offer great deals on dresses. This reduces commitment to owning a gown and can lower the price tag! Also consider making your child's dress or helping them do so. Get creative and buy fabric with a great, flashy pattern!
Check out charitable organizations that help high school students get low-cost or free prom dresses and tuxes if you find yourself in a situation where you are unable to afford your child's dress.
The Tux
Another dilemma prom-goers face is whether to rent or buy a tuxedo.
Many times, tuxedo rentals include all the pieces in the package—shirt, tie, vest, etc., and you can cut the cost by not ordering the deluxe packages.
You might be considering buying your child's forever tux, but there are a few things to keep in mind, like if it's worth investing in one and if they'll get multiple uses out of it.
Tuxes also aren't the only option for prom! Your child can wear a nice suit! This is one of the best ways to save on men's formal wear, especially if they already own a suit!
The Shoes
There is no need to spend a fortune on fancy shoes.
If your teen digs in their closest they might find shoes that match their outfit! They can also borrow or swap shoes with friends who are the same size. Try inexpensive stores first if they decide they want new shoes.
The Jewelry
This is another item that doesn't need to break the bank! You can ask your friend group or family if they have jewelry your child can borrow or trade. You can also make one-of-a-kind accessories by buying inexpensive beads.
The Dinner
The average cost of dinner can be $30 to $70. Check out special bargains around prom time. Restaurants love to promote prom specials and 2-for-1 meal deals!
There are other ways to keep within budget if you want to go to dinner. The group can eat at a less expensive restaurant, order appetizers, and keep their meal light. Host a dinner party at home where everyone brings a dish, potluck style, or order takeout. All the parents serving dinner before the group heads out is another option.
The Transportation
Renting a limousine is a tradition many high school students still participate in today. If this is something your child and their group of friends really wants to do, make sure everyone goes in equally to split the costs. Alternatively, consider renting or carpooling in a larger vehicle.
The Hair and Makeup
Help your child experiment with tutorials online to do their own makeup.
Ask your friends and family to help with styling their hair! You can also research local beauty schools for their appointment. This is a cheaper route because students who are in school are doing hair and makeup! Ask if discounts are available for multiple services if they do go to a salon or beauty school.
Time to Dance
Prom can be a big deal for teenagers but remind them that is only one night out of their entire lives. Graduation is soon and post-graduate education can get pricey, so it shouldn't cost a fortune to attend prom. Take this is as a learning opportunity to teach your kids about budgeting and work together on ways to save money while still having a memorable night!
What are money-saving tips you use for school dances?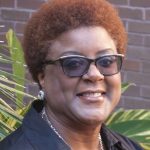 Lynn is certified through the National Association of Certified Credit Counselors and the Credit Union National Association as a Certified Financial Counselor. She has assisted countless members with understanding credit, managing budgets, and guiding them to financial success.