Trying new restaurants and dining out are some of my favorite things to do, but sometimes my wallet is not in favor of those choices. In my opinion, budgeting for food costs is one of the most difficult things to do. You don't know when or if you'll feel like cooking, going out, or ordering in.
At my house, we like to cook at least three nights a week, eat leftovers for lunch, and go out once or twice a week. We dedicate every Sunday night to a grocery trip where we plan out 3-4 meals and pick up a few snacks. This gives us food in the pantry and the refrigerator while giving us flexibility knowing we did not pay for seven days' worth of groceries.
Since dining out can become one of the bigger expenses, here are some tips I've picked up along the way to help minimize the extra cost:
Make a Budget
Something easy to start with is putting together a budget of how much you want to spend on food per month. This should be a combination of what you wish to spend on groceries for home-cooked meals as well as dining out.
There are tons of apps and tools that link to your spending accounts that will help you stay within your budget and alert you when you are close to going above what you had planned.
Looking for help with your budget?
Pelican members have access to
My Finances
, a personal financial management tool in Pelican@Net!
Find Local Specials
One of my favorite things to look for when I'm trying to cut costs on dining out is local specials. If you like Mexican food, Tuesday nights will offer you more for your money. Most Mexican restaurants offer a "Taco Tuesday" special with tacos as well as discounted margaritas!
If you want to go out for a good steak, look for a steakhouse with specials. My personal favorite is Texas Roadhouse. Anytime between 4 and 6 pm you can get a steak or entrée of your choice with two sides for $8.99. That's a great deal that will probably give you some extra to take home for later!
Check restaurants that offer "2 for $22.00" deals like Chili's if you're trying to go out on a budget. They give you 7-8 options for entrées plus great appetizers to choose from. This is one of those deals you can't pass up because it is so inexpensive and practical!
Vouchers and Special Offers
Many chain restaurants have special offers and vouchers for birthdays, anniversaries, and other special occasions. Some of the places will offer a free appetizer or dessert!
These special offers are time sensitive—so you always want to pay attention to the dates and times on the email you receive!
Student, Military, and Senior Discounts
If you're a university student pursuing your undergrad, graduate, or doctoral degree, you have a student ID. Your ID is your free pass to many different discounts at restaurants and department stores! You can find a full list of participants at myunidays.com!
You will need to have your valid student ID on you to receive the benefits, but this is a perfect way to get a discount!
Military and senior citizen discounts vary from place to place and sometimes aren't advertised. The best way to find out if your restaurant offers these discounts is to ask!
Some restaurants will have a specific night that the discount is offered or they will just ask for your ID and apply the discount to your bill.
Skip the Extras
I don't know about you, but I normally have a hard time finishing my meal while dining out! Plus, if you add appetizers, drinks, and desserts the costs can start piling on.
My advice is to skip the appetizer or get the appetizer you're craving as your meal with a side. If you and whoever you're eating with both want the appetizer, don't forget that you can split a main course as well!
Most restaurants give you more than you can eat when it comes to dinner portions, so splitting an entrée is always a good way to be able to get that appetizer or extra drink without going over your planned budget!
Go to Lunch Instead of Dinner
"Our lunch specials today are…" is probably one of my favorite phrases when I know I need to cut a little bit here and there. Normally places take their best dinner items, scale them down a bit, and give it a lower cost. Lunch is almost always the best route to go when trying to save a few dollars.
Since its earlier in the day, most of the time you aren't looking for the hearty, super filling meal you would get at night. This makes it much easier to skip the appetizer and the drinks. One of my other favorite things about lunch is that the portion sizes are more reasonable!
My personal go-to is a hearty salad. Salads have become much more popular recently, and many restaurants have started to make salads more filling by loading them with chicken, salmon or shrimp! Although it isn't a huge burger, I find when I stick to a salad I don't feel as dragged down the second half of the day!
Go During Happy Hour
See if your favorite restaurants have special food and drink menus during happy hour! Although the food may be a smaller portion size, it is normally the same menu you would receive if you sat at the bar for finger foods!
Drinks are normally 2-for-1 during this time period, which is subject to change depending on where you are. This is another great way to make sure you are receiving the best bang for your buck.
Eat at Two Places
This advice probably seems a bit contradictory to the whole point of this post, but hear me out!
If you're really in the mood for a high-end restaurant, it doesn't have to break the bank! I recommend eating somewhere less expensive for a light meal, then finish up somewhere with a phenomenal view and ambiance for drinks and dessert!
We often do this on the weekends before we go to meet friends for drinks. This saves us from spending an extra $40 on food. Being full before heading to the restaurant makes going to grab a few drinks more practical and cost efficient, especially when we are trying to save and still have fun!
Repurpose Your Leftovers
I love to cook, and one of the best things to do with leftovers is repurpose them! I know this may sound a little strange because many people like to just reheat the food and move on with their day, but I love turning leftovers into something new!
Have you ever gotten a perfectly cooked steak and when you heat it up in the microwave it becomes too overdone to eat? Another great, easy option is to slice it into thin strips and make a steak sandwich.
Slap on a condiment of your choice plus some cheese, heat it up a little, and just like that you have a restaurant-level meal at home!
After you reheat your leftover pasta, warm up a little milk and add it to the dish. Believe me when I say that heating up the milk before adding it to the pasta is important—this helps the milk and already-made sauce become cohesive.
Bringing a salad home can be tricky if it has already been tossed. The dressing will make the lettuce soggy, and that does not make for a fun meal the following day.
Ask for dressing on the side, especially if you know that there is no way you can finish the salad in one sitting. This prevents the lettuce from getting wilted and will provide you with a great lunch the next day!
Do you have any tips for dining out on a budget? Let us know in the comments!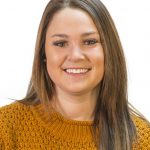 My name is Caitlyn, and I'm a graduate of Southeastern. I'm a podcast enthusiast with a passion for cooking and dining out with friends.