Are you a foodie? Are you deal-savvy or an avid money-saver? Do you enjoy things that are free? If you answered "yes" to any of these questions, you're definitely going to want to keep reading!
Food holidays (the best kind of holidays in my opinion) are typically celebrated by partaking in that particular food item. Chances are, there's a restaurant near you that celebrates food holidays in the best way possible—by giving away free food!
Here's a list of days throughout the year where you can get freebies from restaurants near you:
Note: Deals can vary by location. Purchase may be necessary for some deals. Deals effective as of 6/3/2021 but may change at any time.
January
---
February
---
March
---
April
---
May
---
June
---
July
---
August
---
September
---
October
---
November
---
December
---
If that wasn't enough, check out these restaurants that offer freebies JUST for signing up for their rewards programs or email lists:
---
What days throughout the year did we miss? Let us know in the comments below!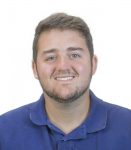 Louisiana State University alumnus (Geaux Tigers), fanatic of all things sports, pugs, and Star Wars, and teller of the occasional dad joke. Retired Avenger, current NFL free agent.