On June 12, 2019, the team at Labarre Associates honored its work in association with Pelican State Credit Union and all of the subcontractors that helped with the credit union's new Corporate Campus in Baton Rouge! The last piece of structural steel was raised to the highest point of the building in what is coined the "Topping Off Ceremony."
My name is Rachel, and I am an architect and the Design Optimization Manager with Labarre Associates. I've worked in architecture since 2007 and started with Labarre in December 2013. I originally started my career in New Orleans on school and municipal projects, but since coming to Labarre, I've had the opportunity to get into private work like financial institutions.
Now that the ceremony has passed, I got the chance to speak with Pelican and they asked me a few questions about my experience.
What is a Topping Off Ceremony?
A Topping Off Ceremony is an old tradition that was adopted in the United States mostly for skyscrapers, but also for any significant steel-built project. It is generally held when the last steel beam is placed atop a structure during its final stages of construction. It symbolizes a safe construction site, as well as the accomplishment of reaching an important milestone.
Also, it is common in Topping Off Ceremonies that flags are placed on the top piece of steel in the same way that people put flags on mountain summits, or even when the United States landed on the moon. It is a symbol of achievement and patriotism.
What was the significance of the Topping Off Ceremony with Pelican?
Planning stages for Pelican's new Corporate Campus began in the mid-2000s, so Labarre decided to do a topping off to celebrate the much-anticipated start to the construction together. We had never done a Topping Off Ceremony before, but for how big the project is and how long ago it was initiated, such an event was warranted.
I have had the pleasure of working on multiple Pelican projects including the Denham Springs flood renovation project, and the Hammond branch renovation. This project, especially, is very near and dear to me because I've been helping with the design on it since late 2014.
The Topping Off Ceremony meant a great deal to our company. It represented the trust in working together with our teams to result in what we expect to be a cutting edge and cost-effective Campus of buildings.
What moments stood out from the ceremony?
One of the best moments during the ceremony was when the beam was signed. Everyone that had been involved in the project up to that point had the chance to sign the last beam before it was raised. Representatives from Pelican (including the credit union's Board of Directors), Labarre, and some of the steel workers all participated in the signing. The mayor of Baton Rouge's right-hand man, Rowdy Gaudet, was also there to sign as his role in helping with permitting was instrumental. Seeing everybody sign that beam was special.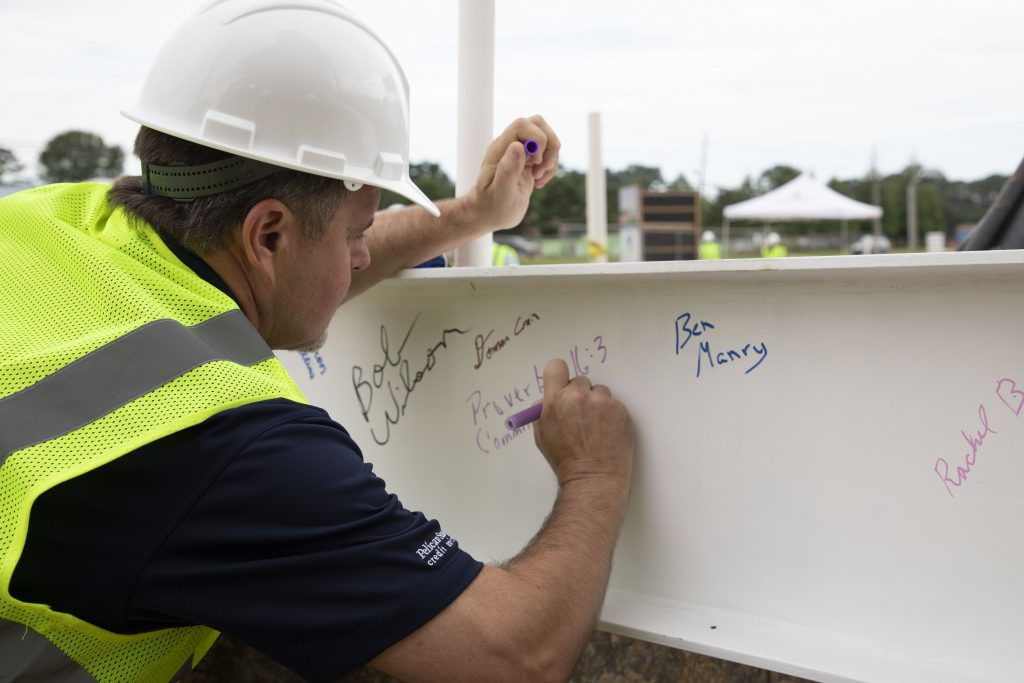 Another great moment was when Jay Labarre, president and CEO of Labarre Associates, said the prayer. Labarre prides itself on starting major events, meetings, and company lunches with a prayer. As a company, we have employees who are among different denominations and in different phases of their faith, but the prayers help give us all a few moments to give thanks and to reflect on how we come together as a team and accomplish great things.
When the Topping Off Ceremony came to an end, we wanted to use that time to be thankful for not only the safe building process up to that point, but also the continued safety and progress in the future.
What have you enjoyed most about this project?
I've been overwhelmed by how forthcoming and open Pelican is during meetings. Their transparency has been a refreshing change of pace to some other projects I've worked on. In past meetings when discussing the building's plan and design, we could effectively discuss everything that best suited the needs of their employees and members.
Pelican's ability to communicate their needs and expectations is one of the many reasons I have loved working with them. I feel that while Pelican is our client, they have also become like family.
Another exciting note is that Pelican's new Corporate Campus project is the first WELL-Registered project in the state! The WELL Building Standard is a performance-based system for measuring, certifying, and monitoring features of the built environments that impact human health and well-being through air, water, nourishment, light, fitness, comfort, and mind. These design decisions can influence a change in healthy personal patterns like choosing to take the stairs instead of the elevator.
Being on the cutting edge in the state for designing in occupant well-being is very exciting to us.
How and why could the building you work in be improved or renovated? Share in the comments below!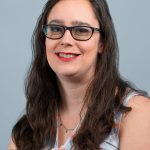 Rachel Brown is the Architect and Design Optimization Manager in Labarre's Construction Team. She sees every project as an opportunity to brighten how people experience their everyday surroundings, and her extraordinary talents make her an invaluable resource for her team. Having earned a Bachelor's Degree from Louisiana Tech University, she is also a LEED Accredited Professional in Building Design and Construction (LEED AP BD+C) and a member of the AIA.