Managing debt can be tricky, but the best way to handle debt is to avoid it and stop creating it! Since many people may already be beyond this point, let's talk about a solution.
My name is Lisa Knox-Fuller, and I'm a Nationally Certified Credit Counselor with Pelican. I've worked with individuals and families for over 20 years in making sound financial decisions. I love providing my members with financial advice which can help to eliminate debt and build good credit.
In my opinion, one of the most efficient ways to handle excessive debt is by obtaining a debt consolidation loan. A debt consolidation loan is a loan product which can combine credit cards, personal loans, payday loans, finance company loans, and other debts into a single, lower monthly loan payment.
This loan is most beneficial when your financial institution can offer a lower interest rate and a lower monthly payment than your combined bills.
On the other hand, if you intend to continue to stack credit card debt and open loans, your finances will take a hit. This loan requires commitment, and the choice is up to you.
Here are a few things to remember when deciding whether it is worth it to get a debt consolidation loan:
Life Happens
Throughout our lives, it is no secret that things come up that we don't expect. We welcome happy times with events such as weddings, the birth of a new baby, graduations, and the purchase of a new home.
Sadly, we must also factor in the not-so-happy times like divorce, foreclosure, illness, and the loss of loved ones. Whether you have experienced happy or sad life events, most of them probably have come with a hefty price tag.
Taking charge of life events can take a toll on even the best household budget. I've learned that out-of-control debt usually doesn't happen overnight. Many clients juggle debt for months or even years. Surprisingly, this isn't always a result of irresponsible spending. For many of my clients, life happened!
About-Face
Ignoring your debt or giving it the "about-face" is one of the worst decisions that you can make when you are sinking in debt. The BEST thing to do is FACE the debt.
In the words of my mother, "If you owe a bill, pay it." Many of my clients have struggled with debt for far too long. When I ask why they haven't asked for help, the most common response that I get is, "We were too embarrassed."
One of the reasons I love Pelican State Credit Union so much, is that we are staffed with a caring and compassionate financial counseling team. As far as I am concerned, this is a "judgement-free zone" and we realize that bad things sometimes happen to good people. Do not ignore your debt. More often than not, someone on our team can assist you with a budgeting plan or financial advice to get you back on track.
Avoid the Danger Zone
Let's pretend that you've taken my advice and consolidated your debts into one low monthly payment. More than likely you are feeling pretty good. Chances are your credit score has improved and you've got some extra cash in your pocket. If you want this feeling to last, make sure that you avoid the danger zone.
The danger zone is a place where zero balance credit cards and loans wait anxiously to be used again. Do not fall into this trap! Stay away from using old credit cards, loans, and even new offers.
Learn to choose needs over wants and live within your means. Don't bust your budget on frivolous things. Learn to enjoy your debt-free life, and in the end you will be proud of yourself.
So, is it worth it to get a debt consolidation loan after all? My answer—YES! When used properly, a debt consolidation loan can save you money, relieve unnecessary stress, and help families rebuild their lives.
---
What actions are you taking to reduce your debt? Leave a comment below and let us know!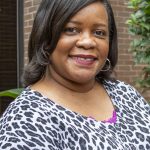 Self-proclaimed life coach and photographer. I love road tripping with my husband, sunny days, classic cars, and fresh baked cookies.