When writing a resume, it's very important that what you are displaying on paper is your best you can offer. As a Human Resources team member that checks several resumes each day, I feel that sometimes this message can get lost for a lot of applicants.
Think about it this way: a resume is the first impression you'll make on a company. It will be the first thing a person looks at when deciding whether you will be the right fit for a position.
I wanted to share some inside tips on how you can improve and create the best resume you can:
Analyze Your Current Resume to See How You Can Improve
If you've applied for jobs and haven't gotten any calls back, follow this advice: take a look inside. Do not focus on the companies and why you're not hearing back from them.
Pull up your resume and ask yourself, "Does this represent the very best version of me?" If it doesn't, then get to work!
These are some of the most common mistakes that will get your resume overlooked:
Misspelled words
Incorrect grammar
Capitalization errors
Out-of-date or non-specific objective
Incorrect job history
It doesn't matter how many years of experience or degrees you may have, your overall resume quality is key. There's almost always room for improvement!
Why is your resume so important? Look at it through a recruiter's eyes!
If it seems like this resume needs some extra polish on it or some extra time editing, then it's not their best work. If someone cannot put solid effort into their resume, then what kind of work will they present? Will they meet deadlines?
There are hundreds of websites out there, like Canva and Zety, that will help you create a resume with absolutely no cost to you. There is even a feature in Microsoft Word and Google Docs to create a professional resume.
It may be time-consuming, but the effort you put into a resume will be noticed. I personally see a lot of automatically-generated resumes that come from Indeed, which are fine, but the ones that stand out are the ones created with passion, effort, and intention.
Help Your Resume Stand Out With These Additions
Even a little bit of added color and personality can help your resume stand out among a pool of other professionals.
Want some quick tips on crafting the best resume from someone involved in the hiring process? Here's my advice on making your resume stand out:
Put the reason for leaving a job.
If you moved to a different state, the company closed, or your position was eliminated, the explanation will help the company know why you left and visualize your full career progression.
Put the location of the position.
You do not have to include the exact address, but the city and state are really helpful. This helps the company determine if a certain branch or location may work better for you.
Let's say you live in Baton Rouge, but you applied for a position in Zachary. The company will see that and know that a position will be opening soon for a location in Baton Rouge, which would be more convenient and a better fit for you.
Bullet point your responsibilities for each position.
Think of bullet points like "bite-sized" information that helps the company match you to the right job a lot better.
This is where you add the specific projects and tasks you worked on at that position. This helps showcase the skills you learned and applied as well as your achievements during your time in that position.
Place your past positions in chronological order.
Start with your most recent position, and make your layout like so:
Job Title 1 – Company A – 2013 – Present
Job Title 2 – Company B – 2011 – 2013
Job Title 3 – Company C – 2005 – 2011
This keeps everything consistent and helps the company read in chronological order to see your full work history.
Use a professional email address.
This one's a very important tip! I recommend using some variety of the following as your email address:
Your first name and last name: FirstnameLastname@__.com
Your first name and middle name: FirstnameMiddlename@__.com
You can add some numbers if needed, but try to refrain from that if possible.
Now your email address not only looks clean and professional, but it helps the company easily see who they're emailing, instead of CoolPersonWhoLikesDogs34565787@__.com
Provide every position you held.
This helps to make sure there are no gaps in your work history. If you do have gaps, explain why.
Whether you went back to school full-time, stayed at home, or were let go and could not find work, every explanation helps the company understand the story of you.
Here's a tip:
Update your resume often, even if you aren't job searching! If you're applying for internal positions at your current company, an updated and personalized resume can help there too!

Add something to your resume that will make it stand out.

Keep in mind, you are not the only person applying for the position.

You can tweak some templates and create something that flows nicely and looks different at first glance. If you want to get creative, you can also add a simple, clean-looking border or a light pop of color for a little flair.

Do not add a picture of yourself.

This actually makes the resume go from clean and professional to confusing. Unless you're sending this out to get a job as an actor, leave your headshot off the resume.

If you really want to be sure your picture is shown, use an updated professional picture on your LinkedIn profile!

Cater your resume to the job you're applying for.

This will immensely help you stand out to whomever is reading your resume.

Start with your objective and show how it matches what the company is looking for in their open position. Look at your skills and experience and showcase your expertise in terms of the job you're applying for.

Don't spend your time writing out references.

At the bottom of your resume, add "References available per request" just in case the company wants to conduct further research on your positions.

While we can't guarantee that this alone will secure a job for you, if you follow these tips, your resume will work harder for you!

Don't forget, your resume represents you. Make sure it shows potential employers the best parts of you!

When's the last time you took a look at your resume? Let us know in the comments!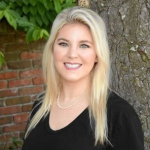 Hi! My name is Chloe' Benoit. I enjoy helping others, staying up-to-date with fashion and the occasional Big Mac.