With schools and workplaces being closed for the foreseeable future, parents in particular have been tasked with homeschooling their kids while also maintaining their work responsibilities. This new reality has created a huge challenge when it comes to managing your time during the work day. You want your kiddos to stay on track with their education, but you have a ton of work that just cannot wait!
There's not enough time in the day to simultaneously be both employee AND parent-teacher, right? Well, it's definitely possible; you just have to balance everything out carefully.
I put together a schedule of what my work days look like now—or what I aimed for them to be—to achieve both work productivity and schoolwork productivity for the kids. Of course, things go awry, but I wanted something to try to keep us all a little organized and on track. Feel free to adjust for your little ones and your ideal schedule.
8:00-8:30 am: Start Work Day
Get your work day started early while the kids sleep in. They won't be nearly as grouchy if they self-wake, and you can use this time to get e-mails checked and replied to and get your day started. We all enjoy the lack of alarm clocks every now and then!
8:30-9:30 am: Breakfast, TV, Get Dressed
Depending on how old your kids are, these tasks should, for the most part, be pretty self-sufficient. And of course, getting dressed and out of those pajamas is totally optional! Thank goodness for no "distance learning" dress codes. If you're feeling extra chipper one morning, be an over-achiever and cook a big breakfast. If you need more time for other things, there's nothing wrong with a quick breakfast like pop-tarts, cereal, or some fruit. Breakfast is the most important meal of the day, after all!
9:30-10:00am: Morning Movement
It's time to get those kids moving by logging on to YouTube for a few songs on GoNoodle or stretching out with Cosmic Kids Yoga. Choose something that is fun and gets the wiggles out.
They will certainly be entertained while you get your work underway!
10:00-11:00 am: Start Schoolwork
Get the kids started on those work packets or book assignments given out by the school. Go over directions with them so they can self-study. Of course, questions are always welcome, but this gives you some time for peaceful work.
This is usually a great time for conference calls, too. I'm sure you have one (or five) on your schedule for the week. If they involve video calls, don't forget to get dressed and brush your hair!
11:00am-12:00 pm: Outdoor Play
Send the kids out for some fresh air. Riding bikes, sidewalk chalk, and bubbles usually make for some fight-free play. I'm sure you have seen all the great designs posted on Facebook, like this post from Baton Rouge Moms. 
After some items are checked off your list, you can get lunch started while the little ones are outdoors playing.
12:00-12:30 pm: Lunch Time
12:30-1:00 pm: Review Work
Take some time to go over their work packets and assignments together. Make corrections on what needs to be changed and anything that needs to be explained further.
1:00-2:00 pm: Computer Learning
Log on to Zearn, Great Minds, BrainPOP, and/or Khan Academy for great resources, games, videos, and quizzes to accompany the lessons from the day. Kids enjoy getting on the computer anyway, so they won't even realize this learning is work! Hello, quiet time!
Looking for even more great educational resources for the kids?
Check out our full list
here
!
2:00-2:45 pm: Creative Flow
Get out the paint brushes or markers and allow the creativity to flow in the afternoon. These canvases will look great hanging in their rooms once they design their masterpiece. You can also snag some of these Easter ornaments that they can use with markers or paint. Have your kids decorate them and then mail to your local nursing home for some festive mail!
2:45-3:00 pm: Snack Break
3:00-4:00 pm: Reading
You may have plenty of books in your house that your students can read and test on for their accelerated reading grade, but if not, check out a couple resources we found. Audible, is temporarily streaming free books due to the school closures. Consider checking out Libby, the public library-friendly app that allows you to check-out digital copies of your favorite books.
You can also access digital editions and resources on your local library's website if you have a library card!
4:00-5:00 pm: Free Time
Use this time to let the kids loose while you wind down your workday. We all have those moments of saying, "No fighting. Give me some quiet time. Just behave!" No judging here!
5:00-6:00 pm: Educational Television
Something my kids have enjoyed while we have been home is watching shows or movies that are historical or scientific in nature, and then writing a brief report about them. While they're super excited about the extra TV time, they are also learning about how the Titanic sank, lifecycles of birds, or arctic geography. These may not be specific to what they are learning in their current grade, but documentaries on Netflix or Disney+ surely offer a variety of shows that will keep your little ones' attention while you finish up work and start dinner.
6:00-7:00 pm: Dinner
8:00-9:00 pm: Baths, Nighttime Routines, Bedtime Stories
9:00 pm: Planning Time
Use this time to make your to do list for tomorrow. What meetings do you have scheduled? Any upcoming deadlines? What is most important on your work list? These will be the items that you will take care of or start on first thing in the morning.
Be honest with your kids. While you're incredibly happy and fortunate to be able to work from home and spend extra time with them, you are still working. I try to schedule attention-focused work duties while mine are locked into something that does not need much direction.
And don't hesitate with giving rewards, just as their teachers would at school. If they are respectful of your quiet time, maybe celebrate the day's end with popsicles outside or an extra half hour later bedtime.
This situation is new to all of us. Be patient with your work-home-school balance.
How are you managing your time as a work-from-home parent? Let us know in the comments below!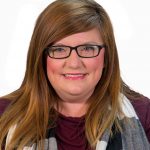 Only child and mother of two girls. Holiday freak that loves to plan a party, especially with a theme! I take entirely too many pictures, mostly of my kids. I am always up for a Hallmark Christmas movie marathon and a quick trip somewhere.