The first thing that comes to mind when people hear "destination wedding" is usually the word "expensive." You see pictures online of the beautiful beaches, rolling hills or grand castles and think about how much money you'd have to pay just to have that wedding at your dream destination. But just how much does a destination wedding cost?
The truth might surprise you. Amanda Santos, our Marketing Representative, recently had a destination wedding that she personally planned. She gave us some insight on how she had her dream destination wedding and spent less than $15,000 to make it come true!
What was the main reason you chose to have a destination wedding?
I personally have always wanted a small wedding. So when my husband Sean and I got engaged, I knew the wedding planning process would be stressful because we both have big families and a lot of friends – which also meant that we'd be spending a lot of money. After looking at the cost of a New Orleans wedding (where we were both born and raised), we realized a wedding out there would be well over $40,000, PLUS rehearsal dinner costs, our honeymoon and other expenses.
We also started thinking back to the weddings that we had previously attended and remembered how quick the weddings fly by. I mean, yeah, you have a whole day dedicated to your wedding, but you're also up at the crack of dawn to get hair and makeup done, playing the waiting game for a few hours, having to get dressed, take pictures, hop in a limo, have an hour long ceremony, hop back in the limo, go to the reception, and then that's a wrap.
And don't forget, while you're at your 3 hour reception, you have to make time to mingle with guests that you haven't seen in forever, cut the cake, take more pictures, have the traditional dances, garter toss and bouquet toss, AND try to make time to enjoy the moment with your brand new husband. After considering all of these things, Sean and I decided that we wanted to have a vacation with our guests, so we chose a destination wedding!
We invited the 450+ people that we would have invited to our New Orleans wedding and hoped they could all make it, but we obviously understood if they couldn't. We planned an amazing trip to Riviera Maya, Mexico – which consisted of fun days in the sun with our close friends and family, exciting nights out, our rehearsal dinner and our wedding.
We had a total of 60 guests come to Mexico, and we got to enjoy 4-7 days with them, rather than a few minutes of making small talk. We were able to stay an extra few days after everyone left to have a honeymoon – but it was perfect because we were able to save on spending extra money on a honeymoon, too!
Our wedding trip was truly an amazing and affordable experience. Although everyone couldn't be there, we were able to celebrate with other people leading up to the wedding at our different wedding showers, hosted by friends and family.
What are the different ways you saved pre-wedding festivities?
Having the entire wedding in Mexico was our main way of saving money, but I was also able to save a ton of money by hosting a "bridal brunch" at my house. Leading up to the wedding, our moms and sisters hosted our couple's shower, the bridesmaids hosted my bridal shower and our moms and bridesmaids threw me a bachelorette party in New Orleans. Plus, they were coming to Mexico to stand in my wedding.
The traditional way to give back to your moms and bridesmaids is by hosting a bridal luncheon. Bridal luncheons are usually at a restaurant right before the wedding. This is when the bride typically gives everyone their gifts and starts preparing for the big day to make sure everyone is on the same page. However, with the wedding being so close and final payments being made, I was stressing big time on how I was going to pay for this luncheon.
After Pinterest stalking for a good bit, I decided to host a Bridal Breakfast at my house to save some extra money! All the girls offered to help, but there was no way that I was going to let them contribute in any way since this was my way of thanking them.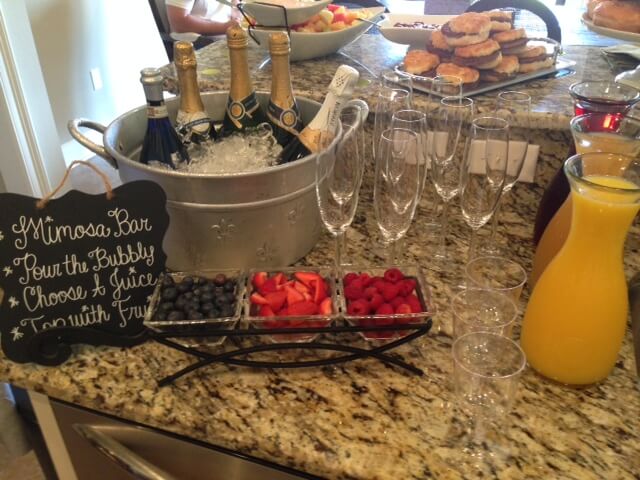 I had some really affordable breakfast food and made sure that there was plenty to eat. I had a coffee bar, mimosa bar and a super cute set up. I decided to stick with very minimal décor because I realized that it wasn't really necessary – I let their gifts that I got for each of them take the place of the extra décor I wanted to have.
We didn't skimp on our menu for breakfast, either. We had plenty of delicious foods, like chicken and waffles, sausage biscuits, donuts, French toast sticks with powdered sugar, eggs, bacon and sausage, fresh fruit salad and the coffee and champagne bars. There was enough food for the 14 people at the brunch: my 9 bridesmaids, both of our moms and our 3 flower girls.
---
McDonald's Sausage Biscuits
$13.17
Mary Lee's Donuts
$13.89
Chick Fil A Chicken Nuggets
$12.05
Personalized Coffee Mugs
$22
Walmart Trip:

Eggos, French Toast Sticks, Sausage, Bacon & Eggs, Condiments, Fresh Fruit, Coffee, plates, & extra food supplies

$81.17
TOTAL
$142.28
---
Each of the girls received a personalized coffee mug, too! The mugs came from the dollar store, and I had a friend of mine cut out their names from a $10 roll of gold vinyl with her Cricut. I was able to show off all of my new serving dishes that I received from my wedding showers, too!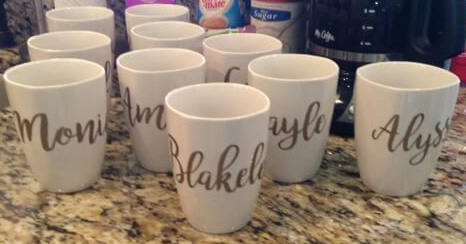 Other than the brunch, I feel like I was able to save in numerous ways on all of the bigger expenses, as well as the smaller expenses. I did so much research on every single thing that I purchased to make sure I got each item at the lowest price possible – on sale, free shipping, different store price comparisons, etc. Then for the actual resort and wedding selections, I researched every Riviera Maya flight, different hotel room costs at different times of the year, resort amenities, videographers, photographers, etc. It was all about what would get me the most for my money.
How much did you save by going a non-traditional route?
If I would have gone to a restaurant, it would have cost me a minimum of $500 for a nice 3 course brunch for everyone, mimosas, tax, gratuity and a private room charge. By switching to a bridal brunch, I saved hundreds of dollars, and the brunch was more fun and personal than being at a restaurant.
If I had a traditional wedding in New Orleans, it would have cost my family and I well over $40,000 on top of the hotel stay, rehearsal dinner and all that good stuff. Our rehearsal dinner and wedding combined in Mexico cost us a total of $12,000, and a lot came with that price tag!
At our wedding ceremony and reception, we had a DJ, videographer and photographer. We also had traditional décor, cake, food, alcohol, flowers and everything else you'd expect from a wedding.
Our rehearsal dinner was really one to remember, too! We had a mariachi band, a videographer, décor, food and alcohol, so it was more than just a dinner.
What do you think was the hardest part of making these money-saving changes?
The hardest part for me was going the non-traditional route. I do take pride on being someone to think "outside the box" and to not worry about what others are going to say about it, but to go completely non-traditional for wedding events was pretty tough. I truly wanted to have a gorgeous brunch at a fine dining restaurant, but it would have cost me hundreds of dollars more.
It was also very tough having a wedding outside of the country; only one grandparent was able to make it. So not only did most of our grandparents miss our wedding, but other family members and close friends weren't able to attend either.
My husband and I constantly reminded each other that the destination wedding was what we truly wanted, and it was ultimately about just the two of us. Looking back now, we have NO regrets. We had an amazing wedding videographer who captured every moment, so when our video arrives in a few weeks, we'll have a viewing party for the family who missed it.
If you could change one thing that you wish you would have spent less on, what would it be and why?
I honestly wouldn't change a thing. It was all so affordable, and I'll cherish the memories my entire life!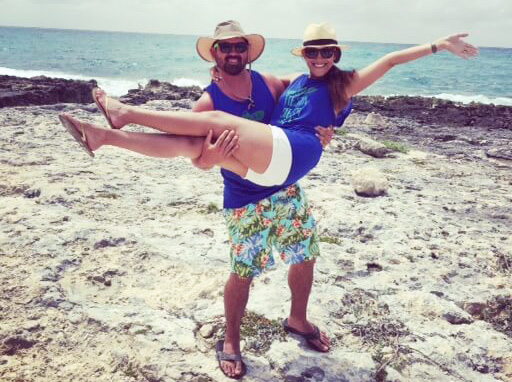 Have you considered having a destination wedding or have you had one? Let us know in the comments!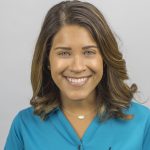 Proud wifey. Lover of Mexican food. Obsessed with planning parties and beach vacations. Enjoy watching Friday Night Football. Addicted to Burt's Bees Lip Balm.