This year's flood affected everyone in the greater Baton Rouge area in some way. The Pelican team and our members (even if their homes didn't flood) were out demoing homes, collecting and distributing supplies and spreading the love of community to everyone they met. But, what do you do when all the help is gone? When we all have to go back to work, and our homes only have half of their walls, no floors and lots of sheetrock dust, WE REBUILD!
Before you begin, don't forget to check with your city or parish to find out what permits you need. In most areas, municipalities are waiving fees to assist in the recovery, but you still have to have them. Remember, these permits come with inspections that protect you and your rebuilding process, and most insurances companies require you to comply with local permit ordinances.
The first thing to consider is your budget. After the all the demo work, cleaning and mold treatment is complete, what should you expect to spend on each part of the rebuilding process?
Here's a breakdown of approximate values to budget for rebuilding according to floodsmart.gov's cost estimation for three feet of flood water in a 2,000 square foot home. The prices are averages, so they may be more or less in your area. Along with the percentage of your total budget to use for rebuilding each part of a 2,000 square foot home, I've included the estimated dollar amount to rebuild each part. If your budget or home is larger, the percentages can help be a guide for what to expect.
| | | |
| --- | --- | --- |
| Part of Home to Rebuild | Percentage of Total Budget | Cost for 2,000 Square Foot Home |
| Doors, Base Trim and Windows | 6% | $2,150 |
| Electrical and Plumbing | 8% | $3,320 |
| Finished Floors (Wood or Carpet) | 41% | $15,870 |
| Interior Wall Finishes | 5% | $1,920 |
| Wall Insulation, Drywall or Paneling | 8% | $3,310 |
| Kitchen and Bathroom Cabinets | 16% | $6,100 |
| Appliances | 11% | $4,200 |
| Repairs to Furnace and AC | 6% | $2,200 |
| Total | 100% | $39,070 |
Content replacement is separate from the rebuild. We all want to replace what we had, but in some cases, we can't afford to do so immediately. It's important to focus on the necessities first and fill in everything else as time goes on. Going room by room, we put together a basic list of items needed to live comfortably in your newly rebuilt home, with price estimates from floodsmart.gov. It's important to note that these are average prices and may not fully cover or represent what your previous items may have been valued.
| | | |
| --- | --- | --- |
| Content Replacement | Percentage of Total Budget | Cost for 2,000 Square Foot Home |
| Bedroom Furniture | 34% | $8,500 |
| Dining Room Furniture | 10% | $2,400 |
| Kitchen Ware and Food | 3% | $830 |
| Living Room Furniture | 14% | $3,600 |
| Computer Accessories | 6% | $1,500 |
| 2 TVs, DVD Player, etc. | 8% | $2,000 |
| Washer and Dryer | 4% | $980 |
| Accent Furniture and Accessories | 6% | $1,620 |
| Loss of Personal Items | 14% | $3,500 |
| Total | | $24,930 |
By using these basic guidelines, you can start to budget for the rebuilding of your home. Many of us are receiving or not receiving insurance or FEMA assistance, and we are all working to adjust our rebuilding plan to fit our situation. Remember to appeal your decisions if you feel you need more to rebuild your home. The first assessment may not be the final assessment if you appeal with the correct documentation.
You can also apply for a home equity or SBA Loan to assist in the process. Check out the Financial Outreach team's article on choosing the right contractor after the flood for great tips on how to find a reputable contractor in Louisiana.
Remember that you can always reach out to our Nationally Certified Credit Counselors any time for financial guidance. We are here to help, and it's a free service to all Pelican members.*
*Pelican State CU membership required to take advantage of free credit counseling services. Visit pelicanstatecu.com/join to become a member. You have the right to a free credit report from AnnualCreditReport.com or 877-322-8228, the ONLY authorized source under federal law. Credit counseling is not intended to give you financial advice, but the financial education you need to make informed decisions. Results may vary. Pelican and its employees are not responsible for any claim, suit, action or damage resulting from credit counseling.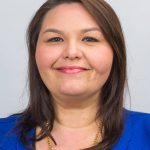 Workaholic, baker, Junior Leaguer, aspiring runner. Geeks out on anything credit union, cooperative or financial education related. Shameless holiday decoration addict, the more glitter the better!