When you step into your local Pelican branch, you'll be greeted by one of our Pelican tellers—sometimes by name if you regularly stop by!
What does a day in the life of a Pelican teller look like? We talked with Pineville Teller Melissa Lasyone to learn more about her time at Pelican and some of her favorite moments with the credit union: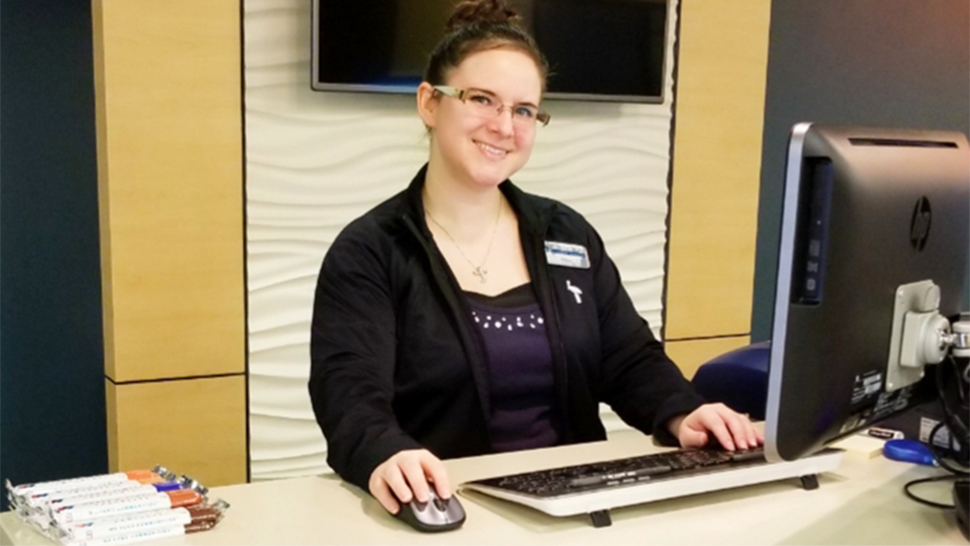 How long have you worked at Pelican, and what is the most important thing you've learned in this time?
I have had the privilege of working at Pelican for 11 years. I believe one of the most important things I've learned at Pelican is having a "Heart for Service." Not only do I serve my members, but also my Pelican family members.
What does your typical work day look like?
I begin my day with prayer and my daily devotional study. When I arrive at Pelican, we quickly begin our morning duties to prepare for the day. This way, once we open the doors, we are ready and able to serve our members!
As tellers, we are responsible for deposits, withdrawals, loan payments, opening and closing memberships, updating member and account information, and we strive to resolve any issues our members are facing. As the day comes to a close, we begin our evening duties and wrap it up.
To you, what qualities make a great Pelican Teller?
A "Heart for Service" would be at the top of that list along with compassion and a positive attitude.
Bad things can happen to good people, and it is our responsibly to search out options to better serve our members. I may be the only smile someone sees all day. My compliment may be the only one someone hears all day, and it's important to remember that.
If you had to define "great member service" in your own words, what would you say that means?
Treat that person the way you would like to be treated. Provide them the same service you would like if you were in their shoes.
What's the biggest challenge of being a teller?
Helping our members during one of their most difficult times—the loss of a loved one. There is no real way to prepare for that, and my heart breaks for them. You just want to express your condolences and care for them in such a difficult time in their life.
What's the most rewarding part of your career?
Having the opportunity to help better educate our members and help them understand their finances is extremely rewarding.
If you had to choose one day that stood out above all others in your time at Pelican, which day was it and why?
It is hard to pick one day. I have to say though our "big move" from the Main Street location in Pineville to our current location on Monroe Highway. Although I was excited for the move, it was bittersweet.
I had the privilege of serving that area for about five years, and although we were not moving far, I knew it would be an adjustment for our members. From time to time, we still have members walking in shocked to see "the crew from Main Street."
That move was like any move—CRAZY! The packing, the unpacking, the organized chaos… if you've ever moved, I'm sure you understand!
Do you have a favorite member moment that you'd like to share?
Our blog might not be big enough to contain all of my favorite member memories!
One of my more recent moments was being able to share in the joy of two of our members. The husband had to have brain surgery. Their faith was unwavering; they laid it in God's hands.
I am happy to say he has made a remarkable recovery, but he still has a journey ahead. They are just an incredibly sweet couple, and I am blessed to know them and be able to share in their joy.
Which department should we feature next? Let us know in the comments below!

Once a Pelican State CU member, always a member—through life's milestones, we'll always be there to help you with your financial needs. Your Financial Family for Life. Give us a call at 800-351-4877.