Go big or go home—that's the motto at Pelican State Credit Union when it comes to dressing up in costume.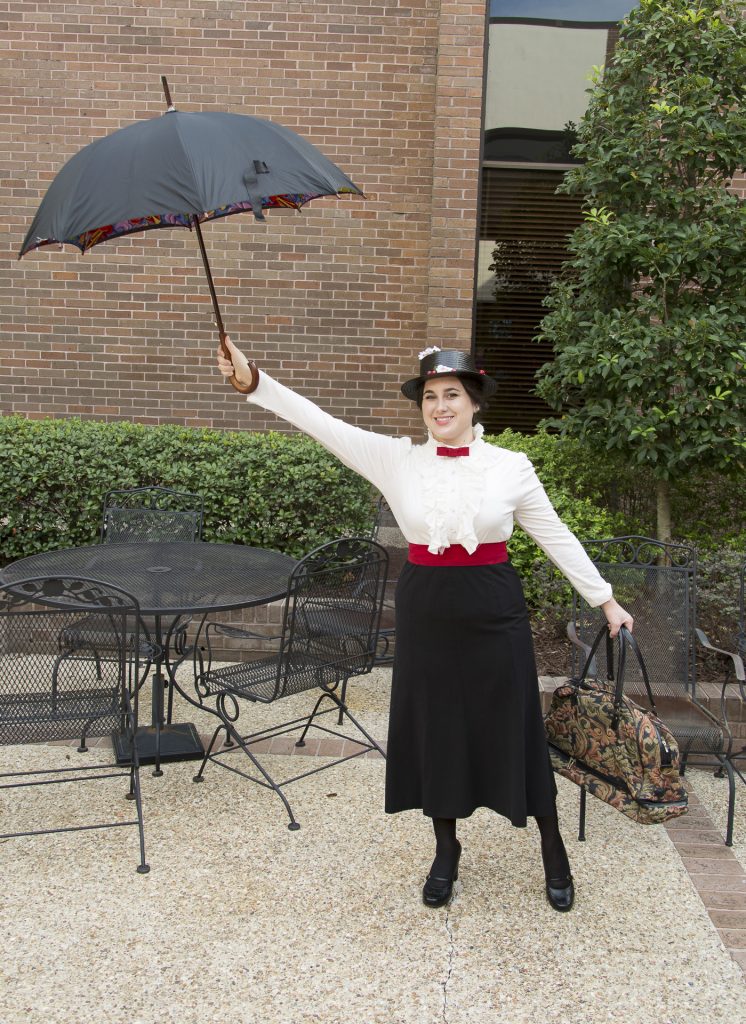 It may sound a little harsh, but we're a competitive bunch, so it's only natural. Whether it's meeting personal goals, team goals or our members' goals, we take winning seriously (especially when trophies are involved).
Each year, we have a company-wide costume contest around Halloween with trophies for best group and best individual. I started my career at Pelican in 2010, and I have to admit that my first costume was very weak and store-bought. That never happened again, and I still relish in having been part of several winning groups.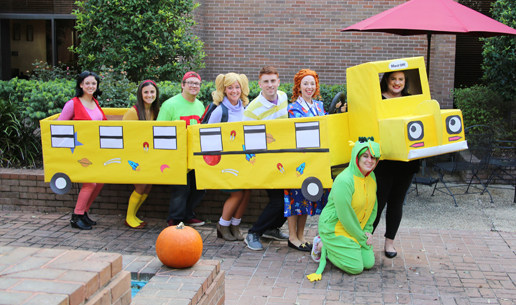 Most recently, my group was able to snag "Honorable Mention" as Ms. Frizzle, her class and the Magic School Bus!
The time, effort and creativity that goes into each costume is unbelievable. I just had to share some ideas with you all so that you can take it to the next level next time you need a group costume:
Pac-Man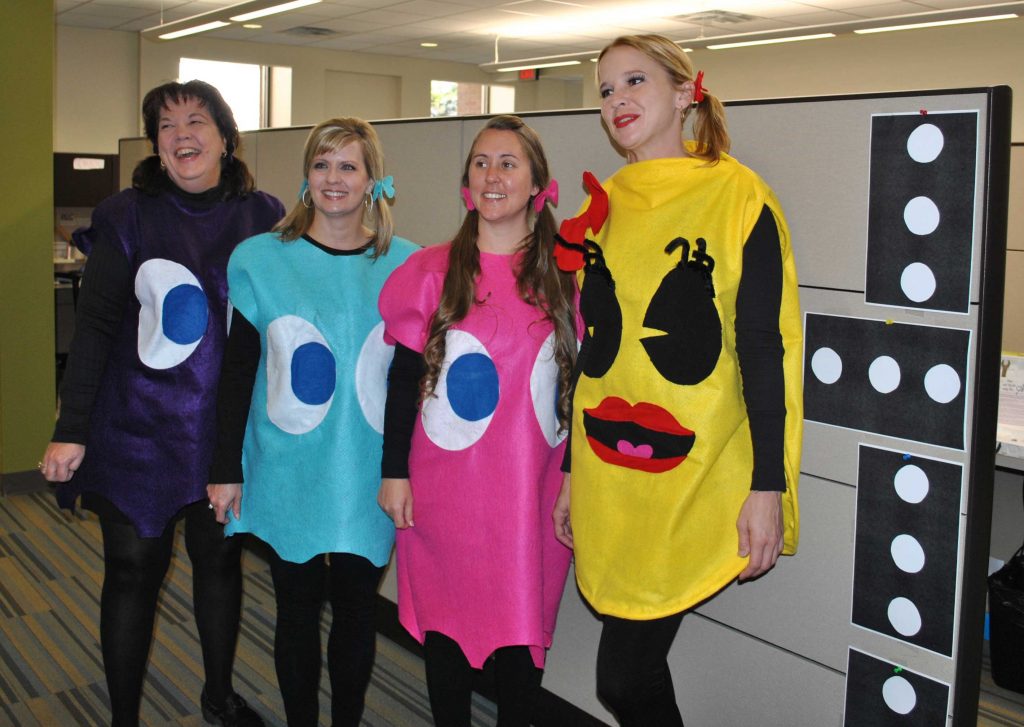 Not only is Pac-Man an easily recognizable costume, it's great for groups! You've got Pac-Man, Mrs. Pac-Man and the ghosts (Inky, Blinky, Pinky and Clyde) to choose from. The costumes can also be crafted out of felt and other material for a handmade touch.
Phone Games & Apps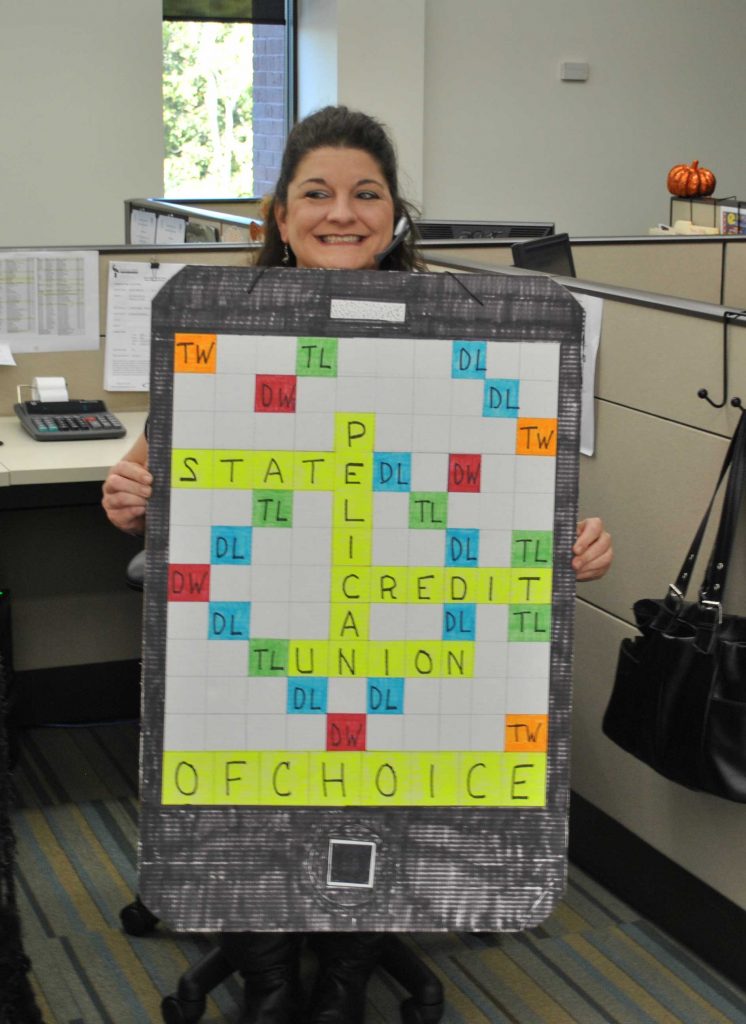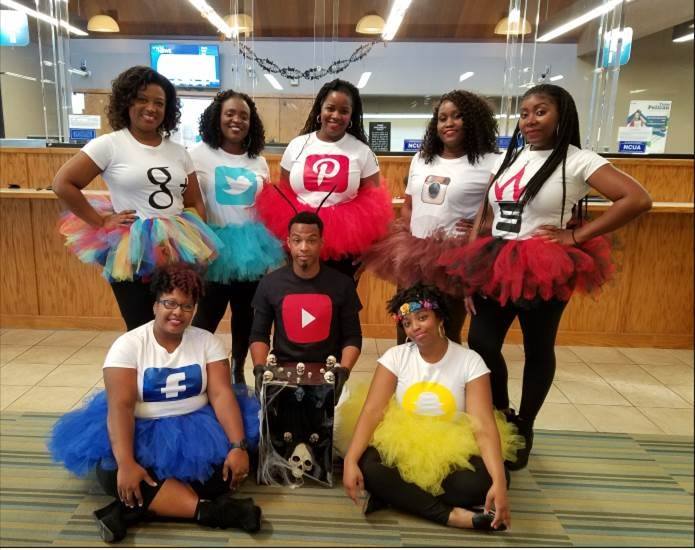 Who doesn't love playing games on their phone? You can DIY these costumes using a cardboard box or poster board and some paint or colored markers. If you make little holes at the top, you can tie some yarn or string and hang the costume around your neck! You can also mix it up like our Mid-City branch and dress up like social networks, which is a simple, fun group costume!
Wizard of Oz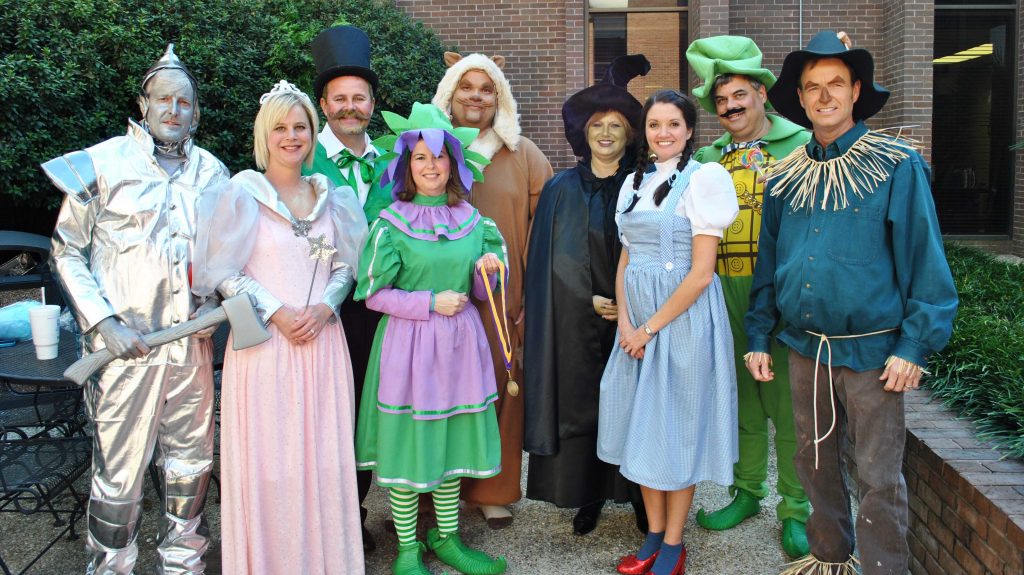 Your group can be off to see the wizard in no time! Grab some silver or green face paint to complete your Tin Man or Wicked Witch costume. Regular clothes, like a plaid shirt or pink dress, can be repurposed to fit your character of choice!
Real Housewives & Grannies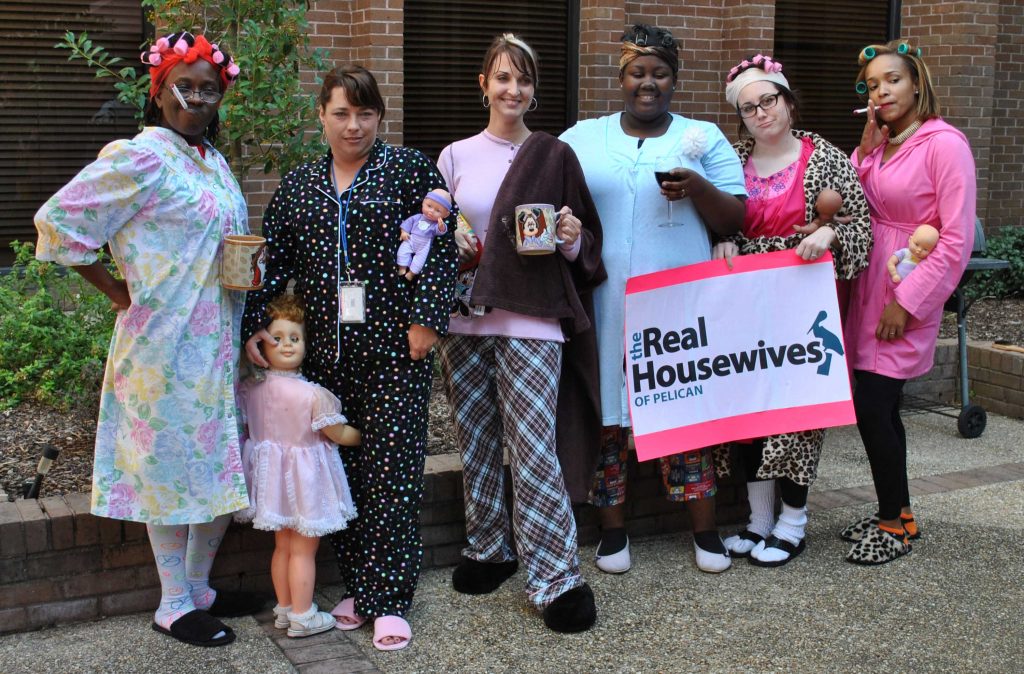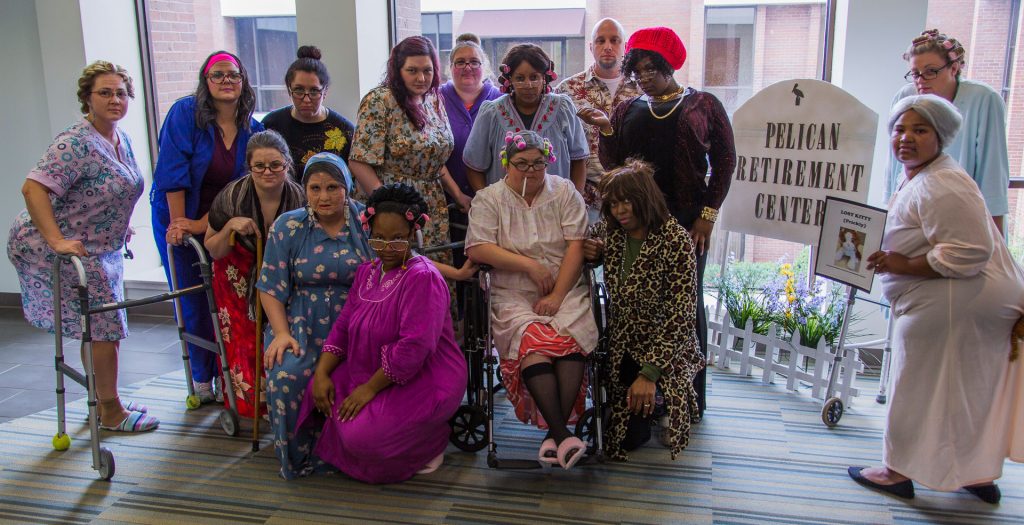 Grab an old robe and some sponge curlers, and you are well on your way to a having a "real" housewife or grandma costume! Add baby powder in your hair and a cane or walker to complete your look. There's nothing sweeter at a costume party than a hug from your mee-maw!
Cruella de Vil & 101 Dalmatians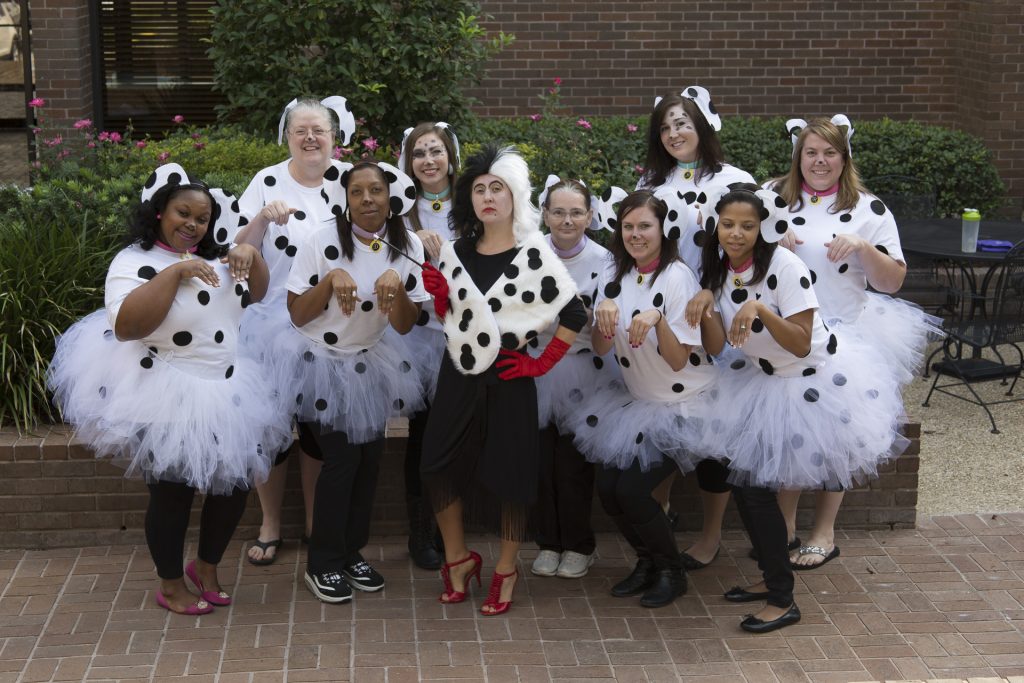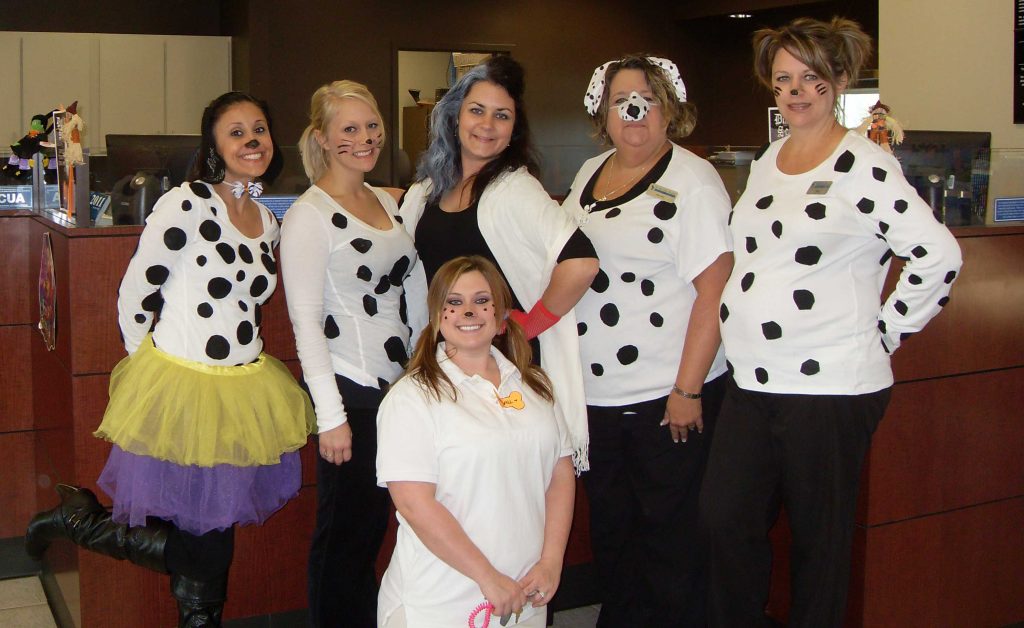 This group costume works for a large or small group! Designate someone to be Cruella, and the rest of the group can coordinate as the Dalmatians. Want to make the prep even more fun? Buy the supplies in bulk, split the cost and get together for a tutu and spot cutting party!
Superheroes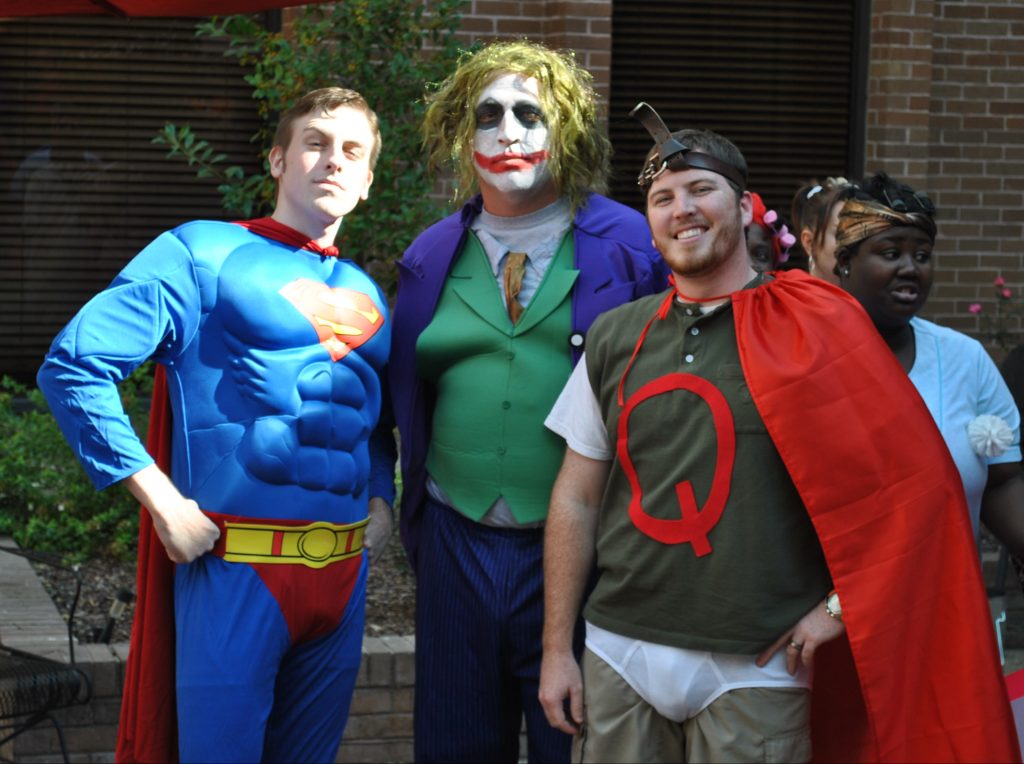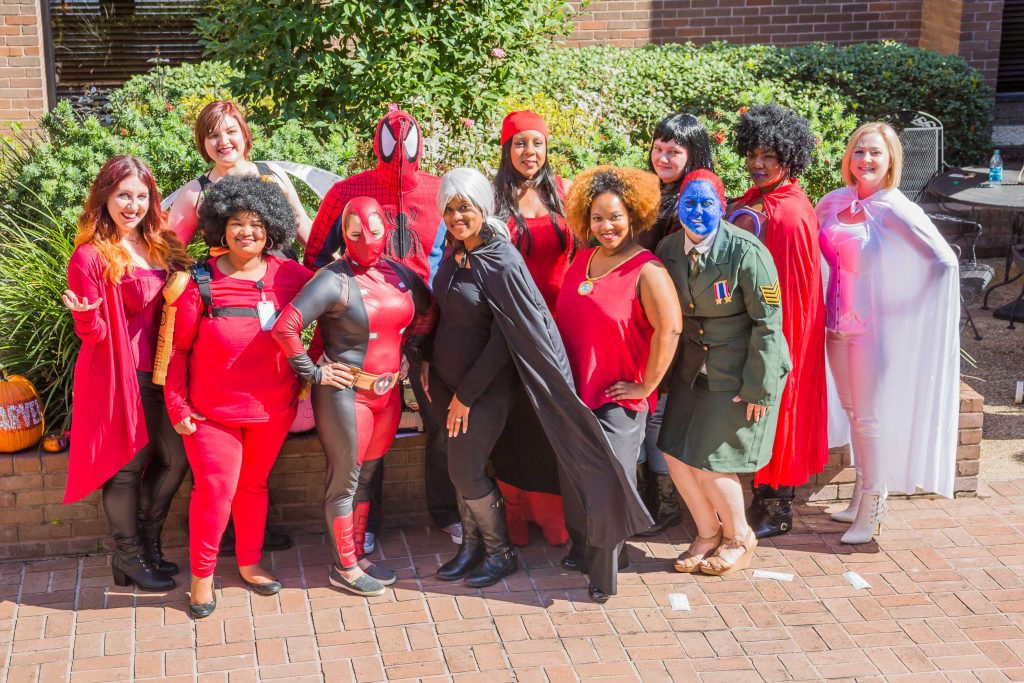 It's a bird, it's a plane—it's YOUR GROUP'S NEXT COSTUME! This one is always a fan favorite because each member of your group can choose the superhero that really champions their best characteristics. Whether it's Spiderman or Quailman, your group can get creative in crafting their look!
Fast Food Restaurants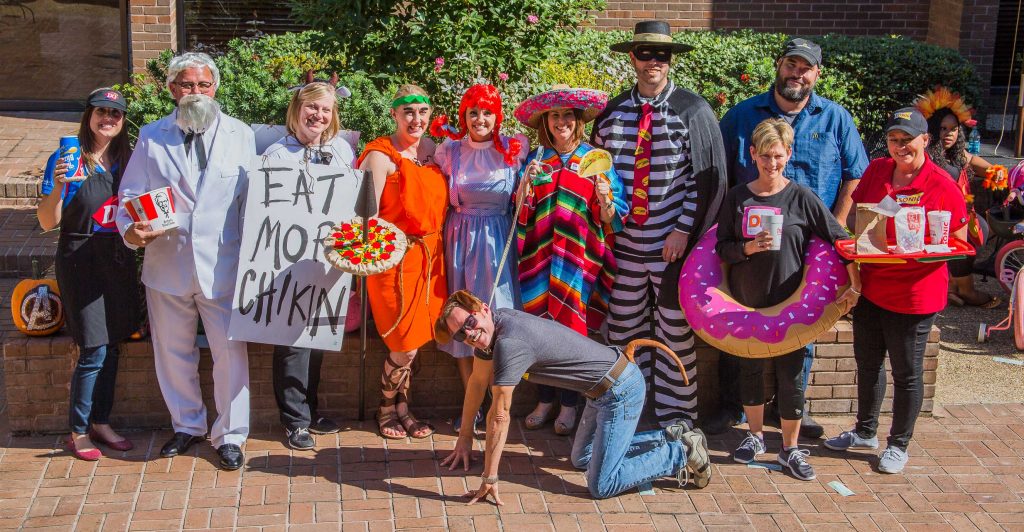 There are millions of fast food restaurants around the country, and almost everyone has their favorite! With icons like Little Caesar and Wendy, your costume will make everyone hungry! I loved how Dairy Queen made a fake blizzard to hold upside down all day. It was a super interactive way to complete her look!
Snow White & the Seven Dwarves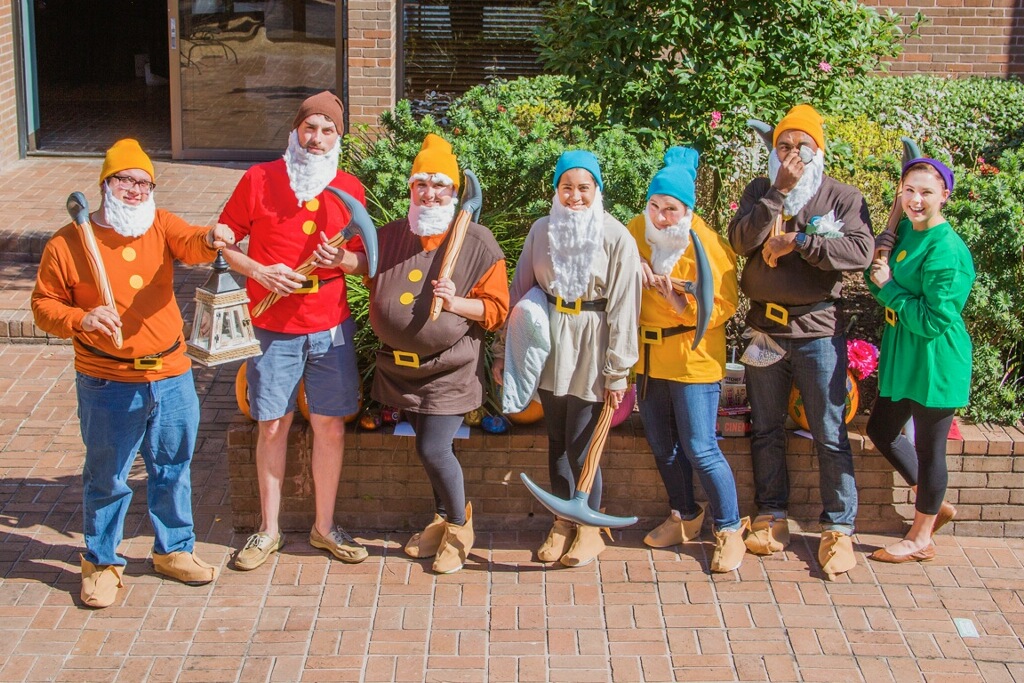 Hi-ho, hi-ho, it's off to Halloween we go! Colorful beanies, oversized basic shirts and axes were purchased for this look. The rest of the accessories were crafted from cotton balls, felt and accessories from home. The whole group had a great time getting into character, especially Sneezy with tissues and Sleepy with a pillow!
Nerds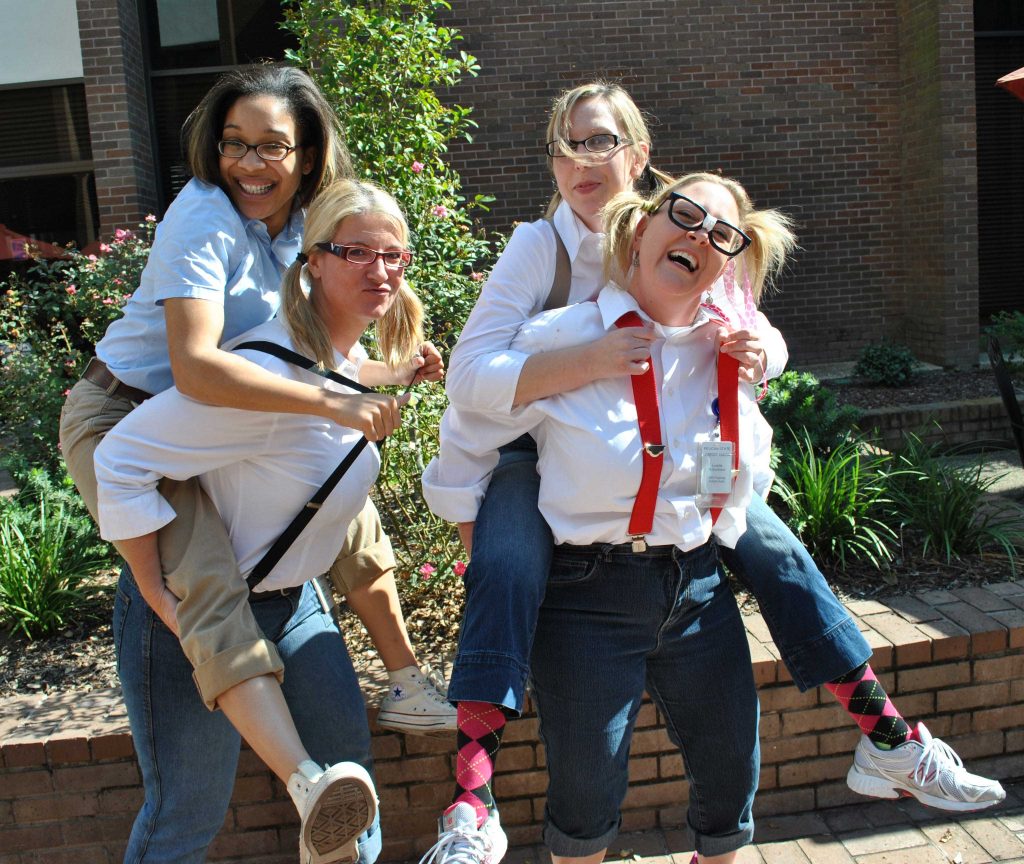 Suspenders? Check. Glasses? Check. Great group costume? Double check. Nerds have been a popular group costume idea at Pelican for the last several years, and each group puts their own twist on things. We are all nerds in one way or another, and Halloween is the perfect time to bust out your fun socks and ditch your contacts!
Circus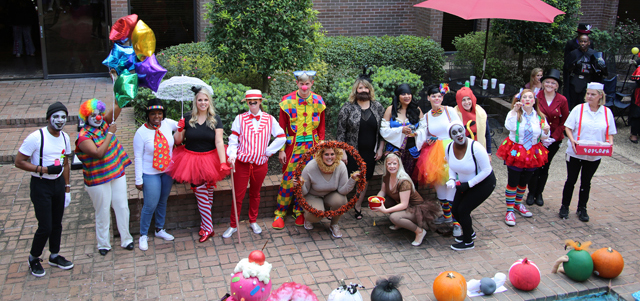 Come one, come all! Step right up and see this magnificent, tremendous group Halloween costume! The bearded lady, lion jumping through a ring of fire, clowns and more make up this group costume. You can mix and match several different, simple pieces to turn your group into the greatest show on Earth!
Soul Train and the 1970s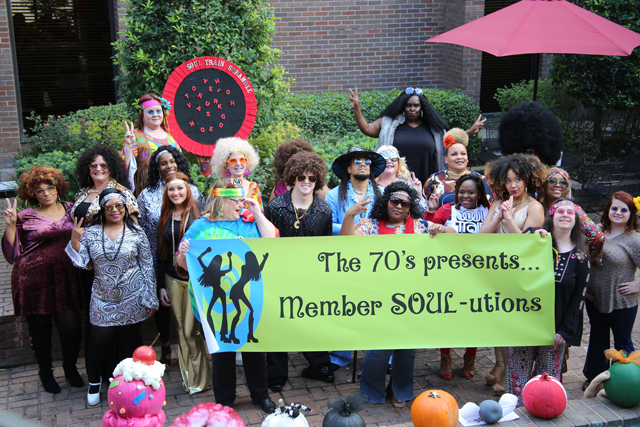 Peace, love and a whole lot of '70s fashion can bring your group together! Let your hair down and go thrifting or dig in the back of your closet for platform shoes, bell bottoms and a tie-dyed shirt. To jazz up your presentation and impress the party, your group can dance Soul Train-style to some great tunes!
League of Their Own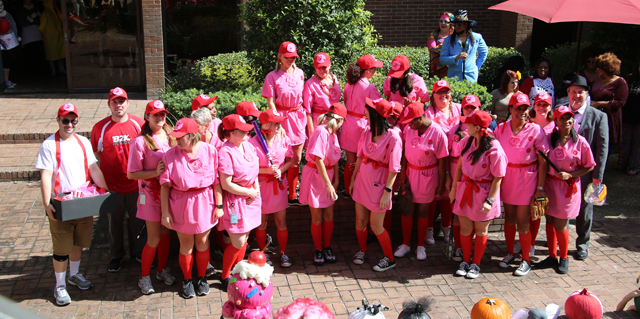 This classic movie makes a great group costume! The gals in the group can coordinate their baseball uniforms, and the coach, scout and concession workers make great costumes for the guys. You can even take your costume to the next level by creating custom baseball cards for each member of your group. It's sure to be a home run!
Disney Villains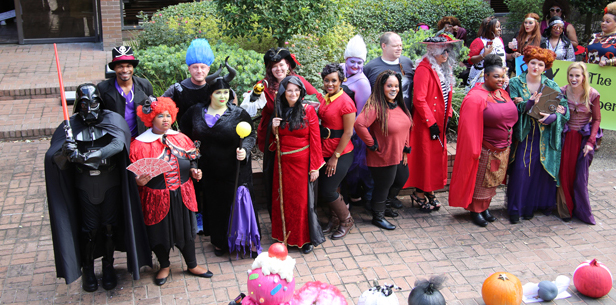 If your group loves Disney as much as the Pelican family does, you have TONS of options for costumes. You could go general Disney, Mickey Mouse Club or even princesses. Or, you can go a little spookier and strictly be VILLIANS! Choose the "evil" character who spooks you the most, and scare the crowd!
Charlie Brown and Peanuts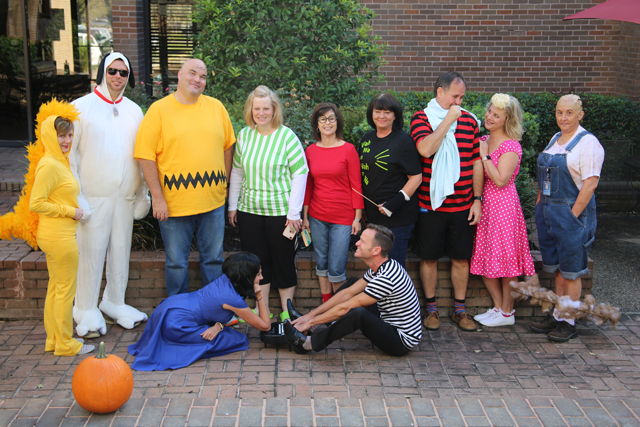 Good ol' Charlie Brown! Our favorite loveable loser and his friends makes for a great go-to costume. Get together to DIY your costume while watching It's the Great Pumpkin Charlie Brown! In this group, we couldn't get over how great Pig Pen's costume was. Anything's possible with a little crafting!
Shark Week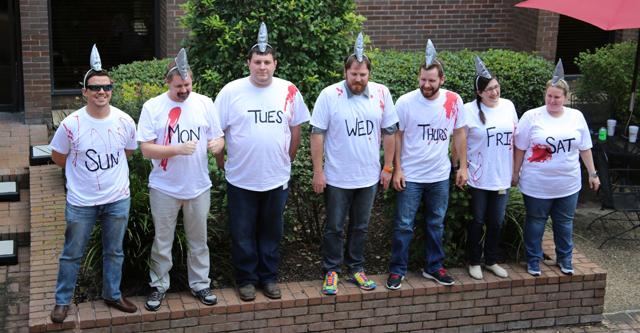 Have a group of seven? You're in luck! Shark Week has seven days, and with some fake blood, paint or red dye and homemade shark fins, you're well on your way to a fun group costume. This group spent the day lurking through the halls in true shark fashion, which made this costume even more fun!
Strawberry Shortcake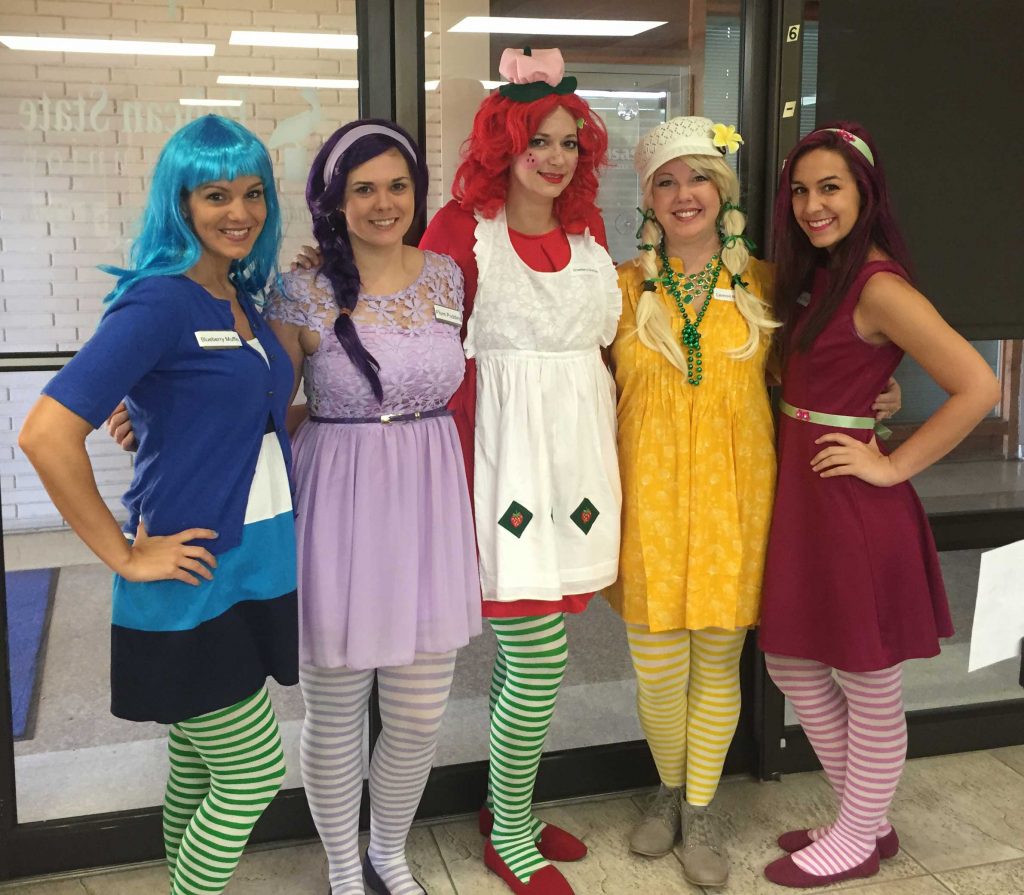 One ticket to Strawberryland, please! Your group will look extra sweet in these DIY looks that are perfect with a colorful wig. Strawberry Shortcake, Huckleberry Pie and Ginger Snap sound like great snacks for your costume party too!
Fire Department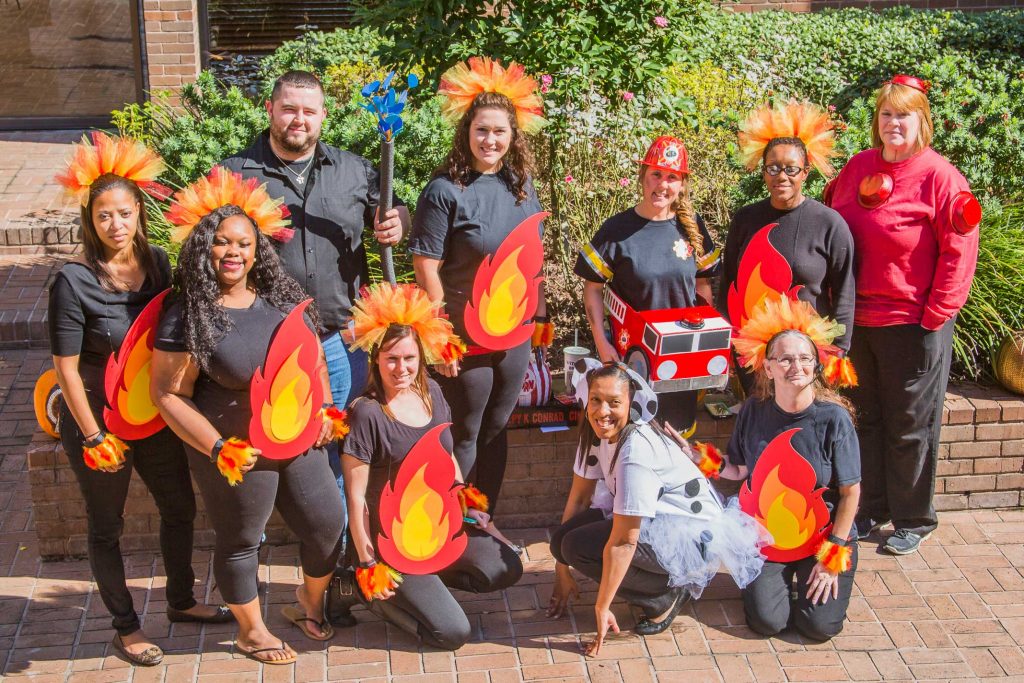 This group is ON FIRE! Flames, Dalmatians, fire trucks, fire hydrants and water hoses are all integral parts of the fire department. Accessorize an all-black outfit and burn the competition. I loved their homemade flaming tulle headbands too!
Roaring '20s, Mobsters & The Great Gatsby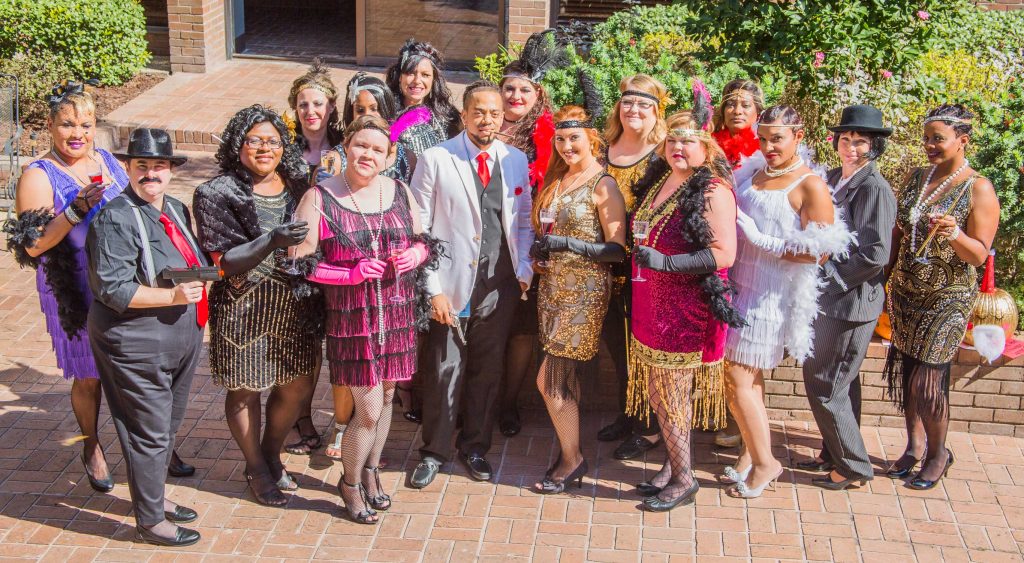 You can't go wrong with a 1920s-inspired group costume, and you can find most of the costume pieces at your local thrift stores! Flapper dresses, pearls, pinstripes and headbands are all go-to pieces for this group. To take it over the top, throw in some boas, champagne glasses and fishnets. You'll roar right through the party!
Peter Pan & Neverland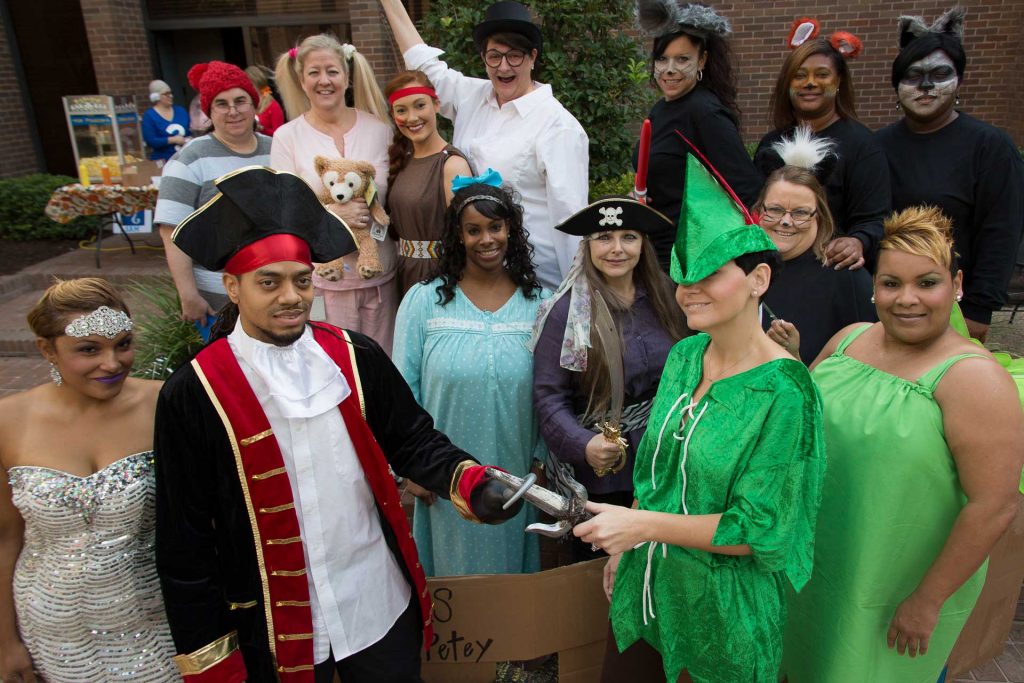 This group costume only takes a little pixie dust to make it happen! There are tons of characters from Neverland to pick from, and this group even made a DIY cardboard pirate ship to tie everything together. To try this would be an awfully big adventure!
Orange is the New Black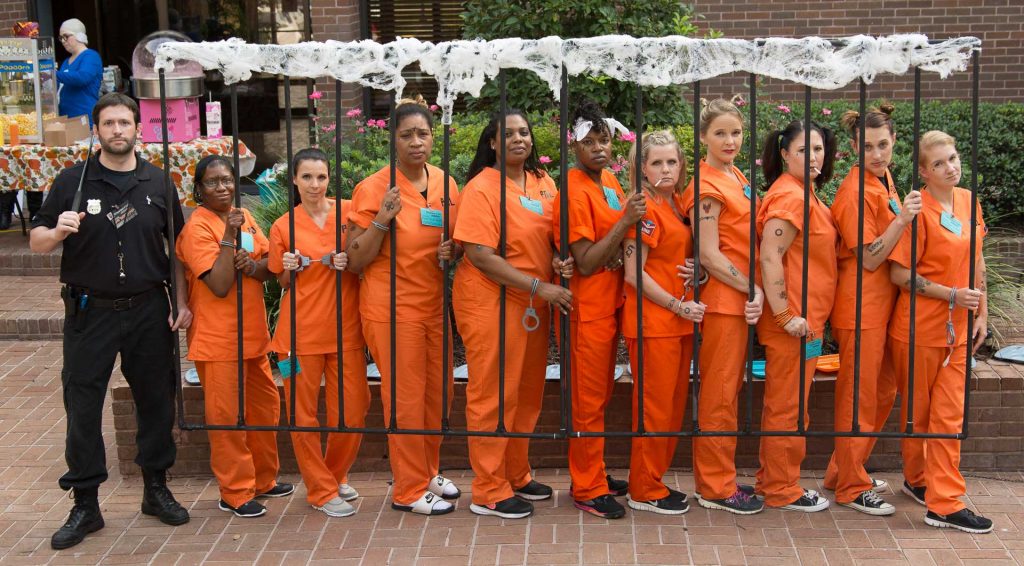 This group repurposed orange scrubs to be prison uniforms! They added some iron on decals and name badges for authenticity. This costume works for a group of any size since you can have as many guards and prisoners as needed. Want to lock in your look? DIY a jail cell and accessorize with hand cuffs!
Mario Kart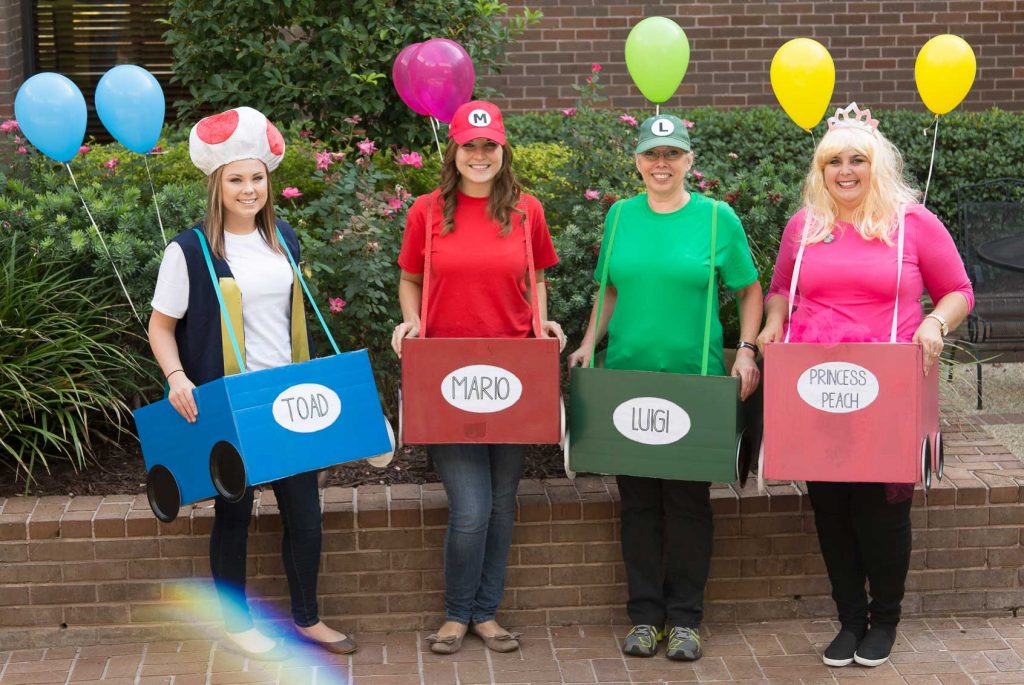 This costume makes me want to reach for my controller. If you're like me, you probably have some Amazon boxes around the house that will make perfect karts. Just slap a little paint on them, grab your shirts and tie some balloons to them, and you'll be all set! You won't even need a Super Star when your group drives away in this costume!
Roller Coaster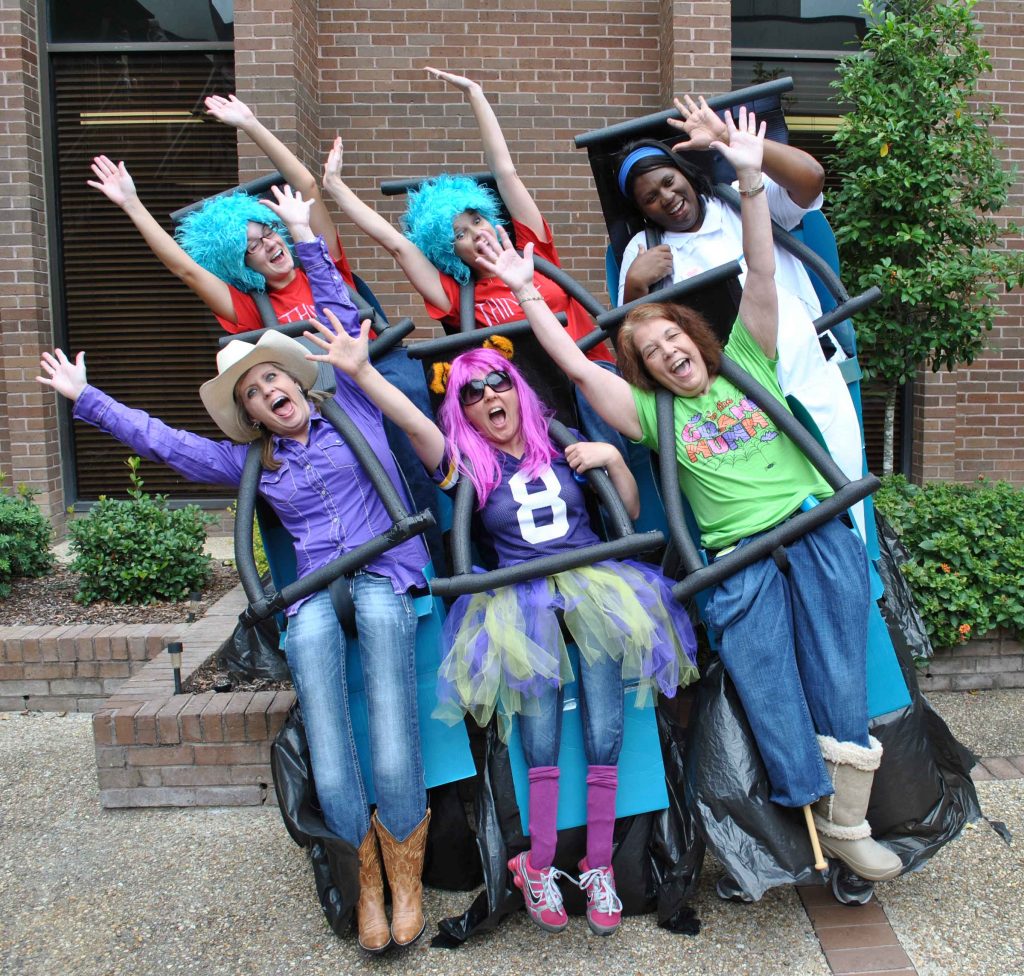 Bring the theme park to your costume party! I loved how this group screamed and threw their hands up like they were actually on a roller coaster. They built their "ride" from foam tubes (pool noodles would work), cardboard and trash bags. I loved that they wore black bottoms to hide their real legs and hooked stuffed legs to their costume instead so that they could swing side to side as their ride got rocky. Each individual in the group can let their personality shine as they dress up as a rider!
Thriller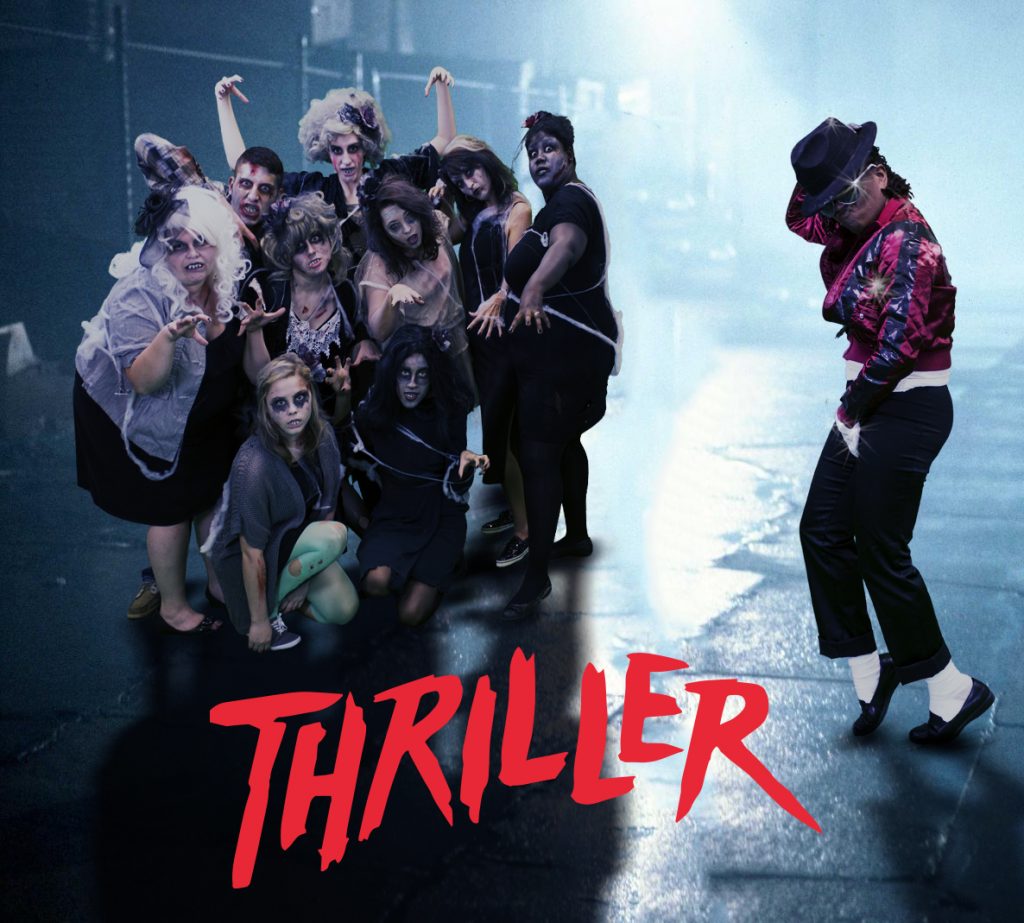 Is it close to midnight? Is something evil lurking from the dark? Feel a little inspired by Thriller with your next group costume! Have one person be Michael Jackson (preferably someone with the best dance moves), and the rest of you can be zombies to round out this frightfully fun costume!
Many of the costumes can be made at home out of things you already own. You can even slap some glitter or sequins on for MJ's signature look. Coordinate a group dance for bonus points!
Holidays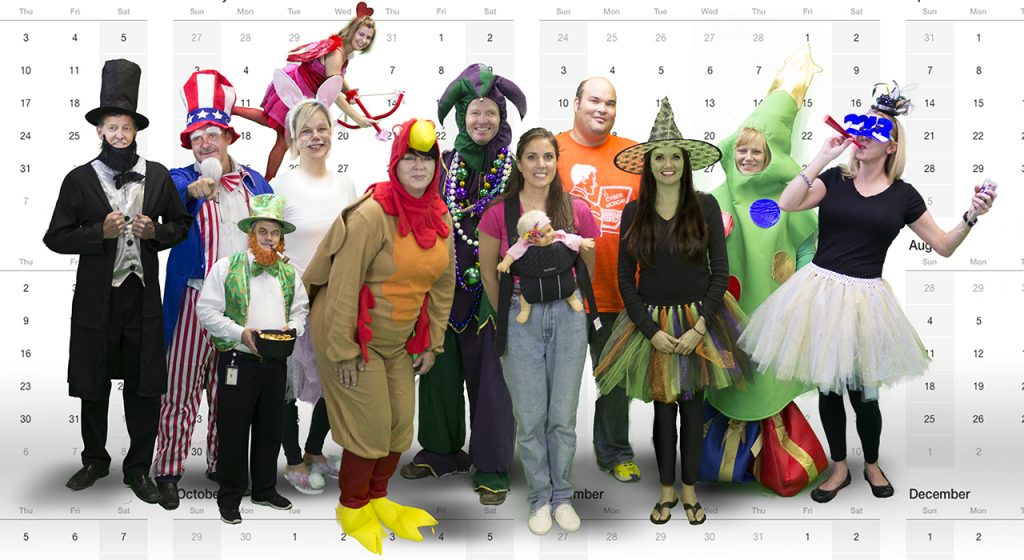 I go back and forth on my favorite holiday! Sometimes think it's Thanksgiving—nope! It's Christmas! Man, I really LOVE Halloween too. Whatever you favorite holiday is—Mother's Day, Independence Day or St. Patrick's Day, you can take your pick. Find something that symbolizes that holiday, and craft it into existence! We even had Mardi Gras in this group, so feel free to get creative with it!
Do you have an idea we didn't list? Let us know in the comments below!
Work addict obsessed with all things craft and credit union related. I enjoy binge watching television shows with my husband. Marketing enthusiast. Food lover. Proud puppy mom.