The Village Coffeehouse
The Village Coffeehouse made in heaven.
My out of town friends would always ask me why I liked living in a small town. They would tell me that there were no opportunities in small towns, they were boring, and shopping and restaurants were better in the city.
These conversations would end with me telling them that there is just something about growing up and living in small country towns. The people are friendlier, you know your neighbors, and people genuinely care about their communities.  All of these things are what I love about living in SWLA.
If you haven't had the chance to stop in and experience the sense of community that surrounds The Village Coffeehouse in Sulphur, Louisiana, you are missing out! I have never felt so welcomed and loved at a business as I do there.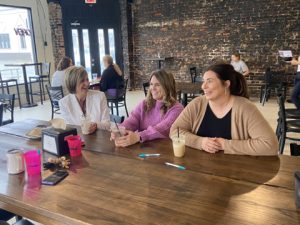 This hidden gem is where anyone can go socialize, promote their products, or breathe away the struggles of the week with a fresh-baked cookie and hot cup of coffee!
The Inspiration
"The Village Coffeehouse exists to be a gathering place where shared lives exist by creating positive community, restoring significance, and contributing to the well-being of one another to the glory of God," co-owner Ashley Foreman said.
Fellowship is exactly what you feel when entering the coffeehouse. It's a place that is so inviting, time stands still. As believers of the Christian faith, Ashley and her husband, co-owner Blake Foreman, had been praying for a plan to bring God's Kingdom to the north Sulphur community since 2010. The Foreman's say that their prayers were answered in 2013 when they founded the Sulphur Community Church.
The vision for the coffeehouse was born in the Summer of 2018. They knew that they wanted to spread God's word and provide services, jobs, and a gathering place outside of the church. Their passion for authentic community helped the coffeehouse come to life.
They began pursuing their vision with the other co-owners Aaron Quinn and Lynnlee Brewer. The question of "why" was a constant as their vision became reality. Why a coffee shop and bakery? What difference could it make in the community?
They knew that the community truly lacked a positive place of gathering. The community needed a place anyone could go and feel accepted and where no judgment would be taken on them. Furthermore, they knew that the community needed a place of employment for people who may not have been given a chance anywhere else. The owners saw that accessible job opportunity was non-existent in the Sulphur Community.
Ashley's passion for the community and dedication to her faith is inspiring.
"Our desire to is meet people where they are in life, help in any way that we can, love our neighbors, recognize those who feel unseen, and activate the best in every person," Ashley said.
The Difference
The small-town charm, the menu, and the willingness to serve set the coffeehouse apart from its competitors.
Although, if you ask them, they'll tell you they aren't worried about the competition and are just there to serve. The team's belief that there's enough success to go around is a testament to their genuineness.
The programs that the coffeehouse team has put in place to support the community are amazing. Community members and artists can use the free "community table" to meeting and sell crafts.
They also showcase local artists on their walls and try to support the local community in any way possible. The coffeehouse truly means it when they say they want to be a gathering place of positivity!
Another thing that sets the coffeehouse apart from the rest is the "Name Your Price" section of its menu. The owners recognized that not everyone would be able to afford a regular-priced coffee or treat. So, they created a menu for people to pay whatever they could.
The Menu
The menu at the coffeehouse has a variety of delicious drinks and treats.
You're sure to find something you love, from coffees, smoothies, and teas to fresh baked goods and lunch items.
The first thing I ordered was an espresso frappe, and it was divine! The blueberry scone I ordered was moist and so flavorful. It looked like something out of a Good Housekeeping magazine!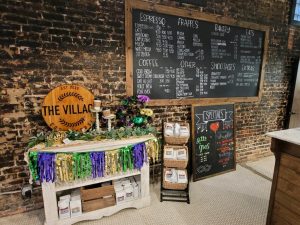 You can't go wrong with their house blend coffee either. Their everything bagel is a must-have and absolutely delicious.
For Mardi Gras and Valentine's Day, the coffeehouse ups the ante by bringing out a special menu full of delectable treats like red velvet cookies, heartbreaker frappes, house-made brownies, Latte Gras drinks, and more. There is truly something on the menu for everyone!
The restaurant is located at 121 S Huntington Street in Sulphur. The décor, comfy seating, friendly staff, and fast service make the experience a treat.
If you're ever in the area, stop by, and see all the good they are bringing to SWLA! If you are interested in the community table or showcasing your products at The Village Coffeehouse you can contact them at events@thevillagecoffeehouse.org.

I'm a member of Pelican's Business Development team, graduate of McNeese State University and Phi Mu alumna. I love spending time with my sweet and sassy 2 year old daughter Lottie, and traveling with my husband and friends. As a coach's wife, most of my time is spent at the ball park, cheering on the Westlake Rams. If I'm not doing that, you can usually find me volunteering in the community. I love to shop, plan parties, and spend as much time with my family as I can!