Did you know that there's a family in south Louisiana who has been breeding feeder insects for over 50 years? I recently took a trip to Fluker's Cricket Farm, Inc., one of our partners, which is located right outside of Baton Rouge in Port Allen, Louisiana, to find out more about their business.
I had the pleasure of talking with Vice President Sam Furby, Public Relations Karlie McCaskill and Fluker Farms President and CEO David Fluker to find out more about their business. David even gave us the grand tour of the farm!
Honestly, I HATE bugs. I can't even kill a bug at home. My husband actually thinks I'm in pain when I scream across the house just for him to come kill one. Keep reading to see how I was able to conquer this fear (kinda) and watch the video to see me eat one!
Side note: I'm still scared of bugs.
How did your company or organization get its start?
My dad, Richard Fluker, quit his plant job and founded Fluker Farms in the mid 1950's to supply crickets as fish bait for local fisherman. Eventually, we started shipping to zoos and then pet shops. My dad retired and turned the business over to me in 1982.
In the late 1980s we added mealworms to our line of feeder insects. Around 1991, we came out with an iguana leash—the first of our now 200+ reptile products. In the mid-1990s we started breeding iguanas at our facility in Central America and added bearded dragons around 2001.
Today, we raise and house all feeder insects and bearded dragons at our Port Allen location. Our dry product line is also warehoused and shipped from this facility.
What products or services does your company or organization offer?
We currently have over 200 reptile products. These consists of various live feeder insects including live crickets, multiple mealworms, flightless fruit flies and hissing cockroaches!
Don't worry, Alexis, you won't find these in your house! The hissing cockroaches come from Madagascar and are sold as pets.
We also have cricket and reptile food products, reptile habitats and an accessory line that are all available on our website. One of our newer products is a semi-moist feeder that includes kale as an ingredient.
How can people buy from you?
We ship nationwide! We ship thousands of packages weekly and over several hundred million yearly.
What was the biggest "win" in the history of your company or organization?
It's been extremely satisfying to see us grow from a small regional cricket farm to an internationally recognized brand.
I'm also very proud of our ongoing commitment to provide research funds to Louisiana State University's School of Veterinary Medicine and Animal Hospital.
How is your company active in the community?
Here are a few ways Fluker Farms gives back through their community and strategic partnerships.
After-school program support for the Boys and Girls Club Baton Rouge
Partnership with Pets in the Classroom and donations to local schools
Step Outside Day with Wildlife and Fisheries
Jude Dream Day Foundation
Our website also has an online teacher resource that offers guides to the mealworm development process and gives students the opportunity to see the full life cycle of a mealworm.
Our partnership with LSU and Texas A&M are research and development based. The universities provide research on Black Solider Larvae and a percentage of Fluker's sales on this insect go directly back to that research!
One of our other exciting sponsorships is Purdue University's Bug Bowl. The Bug Bowl has an annual Cricket Spitting Contest during its Spring Fest weekend, and it's always a lot of fun for everyone!
What advice or quote has had the most impact on you / your company or organization?
"Human Resources is where success comes from. It is all about the people you employ and picking the right people for the right job."
What's the most rewarding part about working for your company or organization?
I find it rewarding to follow a project, whether it's raising feeders, breeding reptiles or developing new products, from inception to completion and then seeing your finished creation in pet stores and homes across the country.
What makes your workplace unique?
Our family atmosphere, raising and shipping insects and what many people would never guess—selling home décor.
How can people join your team?
Drop by our office and fill out an application or contact pr@flukerfarms.com for an application.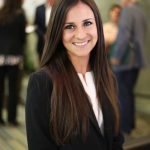 Hi! My name is Alexis Roberts. I have an obsession with writing to-do lists so I can stay organized at work and at home. I am also a ritualistic breakfast eater/gymaholic with a semi-addiction to peanut butter.