Most of my life has been spent living, going to church, shopping, and eating in Tangipahoa Parish (which we call Tangi). As a kid, I remember when Hammond still had an indoor mall and going there to play laser tag would be the highlight of my weekend.
Fast forward a few years to when I graduated from Southeastern. I never would have dreamed that I would be able to not only live and work in Tangi, but also be able to invest and give back to the community that I love through my career at Pelican State Credit Union!
One of the main ways I'm able to do these things is through a program called Leadership Tangipahoa.
What is Leadership Tangipahoa?
Leadership Tangipahoa's main goal is to improve the quality of life in Tangipahoa Parish by training a diverse group of current and emerging leaders on the interrelationships of community systems.
The continuing growth of Tangipahoa Parish has created a need for the development of trained, informed, and responsible leadership. Leadership Tangipahoa was originally established by the Amite, Hammond, Independence, Kentwood, and Ponchatoula Chambers of Commerce to assist in preparing participants for positions in local business, government, and community affairs.
The purpose of Leadership Tangipahoa is to provide an opportunity for its students to attend and participate in workshops sponsored by community leaders and organizations to educate and develop their potential for community service.
How do you get into the program? Who can join?
Being accepted into the program is determined after you submit an application, resume, and three letters of recommendation, which must be done in person at their main office. Further information regarding how to join the program can be found online at www.leadershiptangi.org. A "Personal Letter of Commitment" also needs to be provided that gives reason as to why you believe you should participate in the program.
You will need to personally contribute $100 of your own money to the program as well as secure your company's support, as they are required to cover the rest of your tuition.
Pelican believes in community investment and involvement, and they fully supported me in applying for the program from the beginning! Any potential or existing leader who lives or works in Tangipahoa Parish is welcome to join.
What is required of you once you are accepted?
Acceptance into Leadership Tangipahoa comes with a huge time investment. You start things off in August with an introduction to the program with other participants at the Tourism Office.
A week after that, you will attend a weekend retreat at Rosaryville Spirit Life Center in Ponchatoula, where you get to become more familiar with one another and learn more about the program.
After that, the class will meet for an entire day once a month from September to May to explore and experience Tangipahoa Parish!
Although a time investment is mandatory, what you get out of it is up to you. Throughout this program, you have the chance to ask questions to the movers and shakers of the community. Take advantage of this!
Make an effort to be friendly and get to know your classmates, as I have learned just as much from my classmates as I have from the other aspects of the program. Leadership Tangipahoa requires much of you, but the more you put in, the more you get out!
What were your favorite sessions?
I have thoroughly enjoyed all the sessions, but narrowing them down is tough. The first one that comes to mind is when we got to go to the Hammond Regional Northshore Airport for a tour of the control tower and watched air traffic control in action.
We then traveled to the other side of the airport campus for a presentation and tour of the Army National Guard and their impressive facility which houses the National Guard's Helicopter Division. I felt like a kid in a candy store when I found out we were going to get to sit in a Black Hawk helicopter. Unfortunately, they did not let us fly in it!
Another enjoyable session was when we spent the day at the State Capitol. Steve Pugh, a member of the Louisiana House of Representatives, gave us a tour of the capitol and explained the ins and outs of what happens there. After that, we had the privilege of meeting with Tangipahoa native and governor of Louisiana, John Bel Edwards. He was down-to-earth and gave us plenty of time to ask him questions.
When I got the chance, I asked him how he kept from getting too stressed out and what he did to relax. He said he enjoys going for a ride around town in his old, white Chevy pickup truck.
He mentioned he doesn't get to do it often, and when he does, it's his security team that stresses out – not him. We were able to tour the rest of the Governor's Mansion and speak to many other elected officials, which really gave me a different perspective on what goes on in the Capitol. I learned that many of them have Louisiana's best interest at heart!
What are the benefits of joining a leadership program? What doors has it opened for you?
There are many benefits to joining a leadership program. First and foremost, you get to learn about your community at an advanced level. Not only do you gain a hands-on familiarity of the community itself, but you also get to meet and speak with the leaders and influencers that the community is home to. You get to hear their passion for the service they provide or the community needs that they adhere to.
If it's true that "who you know" is more important than "what you know," then you want to join a leadership program because you make connections with people you would otherwise probably never meet.
Not only do you make professional connections, but you make personal ones too. I feel like my classmates are like family now due to the connections we have made over the course of this program.
The biggest door that has been opened to me from this program is the number of opportunities I've been given to connect with new people. Without Leadership Tangipahoa, I wouldn't know nearly as many people in the community as I do now. When I have a question and need an answer, I now know where to go and who to talk to.
What was your biggest takeaway? What stood out to you the most?
Leadership Tangipahoa has shown me so many unique aspects of Tangipahoa Parish. Even after living here most of my life, I didn't know Tangipahoa like I do now. I really got to see the heartbeat of Tangipahoa Parish, and what stood out to me the most is the love and pride that people have for our community. The common theme that was interwoven through all the sessions was that Tangipahoa Parish is made up of incredible people from top to bottom.
Everyone is dedicated to growing and taking care of our parish, whether it's the Parish President or volunteers at Our Daily Bread. Leadership Tangipahoa has taught me that it is the people that make this parish great.
Even with spending most of my life thus far in Tangipahoa Parish, Leadership Tangipahoa showed me that Tangi has more to offer than I ever realized. From Kentwood to Manchac and everywhere in between, Tangipahoa Parish is full of incredible people who love their community.
I am honored to have had the opportunity to experience my parish with a great group of leaders who will continue to invest their time, talent, and treasure into the community. Leadership Tangipahoa has blessed me, and I am certain the program will continue to bless the parish!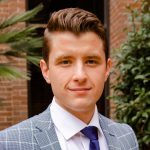 Hey! My name is Kyle Johnson. My passion is people. I love to laugh, and I do my best to encourage everyone around me! I am also a ping pong champion.