Not being a native of Louisiana, my quest for the best king cake in Shreveport took me on a wonderful adventure throughout Shreveport and Bossier City. There are three local spots famous for their king cakes in the area, so I decided to visit them all!
My first stop was Julie Anne's Bakery and Cafe. I am familiar with this quaint little spot on Kings Highway as I have frequently enjoyed lunch there. Their baked goods are awesome! Their petit fours are my favorite.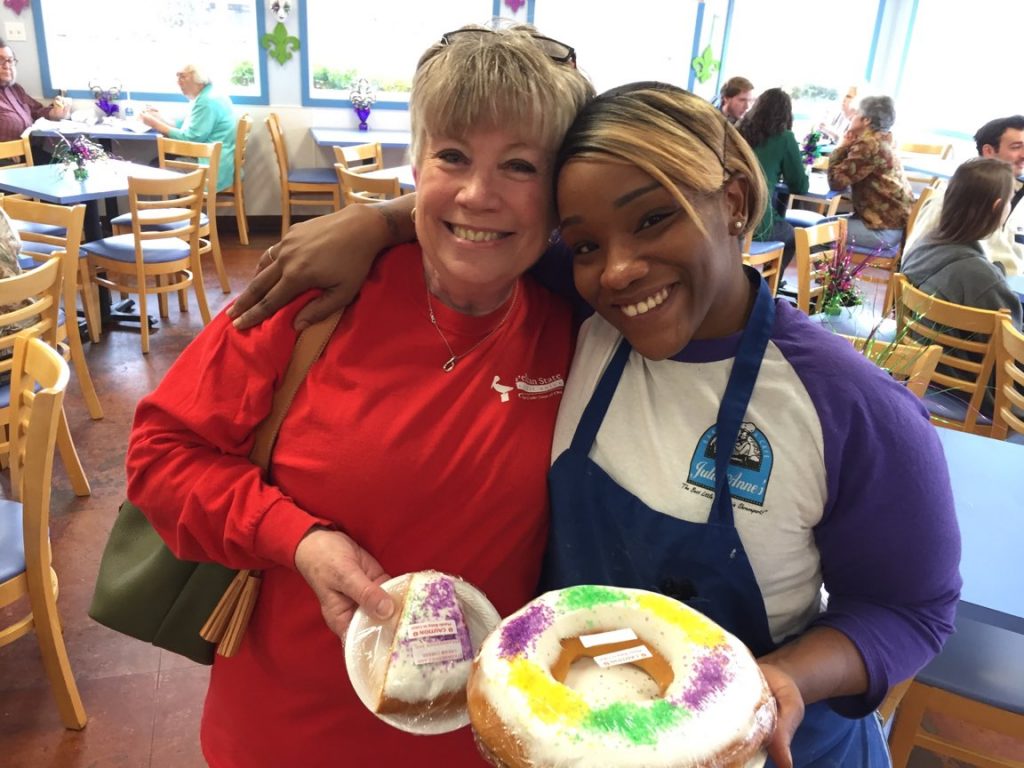 The young lady that helped me was thrilled to know they would become part of my story. She was happy to take a picture with me, and she shared it on her Facebook page! The king cake, like all of their baked goods, was delicious!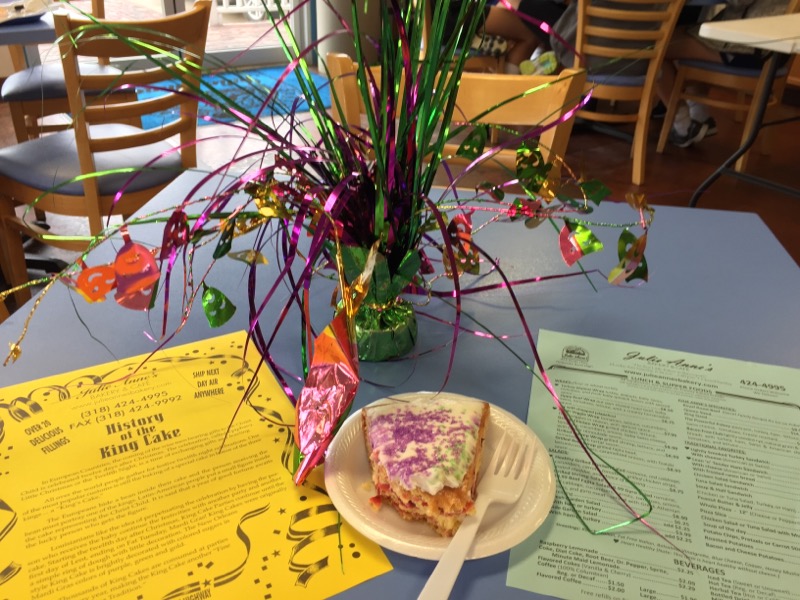 My next stop was Lilah's Bakery. This was a very small establishment located almost in a residential neighborhood near Centenary College. When I walked inside, it looked like king cakes were the only product they were selling.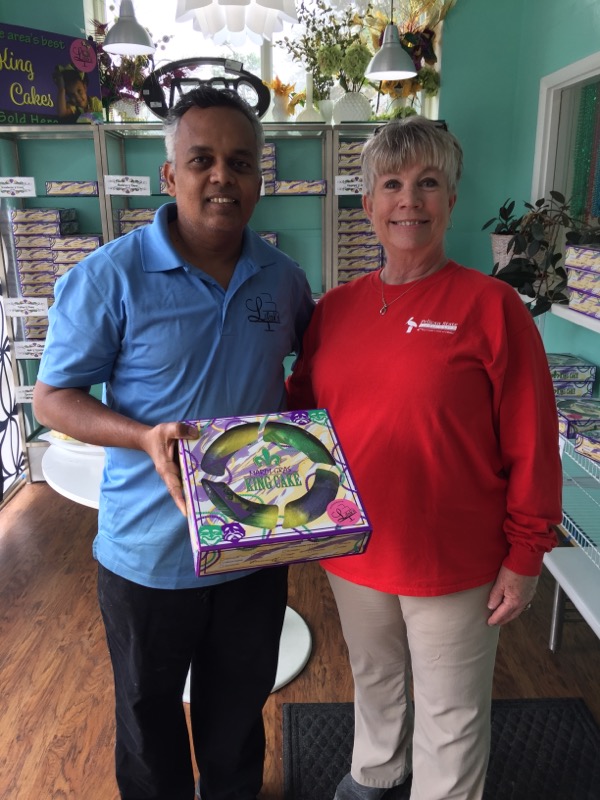 The owner was happy to take a picture with me and recommended his best cake for me to try—the cinnamon cream cheese. It was delicious! I will be returning after Mardi Gras to see what other wonderful goodies they sell.
My third stop was the most advertised. Tubbs Hardware and Cajun Gifts advertises that they have the "most extreme" king cakes. They are the oldest hardware store in Northwestern Louisiana, and they've been open almost 100 years—since 1922!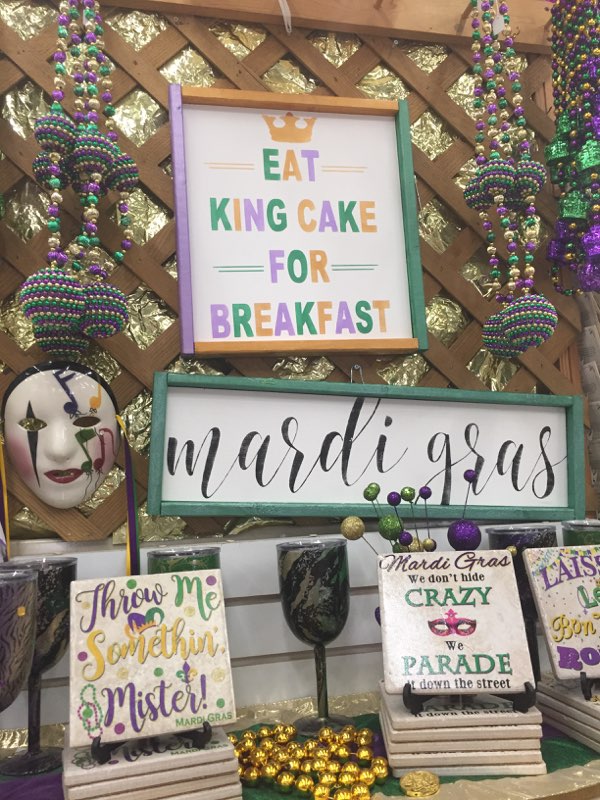 They are also the largest Mardi Gras supply house around. I was not disappointed—it was quite a sight to behold. Upon entering the store, I was overwhelmed with masks, jumbo beads, shirts and many Mardi Gras souvenirs. I would venture to guess that all five of our local parades stock up on throws purchased at Tubbs.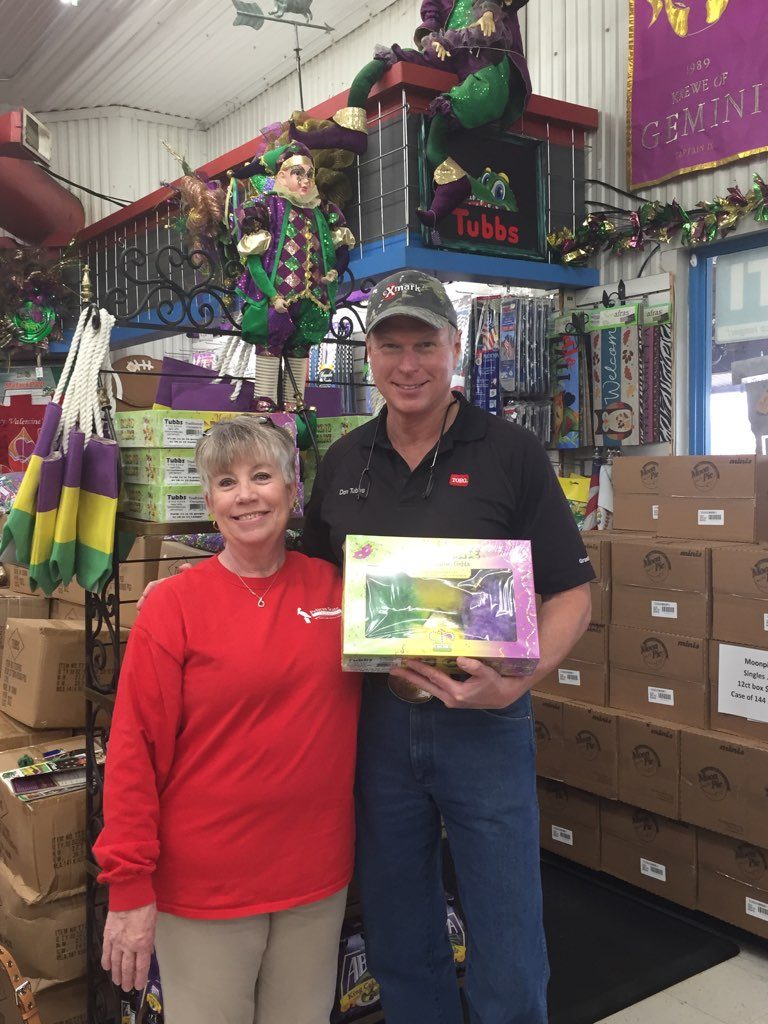 I actually got to meet Mr. Tubbs, and he was very pleased to show me around his store. His king cakes were voted the best by the Shreveport Times, and he ships about 10,000 nationwide. He does not sell his cakes by the slice at his store. However, he sent me to Cascio's Market & Bistro in Bossier City where his cakes are sold by the slice.
I was extremely happy to end my adventure at Cascio's. I could not decide which flavor of king cake to choose so TJ, the owner, offered to give me a sliver of all three he had.
I got to try the strawberry, blueberry and cinnamon extreme. I requested that they be in a to-go box to try later. Contrary to popular belief, you can only eat so much king cake in one day! I also took home my favorite—a Cobb salad.
The king cakes were all extremely delicious. There were slight differences in the texture of the dough and the filling. If I had to choose a favorite flavor, it would be cinnamon cream cheese, which all three shops offered.
The best part of my quest for the best king cake in Shreveport was learning about the local establishments that clearly are favorites of many.
Have you ever been on a quest for the best food in and around your hometown? Let me know some of your favorite local spots in the comments!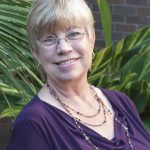 I was born in Germany, lived most of my life in California, then made a drastic decision to move to Louisiana in 2011. My motivation was the chance to get to know my son's family and start a new chapter in my life. Since then, I have been lucky enough to become part of the Pelican family and pursue my passion for helping others in need. I am a mother of 2, grandmother of 6 and financial counselor to many. I feel very blessed to have the opportunities I have been given and hope that I can share those with others.