Who doesn't love a good hamburger? When you're craving one, finally getting an awesome, juicy local burger can make a bad day good and a good day even better! We thought we'd spotlight some hidden gems around Louisiana that can cook up the best burger. Yeah, we can hear your tummy growling from here. We're not judging.
We chose a member of the Pelican family from each branch and gave them $10 for lunch at a local hamburger joint. Here are their choices:
---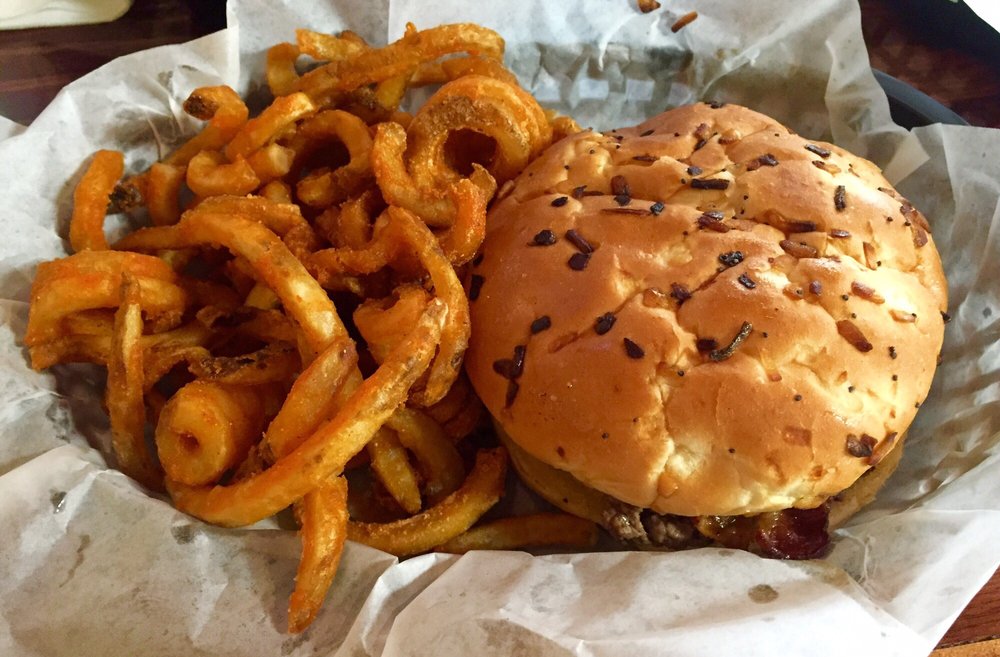 My go-to place in Monroe is The Burger Grind. The burgers here cost between $10-15, depending on what you get. They're well worth the money, too! You can build your own unique burger. I usually get mine with lettuce, tomatoes, sauteed onions, pickles, bacon and cheese. It's a nice, clean, friendly environment if you're looking for a good meal and good service. If you ever find yourself in Monroe, head on over to 1405 N. 7th Street in West Monroe—it's a must go!
– Christy Halls, Monroe at Conway Branch Member Service Representative
---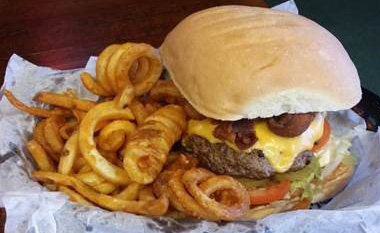 If you are looking for a GREAT hamburger, Poppa T's located down Highway 28 East in Pineville is the place to go! This was my first time visiting this establishment which was recommended by a Pelican State Credit Union member (thanks Taylor). Poppa T's is a bar and grill with an extensive menu. I ordered a bacon cheeseburger with curly Q's. Yum! The price is $8.95 for Poppa T's Famous Hamburger, and it was well worth the money.
This was the biggest, thickest and juiciest hamburger I have ever been served. From the sweet bun to the perfectly seasoned curly Q's, this place has my heart! Poppa T's is a nice, clean establishment with excellent customer service. I'd recommend them to anyone looking for a great hamburger. In fact, I already have!
– Katrina Morris, Pineville Branch Teller
---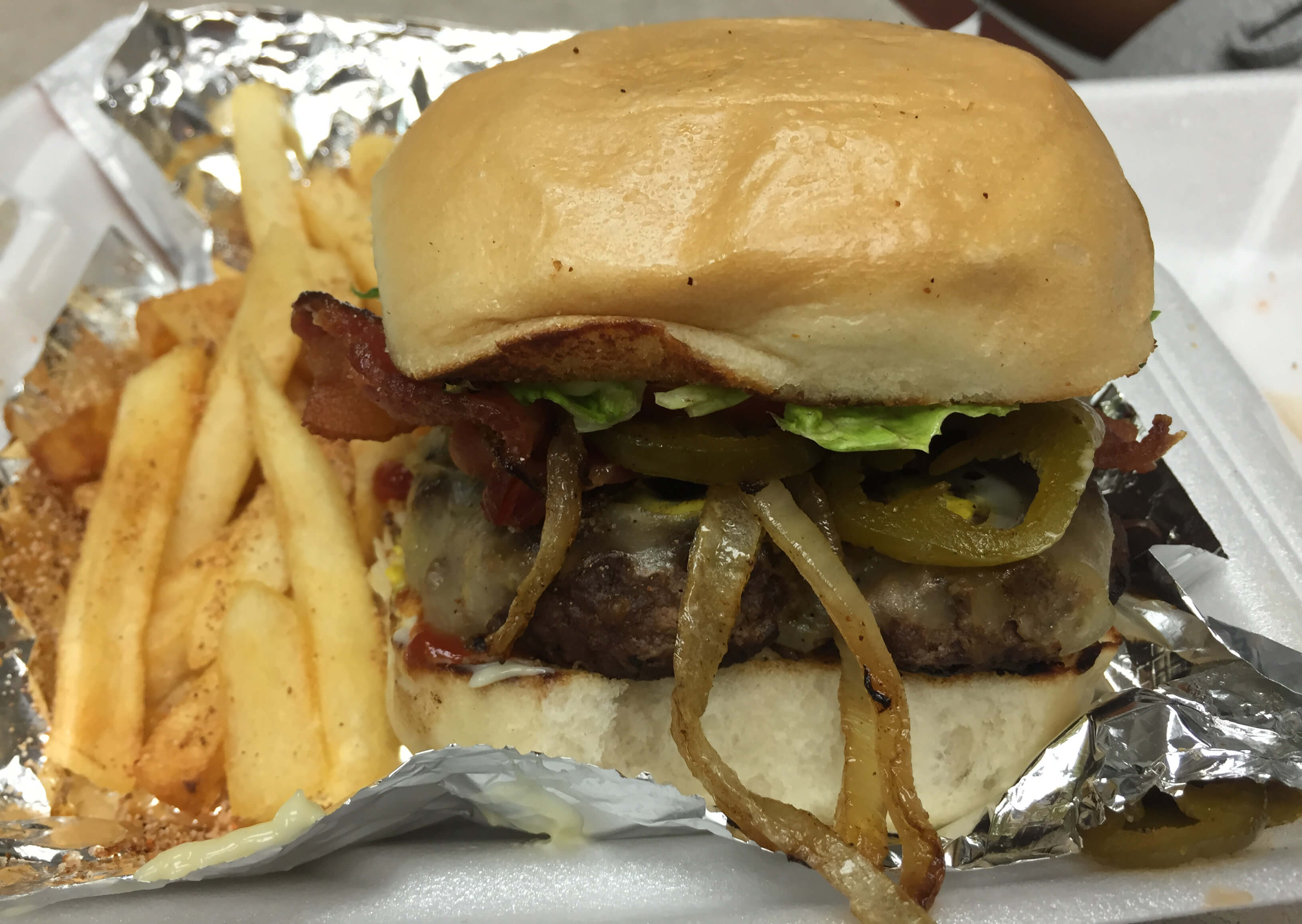 When the "Best Burger" spotlight came up in conversation, I was super excited to participate! I knew just who I was choosing too: Coby's Classic Cuisine on the north side of Opelousas! It's located in a very modern, yet quaint, updated home, and it has true Southern charm. I get the Zydeco Burger with their signature seasoned French fries when I go, which is their most popular item on the menu. It's absolutely amazing! The homemade patty is topped with bacon, grilled onions, jalapenos, pepper jack cheese, lettuce, tomato and mayo on a sourdough bun. Is your mouth watering now too?
– Tiffany McGee, Opelousas Branch Teller
---
**UPDATE: Bobby's Drive Inn is now closed. Know another good spot in or around Jackson, Louisiana? Fill out our form and let us know!**
My favorite place to go in Jackson for a hamburger is Bobby's Drive Inn. They serve up what I call "Mondo burgers"—they're HUGE! They taste amazing. The burgers are always perfectly seasoned. The best part is that it might look like a simple burger, with lettuce, tomato and mayo, but it's the simplicity that makes it the best burger I've eaten. The restaurant is like an old school drive-in diner, and the homemade food will keep you coming back again and again. The only problem I've ever had here is that I eat too much when I go!
– Nicketta Turner, Jackson Branch Member Service Representative
---
My favorite hamburger can be found at Southfield Grill in Shreveport. It's a local restaurant located on Southfield road that is known for its delicious homemade cheeseburgers and lunch plates. It's an older restaurant, and most of its displays and decorations are from decades ago. They sell the burger alone for $3.49 and for a little extra you can get either an extra patty or bacon. To add an order of shoe string fries is $2.49 or their homemade fries is $3.49. I have visited this place many times and I have never been disappointed with their burgers. Their burgers are juicy, well-seasoned and have that homemade taste instead of a frozen patty! It is worth every penny, and I would eat there again in a heartbeat.
– Megan Savoy, Shreveport Branch Teller
---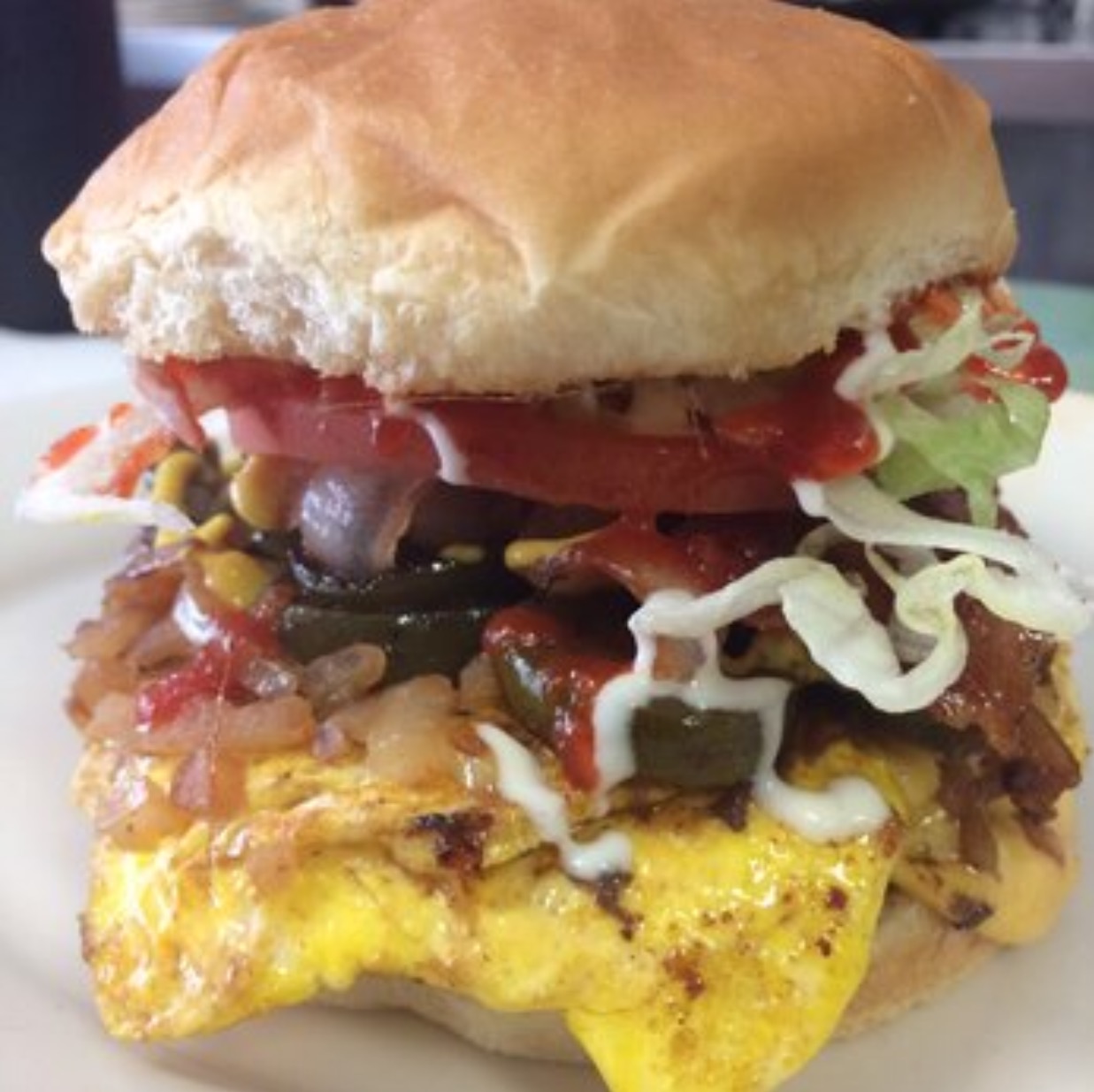 The local restaurant with the BEST burgers in town is Cotten's! Cotten's has been a local treasure for over 40 years, and has recently opened a second restaurant in the downtown area of Lake Charles. They are known for their fried egg burger, as well as serving burgers between two glazed donuts instead of buns! Whenever I go, I order an old fashioned hamburger, onion rings and a freshly squeezed lemonade. I have visited Cotton's many times before, and have always had an excellent experience.
The staff at Cotten's are all part of the owning family, so they always make you feel right at home anytime you are visiting! The burgers are second to none! They are freshly made to order, and the fries and onion rings are all freshly cut and fried each day! You would normally pay around $10 for a burger this quality, but they only cost $2-$3 at Cotten's. I would definitely recommend Cotten's to anyone traveling to the Lake Charles area; it won't disappoint!
– Megan Goodly, Lake Charles Branch Teller
---
I have been to Roul's in Baton Rouge plenty of times. Years ago I went maybe one or two times, but I moved from the area and I sure missed the burgers. Now that I travel for work I have been close to Roul's, and I couldn't be happier. I always order the hamburger combo with fries and a drink. I love getting the shrimp burger, and believe me, it's the best burger your money can buy. It's loaded with grilled shrimp sitting on top of a huge homemade patty with all the fixings. You know a burger is good when the drippings just run down your wrist while you eat it.
Roul's has several locations, and I have tried them all, but the best location is the Roul's on Airline Hwy near Winbourne Ave. It's a small building, but in my experience the best restaurants are the little holes in the wall you find around town. I would recommend Roul's to anyone I know, whether it's someone from out of town asking for a great burger or a local person that just hasn't had the pleasure of eating there.
– Aisha Troxclair, Mid-City Baton Rouge Branch Member Service Representative
---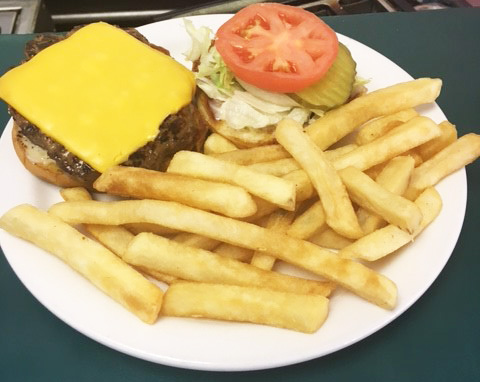 Did someone say burger? Here in Alexandria we LOVE Sentry Grill. Its located in downtown Alexandria inside of Sentry Drug Store. It still has its old-fashioned diner feel. They have been serving up home-cooked meals in Alexandria for over 60 years! I was going to take a picture of me eating but "ain't nobody got time for that" when you sit down with a burger from Sentry Grill! I totally recommend going here. Why settle for the arch when you can have an amazing burger hot off the grill?
– DeWanda Jackson, Alexandria Branch Teller
---
We don't know about you, but we're definitely craving a burger after hearing about these delicious hamburgers!
Have you been to any of these restaurants, or do you have a spot that deserves a mention that didn't make our list? Let us know in the comments!