Anyone that knows me will tell you that I love to take me some pictures! One of the best things about Louisiana is the amount of great locations you can take photographs.
I'm all about saving some money so I've only listed a few that require special fees to take photos. You'll notice when looking for the best or most beautiful place to take pictures that many places are free.
Nottoway Plantation
The most well-known place, also the priciest, is Nottoway Plantation. The house is one of the most beautiful in the south, in my opinion. I've seen hundreds, if not thousands, of photos taken here from weddings to beer festivals.
Despite the $400+ price tag, this remains to be one of the most popular places to take photos in Louisiana. I would imagine if you talked to anyone that has taken their photos here, they'd give raving reviews!
State Capitol Park
One of my favorite locations to take pictures is our State Capitol Park. It is free and usually not crowded at all. There are many spots on the Capitol Grounds with interesting backgrounds from the gardens to the Arsenal.
I have photographed engagement pictures here, maternity photos and even senior portraits. If you don't want to take pictures here, it's still a cool place to go to have a relaxing stroll. It's also easy to access if you live near the Baton Rouge area.
Downtown Baton Rouge
While we are on the topic of the Capitol, my next favorite place is downtown Baton Rouge. All along 3rd Street you can find interesting areas to take photos, some of which have appeared in films. There is everything from the Old Louisiana State Capitol to St. Joseph's Cathedral.
I've gone downtown at night to photograph and film several times as well. A lot of my other photographer friends do the same. There are plenty of ways to get creative with the lighting!
LSU Rural Life Museum
For photos that are more down-to-earth you can check out the LSU Rural Life Museum. The cost of photos here will be around $140 before 5:00 pm (after 5:00 pm there is an additional $50 fee for security to lock up).
A lot of people go here to do family or engagement photographs. One of our Pelican team members had her engagement photos taken here!
Fontainebleau State Park
Fontainebleau State Park is a beautiful location to take photos and features some spectacular Louisiana landscape. The price is also beautiful at $3 for entry. One of the best things about Fontainebleau is you can soak up some of that summer sun after taking photos.
My friend had some photos taken here, and she raves about this location. Definitely go during the sunset to get some beautiful, contrasting colors in your shots!
New Orleans City Park
If you are in the mood for a road trip and great food, New Orleans boasts some of the finest and eclectic scenery for photos. City Park is among the hottest spots outside of the heart of the city. With an endless array of nature for backdrops and even art sculptures, you can't go wrong with it. Plus, you can swing by the French Quarter for some beignets and jazz.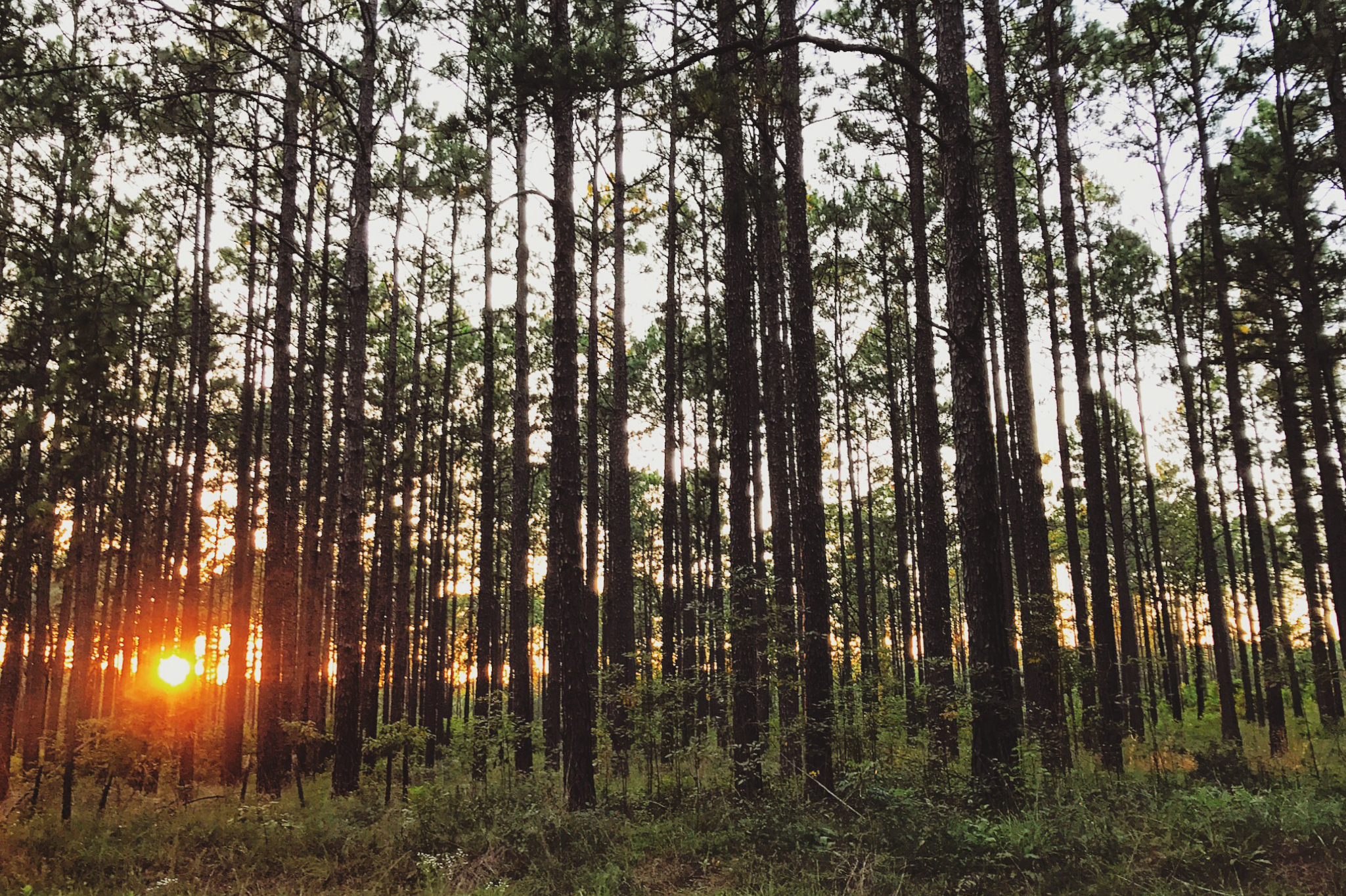 Historic Camp Claiborne
CENLA and Northern Louisiana have great spots for photos as well with some authentic Louisiana forest landscapes that look like they're straight out of a nature magazine. One of the most underrated areas is the Historic Camp Claiborne. You probably won't catch a phone signal, but you'll catch some great backgrounds for photos. When you're finished getting your shots, break out some hiking shoes and venture out on the trails here.
Biedenharn Museum & Gardens
Northern Louisianans aren't strangers to farms and gardens, so it's no surprise that one of the best spots in Monroe are the gardens at Biedenharn Museum & Gardens. For $50 you can capture photographs among the picturesque flowers. This includes a spot for wardrobe changes and exclusive access to the gardens.
Downtown Shreveport
Everything's waiting for you downtown! Next up on the list is the downtown area in Shreveport. Brick walls are great for portraits because they make the person the focal point. You'll also find some out of the ordinary backgrounds down by the riverfront. When it comes to character, the downtown spots in Shreveport do not disappoint! When you are finished voguing for the camera, swing by one of the various eateries like Frank's Pizza Napoletana or Southfield Grill for a delicious snack.
Lake Charles
Lake Charles, Lake Charles. Say that ten times fast! One of the most peaceful and beautiful spots in Lake Charles is the lake itself. A short drive off of the interstate and you're in prime photo territory. While you're in the area, swing by Lake Prien if you can't get enough of shots by the water and let your shutter finger go wild!
These are just a few of the places in Louisiana for great pictures, so don't be afraid to explore around. The most important thing is to make sure you have the appropriate permission when taking photos, especially around protected landmarks.
Also, be mindful of locations where it may be considered trespassing to take pictures. If you think bad weather is terrible for photoshoots, getting locked up is worse!
What's one of your favorite places to take photos in Louisiana? Let us know in the comments below!
I know things and I design things.