Let's be honest, there's nothing fun about bringing a bag of clothes to a thrift store and dropping it off. There's no grand event. There's just you reluctantly parting with clothes that you love but never seem to have a reason to wear. It's like a fashion funeral—you're not smiling as you toss a majority of your wardrobe into a pile on the floor.
Well, you can actually give back to charity in ways that are a lot more fun and creative than a fashion funeral. Here at Pelican, we're always trying to find new, fun and inventive ways to make donating to charities exciting! If you're looking for a creative way to raise money for charity, try out some of these ideas!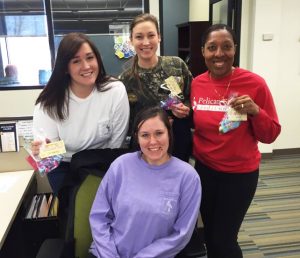 Candy Grams
Each year our volunteer and fundraising committee, the Beak Squad, gets together to find really fun ways to give back to our Charity of the Year. This year, the Beak Squad decided to do "Bunny Grams" for Easter! Team members received small bags of candy with notes of appreciation attached delivered to their desks from their co-workers. It was super fun and put everyone in a good mood! We raised $134 with this egg-citing fundraising idea!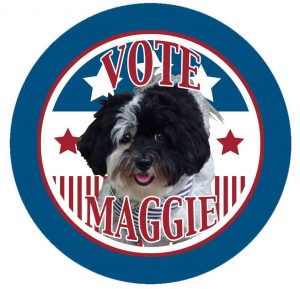 Cutest Pet Contest
There's two things that are sure to make people's hearts melt—babies and furbabies. We thought it'd be a great idea to do a Cutest Pet Contest, where team members paid to vote on who they thought had the cutest pet. There was a $5 entry fee per pet, too. Everyone got really into campaigning as you can see! The winner got the title of Pelican Pet Idol, so it got pretty intense around here. The contest brought in a whopping $710 for charity!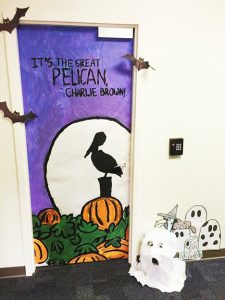 Door Decorating Contest
Ready to get everyone else's creativity flowing? Try doing an artistic contest like we did for Halloween! Each department and branch paid an entry fee to decorate their door in the most fun, amazing way they could think up. The teams put their minds together and came up with some ideas that made all of Pelican a sight to see. We raised a lot of money and had a lot of fun doing it, too. We raised $318 for charity with our door decorating contest!

Bake Sale Bake Off
One of our latest fundraising ideas was the Tailgate Treat Championship. Pelican team members brought in a homemade treat of their choice to be entered into the competition. All treats were eligible to win in one of four categories: Best Sweet, Best Savory, Most Team Spirit and Team Member Choice Award (for every $1.00 a team member spent, they received a ticket to vote for their favorite). Entries were judged by our friends at Labarre Associates, Inc. After judging, the goodies were sold for $1 each. We had a huge turnout, and we raised a total of $277 for charity!
If you're looking for a more creative way to give to charity, try some of these ideas, or let your imagination run wild and you're sure to come up with a really fun way to give back.
What's a creative way that you've given back to charity? Tell us your stories in the comments!
Lover of writing, learning and teaching others about new things. Proud foodie. Sometimes I mix all of these subjects together.