Canned goods are some of the most valuable items we keep in our pantries. Why? Well, they're easy to store, they last a long time, they're already portioned making meal-prepping super simple, and best of all—they're cheap!
I spent a whopping $23 for all the canned goods I needed—yes, just $23 for three whole recipes!
When we were brainstorming ideas and this one came up, I couldn't wait to get started! During my research, I could not find one article that featured recipes from JUST canned goods, so I had to get really creative.
Now, there's a reason I don't get a paycheck from the Food Network (although I make a mean frozen pizza), but nevertheless, I wanted to put whatever culinary creativity I have to use.
Make sure you have your can opener ready (unless the cans have tabs on them), because here are three meals you can make entirely from canned goods (I've also included a couple comments under each recipe to share my thoughts on how it turned out):
Tex-Mex Vegetable Soup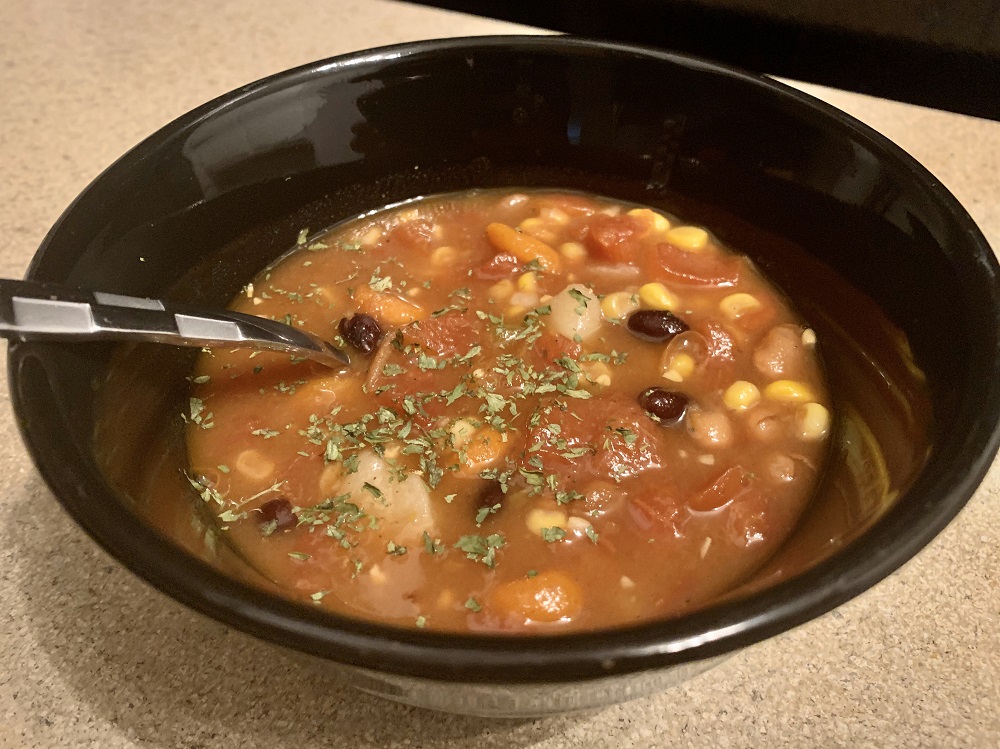 Ingredients:
1 (15oz) can of corn (drained)
1 (15oz) can of black beans (drained)
1 (15oz) can of pinto beans (drained)
1 (15oz) can of diced tomatoes
1 (10oz) can of Ro-Tel
1 (14oz) can of sliced carrots (drained)
1 (14oz) can of sliced potatoes (drained)
2 (14oz) cans of chicken broth (I got the low sodium kind)
Tip:
Many canned goods tend to be high in sodium. For healthier recipes, consider getting the "low sodium" or "no salt added" versions of your favorite canned foods when you can.

How to make it:
Set your burner to a medium heat. You're going to want to use a large pot, as this recipe yields about six servings, maybe more.
Drain your cans of corn, black beans, pinto beans, sliced carrots, and sliced potatoes. Empty them into your pot.
Empty diced tomatoes and Ro-Tel into your pot without draining. The juices from the tomatoes and Ro-Tel give the soup some acidic and spicy elements.
Add your chicken broth. Stir everything well.
This is where you're going to want to season. I added salt, pepper, chili powder, and garlic. You can even add some paprika and cumin for extra flavor and smokiness. Stir.
Heat to a boil, then turn the heat down to low.
Cover. Let simmer for about 45 minutes to an hour to let all the flavors come together.
Serve and enjoy! I added a little parsley on top for color.
Verdict: The soup was good, but not great. For how it turned out for me, I'd give it a 5 out of 10, BUT you don't have to stick to the "entirely from canned goods rule" if you don't want to. I won't tell anyone if you don't.
Adding garnishments like shredded cheese, a dollop of sour cream, and avocado would go really well with this soup and probably make it go from a 5 to an 8.
Everything needed to make this soup costed about $7.
Chicken Pot Pie Casserole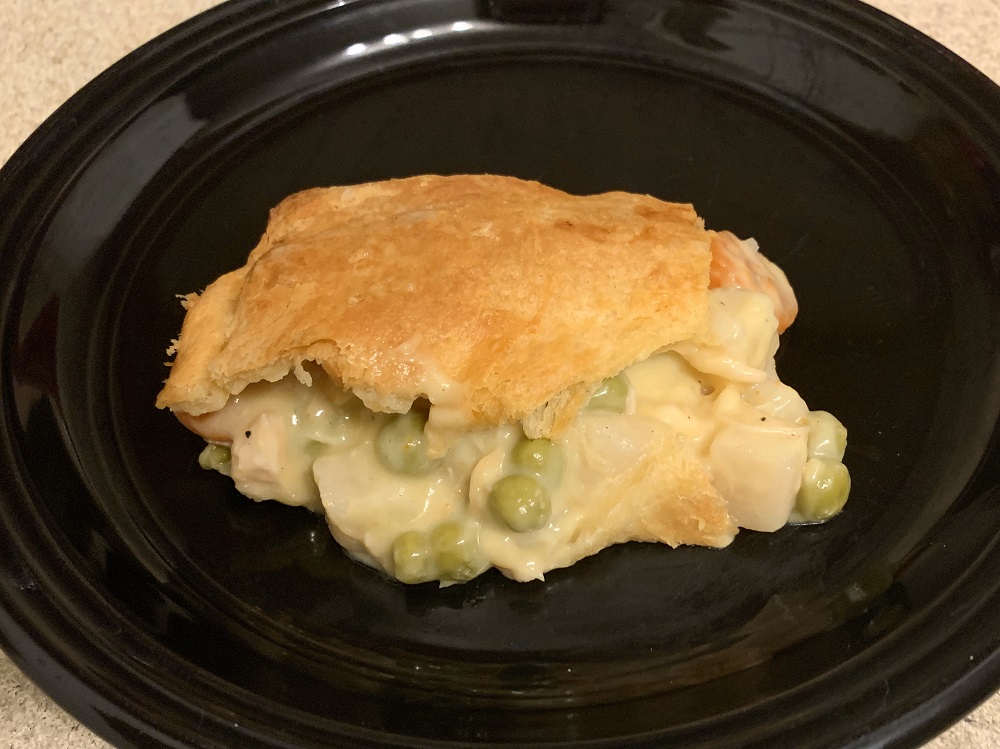 Ingredients:
1 (15oz) can of diced potatoes (drained)
1 (12oz) can of cooked chicken breast (drained)
1 (15oz) can of sweet peas (drained)
1 (8oz) can of sliced carrots (drained)
1 (10oz) can of cream of celery
2 (8oz) cans of crescent rolls
How to make it:
Preheat your oven to 350 degrees.
Spray large baking dish with non-stick spray and lay out one can of crescent roll dough in your baking dish so that it creates a bottom layer of dough.
Heat small cooking pan over medium heat and add a little olive oil. Brown the drained chicken breast chunks so that they are slightly browned. Add salt and pepper to taste. I did this step because, while the chicken is fully cooked, I wanted to add a little crispiness to the chicken.
Drain your potatoes, sweet peas, and sliced carrots and empty them into a mixing bowl. The 15oz can of peas was the only size I could find, but you're probably only going to want about half of that can (unless you really like sweet peas).
Empty your cream of celery in with the potatoes, peas, and carrots. Mix together.
Pour mix over the bottom layer of dough that you have in the baking dish.
Now it's time for the top layer of crescent roll dough. I felt like I was playing Tetris to make my top layer (see the picture below), but hey, it all worked out.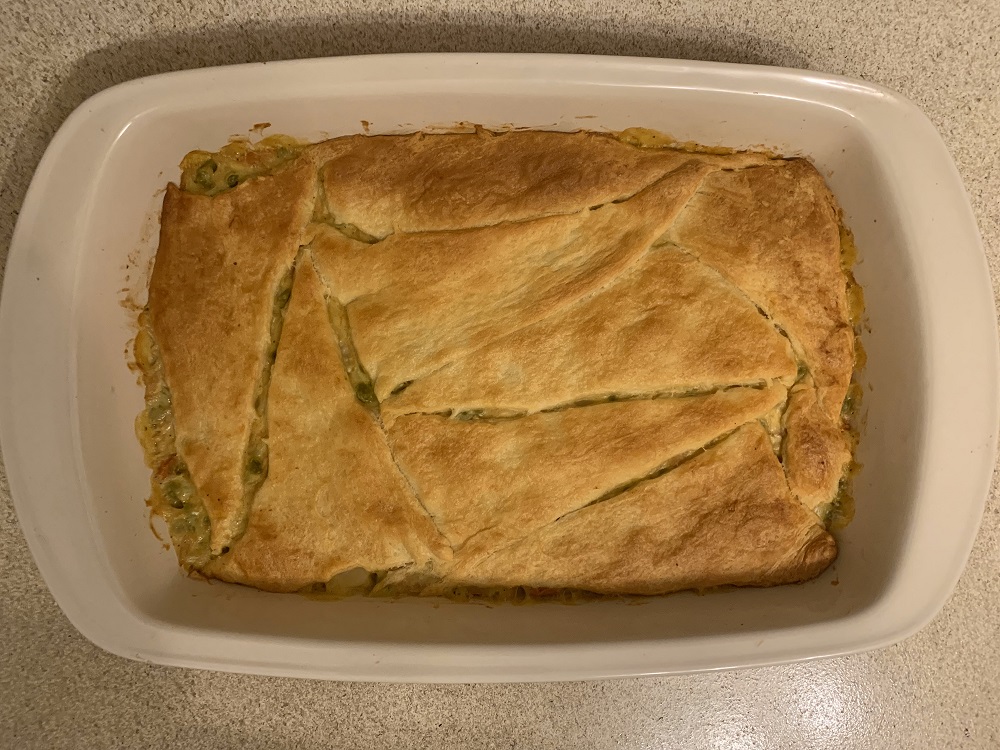 Place baking dish in preheated oven and bake for about 25-30 minutes or until the dough is golden brown.
Let cool for 15-20 minutes before serving. Enjoy!
Verdict: The crescent rolls added a really good texture and buttery taste to the recipe. As far as what was between the crescent rolls, well, it was just okay, but I made it without seasonings. It came out super bland for me, so I'd recommend adding seasonings like salt, pepper, and garlic powder. You can also even add some thyme, sage, and oregano to give it even more flavor. Now keep in mind, there's no turning back when you over-season, so be sure to season to taste.
The cream of celery was good and not too rich. You could use cream of chicken instead of cream of celery for a little more richness if you wanted to.
The total for this casserole came out to be about $9 or $10. Overall, I'll give this recipe a 6 out of 10, but again, if you add a little more than just what's in the cans, it'll probably turn out much better.
Vegetarian Chili with Lentils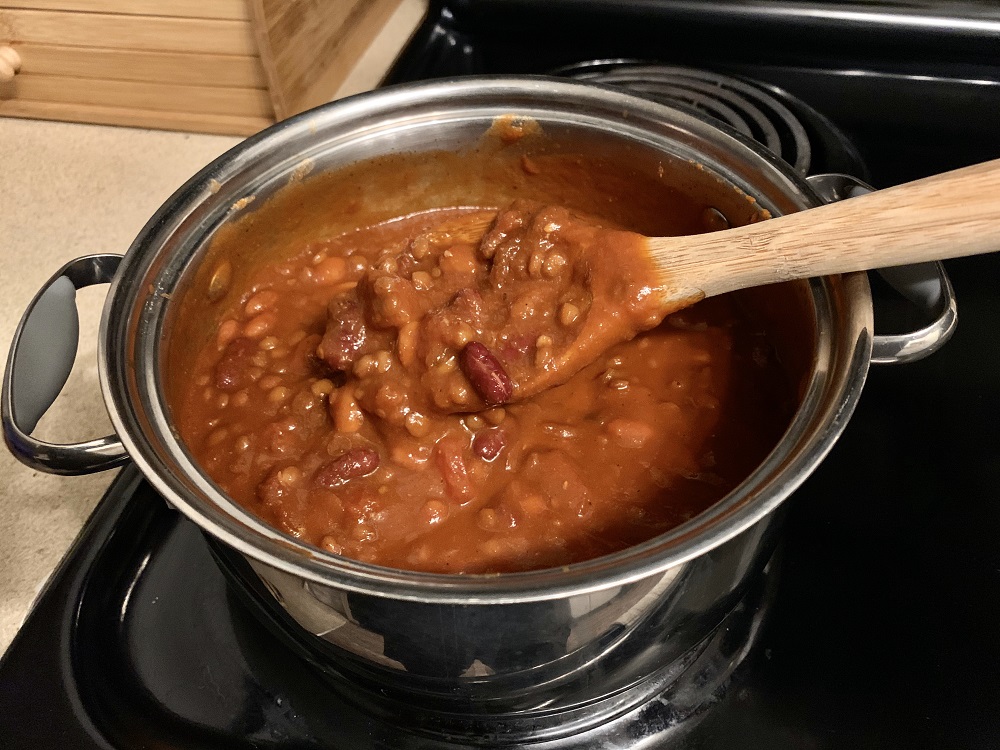 Ingredients:
1 (15oz) can of lentils (drained)
1/2 of a (6oz) can of tomato paste
1 (15oz) can of black beans (drained)
1 (15oz) can of kidney beans (drained)
1 (7oz) can of chipotle peppers in adobo sauce
1 (15oz) can of diced tomatoes (drained)
1 (15oz) can of tomato sauce
1 (15oz) can of beef broth
1 tsp of chili powder
¾ tsp of salt
¾ tsp of ground black pepper
½ tsp of onion powder
½ tsp of ground jalapeno seasoning
How to make it:
Place cooking pot over a medium heat.
Dice up your chipotle peppers.
Drain your tomatoes, kidney beans, pinto beans, and lentils and empty them into the pot.
Pour your beef broth and tomato sauce in the pot.
Add in your tomato paste (you're only going to need about half of the 6oz can). Stir everything together.
For my seasonings, I added salt, ground black pepper, chili powder, onion powder, and a little ground jalapeno seasoning. Keep in mind that the chipotle peppers in adobo sauce add quite a bit of heat, so you may or may not want to add anything else that'll make it more spicy.
Bring chili to a soft boil, then turn the heat down to low. Cover.
Let simmer for 30-45 minutes.
Verdict: I saved the best for last. Seriously, I absolutely loved the way this chili turned out, and I was honestly a little surprised. It was super easy to make, wasn't too thin or too chunky, and had great flavor. The chipotle peppers are a key ingredient for this recipe. They add a perfect amount of spiciness and smokiness. The lentils add a good texture to the chili and are a healthy substitute for ground beef or pork.
I'm going to sound like a broken record here, because again, I know this is breaking the "only from canned goods" rule, but feel free to add more than just what's in the cans if you want. In fact, I would encourage you to do so. Anything you normally like with your chili—shredded cheese on top, crackers, tortilla chips—would still work perfectly with this recipe.
This chili would be great on a frigid, almost too cold, 45-degree Louisiana winter night.
Everything I needed to make this recipe costed about $7. Overall, I'll give it an 8 out of 10!
Which of these recipes are you going to try? Let us know in the comments below!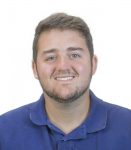 Louisiana State University alumnus (Geaux Tigers), fanatic of all things sports, pugs, and Star Wars, and teller of the occasional dad joke. Retired Avenger, current NFL free agent.