Everyone should know what happens behind-the-scenes of their checking account. After all, your checking account holds funds that you need for everyday purchases. Many of our members have been asking questions and wanting to learn more about overdraft services, especially Overdraft Protection and Overdraft Privilege.
Pelican Overdraft Privilege Administrator Courtney Guy gives answers to some of the most-asked questions on the topic to let you know everything about overdraft services and overdrawing your checking account.
What's the difference between Overdraft Protection and Overdraft Privilege?
Overdraft Privilege is a non-contractual service, provided by Pelican State Credit Union, which allows an account to go negative in order to pay an item. This allows you to overdraw your account up to a disclosed limit for a fee in order to pay a transaction. A fee is imposed for overdrafts created by checks, ACH, point-of-sale, or by other electronic means.
Overdraft Protection is a contractual agreement, offered by Pelican State Credit Union, which transfers funds from another source in order to pay an item to prevent or protect an account from becoming overdrawn.
Accounts with existing Overdraft Protection may receive Overdraft Privilege at the discretion of Pelican State Credit Union and based upon the Overdraft Privilege criteria. Overdraft Privilege will be used only after any Overdraft Protection has been exhausted.
What does it mean to overdraft? What are typical ways or reasons overdrafts occur?
Contact us at 1-800-351-4877 or come by a branch to sign up or apply for these services. Subject to credit approval. 1Subject to credit approval.
Overdrafts (also called overdrawing) is a feature offered by many financial institutions in which your checking account balance is allowed to go below zero along with an overdraft fee. For example, if you have $100 in your checking account with a $200 Overdraft Privilege limit and a check for $200 is cashed from your account, the check will be paid plus a $30 fee, resulting in a negative balance of -$130.
Overdrafts can also occur from miscalculations in balancing or emergency purchases.
What exactly is an Overdraft Privilege fee, and why are they charged?
An overdraft fee is charged when a withdrawal from an individual's checking account exceeds the available balance.* The financial institution will charge an overdraft fee to cover the cost of the transaction. Overdraft fees vary by financial institution, but are typically less than a nonsufficient fund (NSF) fee and can be incurred for each transaction going over the available account balance.
What's the difference between an NSF fee and an Overdraft Privilege fee?
An overdraft fee is charged when the account goes into the negative and Overdraft Privilege is used. Overdraft Privilege will pay items in the event the available balance in your checking account isn't sufficient.
A nonsufficient fund (NSF) fee is charged when the available balance in your account, including any Overdraft Privilege limit, isn't sufficient to cover the transaction and the item is returned.
What can someone do if they feel they were wrongly charged an overdraft fee?
We understand that accidents do happen, and if there is uncertainty over the cause of an overdraft fee, our members can reach out to our member service team to review the transaction. Further action can be taken depending on what is found. Fraudulent and unauthorized transactions can also typically be disputed as long as they fall within a certain time frame.
Worried about card fraud?
Learn to protect yourself before it happens with
these tips
from Card Services Manager Sarah Barnett
What can someone do to limit their overdraft fees?
There are several easy steps that can be taken to help prevent overdrafts on accounts:
Reconcile your monthly statement against your check register as often as possible.
Record all deposits and withdrawals.
Subtract any checks that have been written.
Subtract any service fees.
If your account earns dividends, add the dividends to your checkbook register.
Subtract all debit card transactions as soon as they occur.
Pelican also offers easy access to your account information using these free services to help prevent overdraft fees:
Members can also request to discontinue the Overdraft Privilege service in its entirety at any time by contacting us at 1-800-351-4877. Without Overdraft Privilege, your insufficient funds items will be returned to the payee and/or declined at the point of purchase, unless you have the Overdraft Protection available to cover the items(s). You will be charged the standard Return Fee for all returned items.
Does overdrawing affect your credit score?
To answer this, you have to go back to Overdraft Privilege versus Overdraft Protection. Overdraft Protection can come in the form of a line of credit or a cash advance on a credit card. These services are subject to credit approval. Normal restrictions and regulations apply to the credit card or line of credit regarding minimum payments.
With Overdraft Privilege, frequent use of your Overdraft Privilege limit does not affect your credit score as long as your account is brought to a positive status within the given timeframe. If your account at Pelican is overdrawn for more than 32 days, your limit is removed and your debit card will be temporarily blocked. After 45 days, your financial institution reserve the right to charge off your account and report to the appropriate creditors.
Do you have any other questions about overdraft or any other financial topics? Let us know in the comments below, and we'll answer them!
*Pelican State Credit Union authorizes and pays transactions using the available balance in your account. The available balance is comprised of the ledger balance (collected funds) less any debit card holds and does not include any deposited funds on hold. Pelican State Credit Union may place a hold on deposited funds in accordance with our Deposit Account Agreement and Disclosure. If the funds in the available balance are not sufficient to cover a transaction, any available Overdraft Protection and/or the amount of the Overdraft Privilege limit may be used to authorize and pay a transaction.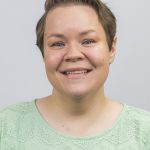 I've been with Pelican State Credit Union for almost 8 years, and I've been the Overdraft Privilege Administrator for almost 2. I couldn't ask for a better work family; they make the days fun. My hobbies as of late include decorating and filling up my first home, which I bought after the flood in August. #Pinterest