Have you considered getting a career at a credit union? We asked our Pelican family members how they feel about working at Pelican State Credit Union. They each had so much to share about the "Corporate Cool" culture and fun family-friendly atmosphere! Here's what you can expect out of a career at Pelican:
"You're not just an employee. You are truly a member of a family and something bigger here."
We want to make sure our employees are taken care of at Pelican. You won't feel like a number or just another employee. When you join the team, you become a member of the Pelican family and help our members and each other do better in their lives. It's more than just a career.
"Pelican chooses the right people for the job."
We don't just hire someone to get a job done, we hire the right people to get the job done right. We choose the best people, and we provide them the tools and training to be even better.
"They always go above and beyond, not just for our members, but for each other."
You'll hear stories about how the Pelican family goes out of their way for each other. Family looks out for one another, whether we're at or outside of work.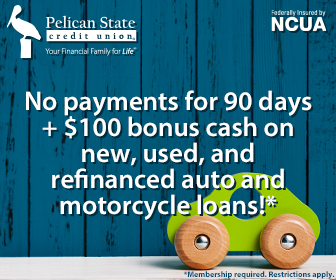 "Every single concession that we can make to improve the lives of our employees, we will do it."
If you need time off for personal issues, we aren't going to throw a fit. We know that you need time for yourself or your family and we won't judge you for it. Work-life balance is extremely important at Pelican.
"There is somebody who will listen, and that's a great thing."
Our team members regularly give each other a shoulder to cry on and our open door policy is second to none. If you ever have a concern, complaint or recommendation, it will not fall on deaf ears.
"Companies just don't do that anymore, they don't take care of their employees like Pelican does."
We put forth the extra effort to make sure our employees are taken care of and that they feel happy. We celebrate fun holidays, like National Pizza Party Day, Milk and Cookie Day and more! It's not about coming in and working; it's about coming in and enjoying what you do for a living.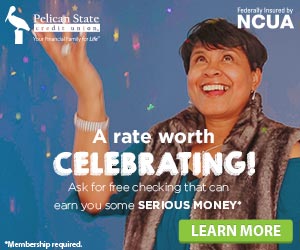 "You know, we get out in the community and we help. We go over and beyond."
We host tons of community events around Louisiana. There's always something going on at Pelican, just check our event calendar! We go out into the community and do what we can, whether it's giving away free sno-cones, taking over a local restaurant or putting on a free bike race for kids.
"Your company is making a difference every day in people's lives."
Our members come to us for help in their lives. It's up to us to provide them with the best possible experience with Pelican. They're owners of Pelican, and they're treated like owners. Some even call it "Ritz Carlton service!"
"It's actually really kind of fun to work here!"
Have you ever entered your pet in a cutest pet contest for charity, helped a team pull a plane or had a baby shower at your workplace? We like to keep everyone feeling good, working together and having fun. By giving our employees a better work experience, our members get a better experience when they walk in the door.
"They give anyone a chance to grow within the credit union."
Everyone has equal opportunity to share ideas, make proposals and jump in on projects. We work to promote from within and develop skill and career paths of current team members.
 "It wasn't just about coming here and doing a job, it's coming here and being a part of a family."
We don't believe in that whole "9 to 5 grind" mindset. You shouldn't come here and just do your job; it should be something more. When you come to work with people you love seeing and being around, it makes your quality of life better.
"You just know, the second you join [the team] you are really in something special."
Come experience a career at Pelican State Credit Union! Visit our careers page at www.pelicanstatecu.com/Careers to see what positions we have available.