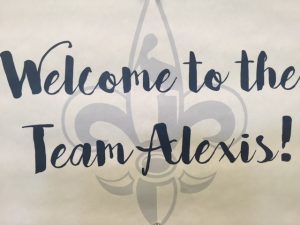 When I began to prepare for my first day as an intern at Pelican, I did some research on the company. I studied the corporate values, vision statement and mission statement. I also read Pelican's most recent annual report to get an insight on what they accomplished over the year. What I learned prior to my first day, was how much pride the company holds in taking care of their members. It seemed as though they go above and beyond and genuinely have a passion for helping others. This was something that I was more than excited to be a part of!
As a Marketing major at Southeastern Louisiana University, I was looking forward to gaining real-world marketing experience that would be beneficial to my future career. I was prepared to apply some of the knowledge I learned in my college courses to my new role, too!
My first day was like a typical first day.
The jitters were definitely there, but I was eager to get started and dive into some projects. The AVP of Marketing and Business Development, Leigh, gave me a tour of the entire building and eventually led me to the Marketing Department. I was unaware that I was receiving my very own cubical. I felt like a real professional!
The corporate environment at Pelican is truly one of a kind. When most people think of "Corporate America," they think of a boring office where people just sit around glued to their computer all day wearing uncomfortable clothes. One of my favorite things about Pelican is their "corporate cool" culture. This means wearing button-downs, blouses and slacks is not an everyday requirement. Who wouldn't love that?! There are even baskets of candy in just about everyone's offices! What more could you ask for?!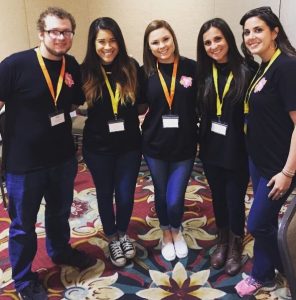 During my second week with Pelican, I, along with the other new hires, was invited to have lunch with top management. This was called "Lunch with Leadership." I was a little nervous to be around Administration, but everyone was telling us we had nothing to worry about! They were right – the Administrative team was down to earth. It was so refreshing to know I would be working with such wonderful and intelligent people!
I was lucky enough to be hired as an intern right around the time the Marketing and Human Resources departments were rolling out a corporate wide event. The title was proposed as, "Pelican's First Annual Family Reunion." In planning this event, I was able to experience the Marketing Department at its finest. I was so excited to be part of an event this big! My roles varied just about every day for the month of February. I helped put together name tags, proposed ideas for games, organized goodie bags for each employee and even provided input on what would be on the music playlist. To say the least, the event was successful! It was great to see all of our hard work pay off.
In March, Beak Squad, Pelican's volunteer and fundraising committee, put together a team to participate in the Susan G. Komen – Race for the Cure event. I decided to sign up because I felt as though it was the perfect opportunity for me to get to know other employees! Volunteers arrived at the race bright and early with Chick-fil-A Chick-n-Minis and assorted fruit! We all gathered together in our pink Pelican T-shirts that were specifically designed to support the foundation. I was so excited to meet more employees and walk with them while we supported this great cause! It was a beautiful day on LSU's campus, and I really enjoyed being with my Pelican family.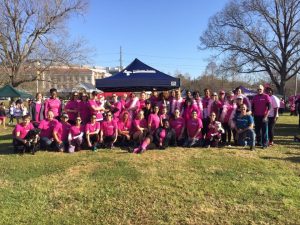 I was also able to attend a business to business networking luncheon because Pelican is a Better Business Bureau accredited business. I got to enjoy lunch with my coworkers while we listened to the Executive Director of the Louisiana Workforce Commission talk about upcoming projects in the Baton Rouge community. This gave me the opportunity to meet and network with other business professionals in the area.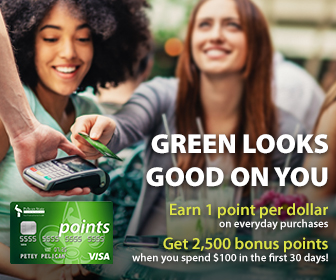 My experience as an intern at Pelican State Credit Union was one to remember.
I learned so much through my everyday experiences and tried to soak up as much knowledge as possible. I sat in on various different meetings, worked on projects like corporate vehicle decisions and proposed territories for new Business Development representatives. I gained knowledge about event planning, marketing and advertising, media packages, business development, reporting and overall professionalism.
If I were to give any advice to a college student looking for an internship, it would be not to give up! The only way to learn is to ask questions, put yourself out there and network, network, network! Hard work does not go unnoticed.
Not only did I have an experience of a lifetime, but an added bonus was getting the opportunity to receive college credit for my time as an intern. I am so happy I received a full-time offer here at Pelican State Credit Union after I graduated from Southeastern Louisiana, and I wouldn't trade my Pelican family for the world!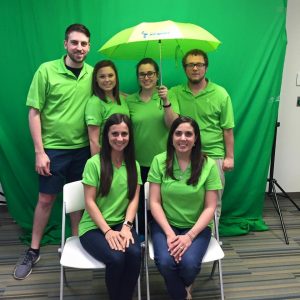 Are you interested in an internship or a career at Pelican? Take a look at our open positions or contact us at pelicanstatecu.com/careers!