You've probably heard about PelicanMobile, the new app for Pelican State Credit Union. It's our brand new mobile banking app for iOS, Android and Windows devices! It's got all kinds of great features, including remote deposit.
But I thought you already had a mobile banking app?
That's true. Our old PelicanMobile app worked well, but we wanted to give our members all the bells and whistles current technology can offer. We read your app reviews and comments, and we took all of your great requests into consideration when we built the new PelicanMobile app this year!
So what great features does PelicanMobile offer?
With the new PelicanMobile app, you can:
Login with your Pelican@Net username. You don't need to remember separate passwords for online and mobile banking anymore! If you don't have a Pelican@Net Online Banking account, you can easily sign up for one and use that login for the app too.
Deposit checks using remote deposit. Simply snap a picture of the front and back of your check using your phone's camera to make a deposit. There's no trip to the branch needed!
Set-up text banking and alerts. Get instant balance information by signing up for text banking through the PelicanMobile app. You can set up text alerts to notify you about things like large purchases or low balances.
Review your transaction history and pending transactions. With PelicanMobile, you can view your account balances and access your recent transactions at the tap of a finger.
Transfer funds between accounts. Need to move some money between accounts? We've got you covered. You can even transfer money to friends and family members with Pelican accounts from the mobile app!
Pay your bills. Access Pelican Bill Pay through the app! You can now schedule payments and even add payees from your mobile device.
Control your Pelican credit and debit cards. You can temporarily turn them on or off, add travel notes to let us know when you'll be out of state and block /reorder cards whenever you need!
There's a lot to love about the new PelicanMobile app! Here's what other members are saying: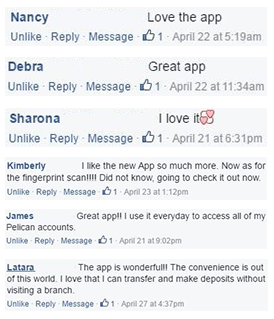 How can I get PelicanMobile?
You can download PelicanMobile for iOS, Android and Windows devices at below. For more information on the new PelicanMobile app, visit our main website at pelicanstatecu.com/MobileBanking.